Sino-Forest Says Probe Refutes Muddy Waters Allegations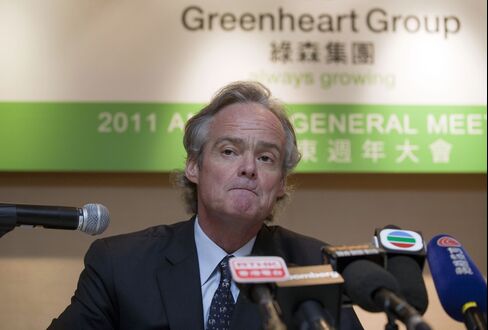 Nov. 15 (Bloomberg) -- Sino-Forest Corp., the Chinese timber company whose shares slumped 74 percent since June, said an independent committee refuted the "substance" of fraud allegations by Carson Block's research firm Muddy Waters LLC.
The committee confirmed the company's timber assets, cash balance and titles in an interim report released today, Toronto-listed Sino-Forest said in a statement. The committee, which hired PricewaterhouseCoopers LLP to assist the probe, wasn't able to verify the valuation of forestry holdings or reconcile some revenue.
Sino-Forest triggered concerns that accounting at Chinese companies listed abroad may be inaccurate, wiping out $5.7 billion of market value since the June 1 Muddy Waters report. Probes by the Royal Canadian Mounted Police and Ontario's regulator are continuing after the shares were halted in August.
The report isn't enough to "erase concerns over this kind of company," said Tsuyoshi Shiba, who oversees $600 million as chief investment officer of Hong Kong-based Triskele Capital Management Ltd. "We are shunning these companies because there's not enough information."
The plunge in Mississauga, Ontario and Hong Kong-based Sino-Forest cost investors including hedge-fund firm Paulson & Co. at least C$3.3 billion ($3.2 billion). Greenheart Group Ltd., the company's Hong Kong unit which had traded at HK$2.80 before the report, fell as low as 40.5 cents. It rebounded 93 percent today to HK$1.16.
Greenheart, commenting in a statement, acknowledged the committee's findings and said it's not involved in talks about acquisitions or any other deals.
Final Report
"This report proves that Sino-Forest is a real company with real assets, real revenue and in huge stark contrast to Muddy Waters' allegations," Judson Martin, Sino-Forest's chief executive officer, told reporters in Hong Kong today. There's a "basic lack of knowledge of how forestry rights work in China, what documentations are necessary, available and relevant."
The independent committee was chaired by William Ardell and included James Bowland and James Hyde. Sino-Forest has spent $35 million on the report to date, it said. A final report will be delivered to the board by year-end.
"The announcement will give some positive impact to the company, but how material the impact is I'm not sure," said Nelson Yan, an investment manager who helps oversee $90 million at Mayfair Pacific Financial Group in Hong Kong. "They have to enhance the corporate governance of the company."
Block's Reaction
Sino-Forest's $600 million of 6.25 percent notes due in October 2017 climbed 16.5 cents to 49 cents on the dollar at 10:04 a.m. in New York, according to Trace, the bond-price reporting system of the Financial Industry Regulatory Authority.
Muddy Waters' Block today rejected the report's findings.
"The timing of Sino-Forest's press release makes clear that the directors and officers are responding to the criminal investigation announced last week by the integrated market enforcement team of the Royal Canadian Mounted Police," Block said in an e-mailed statement.
Richard Chandler Corp., the largest shareholder in Sino-Forest with a 19 percent stake according to Bloomberg data, said it's "encouraged" by the committee's report.
"As a long-term investor, the Richard Chandler Corporation looks forward to supporting Sino-Forest to build a world class forestry company for the years ahead," it said in a statement today.
SEC Probe
Increased investor scrutiny of Chinese companies including Chaoda Modern Agriculture Holdings Ltd., accused of exaggerating its farmland holdings by Next Magazine, has driven down the Bloomberg Chinese Reverse Mergers Index by 56 percent in the year to yesterday. Chaoda denied the allegations.
The U.S. Securities and Exchange Commission began an investigation last year into reverse takeovers, in which a closely held firm becomes public by purchasing a shell company that already trades.
Silvercorp Metals Inc, a Vancouver-based company mining in China, said Oct. 25 an investigation by accounting firm KPMG LLP found fraud allegations in two anonymous reports were untrue. Orient Paper Inc., targeted by Muddy Waters last year, is trading 74 percent below its high, even after a four-month probe found no evidence to support the short-seller's claims.
Investors are "still cautious towards these companies listed overseas because those investors are not familiar with Chinese companies," Yan said.
Earnings Delay
Allen Chan stepped down as Sino-Forest CEO and chairman two days after a Canadian securities regulator said the company may have exaggerated timber holdings, the same charge made by Block in June.
Sino-Forest will delay the announcement of its third-quarter earnings as the independent committee and audit committee are verifying information regarding Sino-Forest's relationships with suppliers and intermediaries and addressing other issues, the statement said. It expects to release the results within 30 days.
If any of Sino-Forest's material transactions are found to have been with related parties, the value of those deals may be affected, Sino-Forest said in the statement.
Muddy Waters alleged Sino-Forest overstated its timberland holdings. The company said today the committee found it has registered titles for about 17.9 percent of disclosed timber holdings and contractual rights to a further 81.3 percent.
The Ontario Securities Commission halted trading in Sino-Forest shares on Aug. 26 and said that officers and directors of the company may have engaged in acts "related to its securities" that they "knew or should have known" perpetuated a fraud. The OSC in September extended the trading ban on Sino-Forest to Jan. 25.
The Royal Canadian Mounted Police are investigating the company, Sino-Forest said on Nov. 11. The company said it's cooperating with the probes by the OSC and the police.
To contact Bloomberg News staff for this story: Helen Yuan in Shanghai at hyuan@bloomberg.net
To contact the editors responsible for this story: Joshua Fellman at jfellman@bloomberg.net; Rebecca Keenan at rkeenan5@bloomberg.net; Andrew Hobbs at ahobbs4@bloomberg.net