RBA Saw Case for Modest Easing on Global Risks, Minutes Show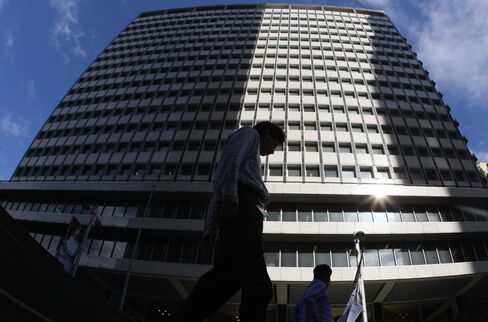 Nov. 15 (Bloomberg) -- Australia's central bank said that while there was a case for keeping interest rates unchanged at its Nov. 1 policy meeting, global economic risks and slowing inflation sealed the argument for a "modest" easing.
"There had clearly been material changes to the recent course of, and outlook for, underlying inflation over recent months, while the downside risks for the global economy had increased," the Reserve Bank of Australia said in minutes of this month's gathering that were released today in Sydney.
The currency rose after the RBA said there had been a case for keeping borrowing costs unchanged to await the expansionary effects of high commodity prices and a resource investment boom. The central bank's first rate reduction in 31 months reflects lower forecast growth and inflation as Europe's sovereign-debt crisis dims prospects for the global economy.
"The RBA's minutes suggest a healthy debate was held," said Adam Carr, a senior economist in Sydney at ICAP Australia Ltd., a unit of the world's biggest interdealer broker. "The decision was 'on balance' and for a 'modest easing' -- that doesn't scream a December cut to me when the economic data we are seeing is strengthening."
Rate Bets
Traders see an 84 percent chance RBA Governor Glenn Stevens will lower borrowing costs by another quarter of a percentage point in December, down from 100 percent prior to the release of the minutes. The central bank reduced rates to 4.5 percent on Nov. 1 from a developed-world high of 4.75 percent.
The weaker inflation outlook meant "a more neutral setting would, on this view, be compatible with achieving sustainable growth and inflation consistent with the target" of between 2 percent and 3 percent, policy makers said in the minutes.
The Australian dollar traded at $1.0215 at 12:23 p.m. in Sydney compared with $1.0197 before the minutes were released.
Stevens joined Group of 20 counterparts from Brazil to Indonesia in lowering borrowing costs to shield growth. Federal Reserve Chairman Ben S. Bernanke said this month a U.S. recovery may be "frustratingly slow."
While the U.S. economy picked up pace in the third quarter, "growth remained moderate and there was still significant spare capacity," RBA policy makers said in the minutes. "It was likely that economic conditions in Europe would weaken further over the period ahead, given the effects of the recent turmoil on confidence, likely tightness of credit supply and the need for further fiscal consolidation."
Bond Yields
Bond yields in Italy last week surged past the 7 percent threshold that prompted Greece, Portugal and Ireland to seek bailouts. Stocks and the euro slid yesterday as Italy's borrowing costs increased to a euro-era record at an auction, deepening concern Europe will struggle to contain its crisis.
Australia's economy has been driven by demand from nations such as China and India for resources including iron ore and coal. That, and higher rates compared with other developed-world nations, spurred the Australian dollar to $1.1081 on July 27, the highest level since it was freely floated in 1983.
Policy makers said in today's minutes that the outlook for the mining industry "remained very strong," with investment predicted to increase to 7 percent of gross domestic product by 2013-14. "Information on economic activity suggested that the pace of growth in demand and output outside the resources and related sectors was a little lower than had been expected earlier in the year," they said.
RBA Forecasts
In its quarterly policy statement on Nov. 4, the central bank predicted growth of 4 percent in the 12 months through June 30, 2012, down from its Aug. 5 estimate of 4.5 percent. Consumer prices will rise 2 percent over the period, from a previous prediction of 2.5 percent; underlying inflation is predicted at 2.5 percent from a previous 3 percent, the central bank said.
Stevens's Nov. 1 rate cut, the first reduction since April 2009, boosted consumer confidence in Australia to a five-month high this month. A government report on Nov. 3 also showed retail sales advanced for a third straight month.
"Recent data on economic activity had been a little more positive than in the previous couple of months, although conditions remained subdued in a number of sectors," policy makers said in the minutes.
Australia's unemployment rate climbed in July and August before declining in October for the first time in seven months as employers added more workers.
The number of people employed rose by 10,100 after a revised gain of 22,500 in September, a government report showed Nov. 10. The unemployment rate fell to 5.2 percent from a revised 5.3 percent.
More than 25,000 new workers will be needed to complete mining, natural gas and transportation projects in Queensland state by late-2012, according to the industry-funded group Construction Skills Queensland.
To contact the reporter on this story: Michael Heath in Sydney at mheath1@bloomberg.net
To contact the editor responsible for this story: Stephanie Phang at sphang@bloomberg.net