Paulson Said to Cut Risk in Main Funds Amid Europe Crisis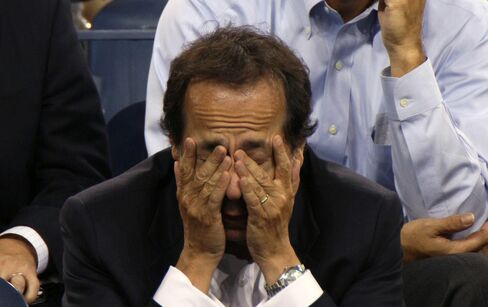 John Paulson, the billionaire hedge-fund manager having his worst year, is cutting risk in his hedge funds further as the European sovereign-debt crisis roils markets, according to two people briefed on the matter.
Paulson & Co., which has $28 billion in assets, has cut the so-called net exposure in its main hedge funds to 30 percent, Paulson told investors on Nov. 14, according to the people, who asked not to be identified because the New York-based company is private. It was 60 percent about four months ago.
The firm is reducing its bullish bets across all funds until there is more certainty that Europe can contain its debt crisis, Paulson said at the Metropolitan Museum of Art in New York, part of a two-day annual meeting for investors. Paulson's biggest funds, Advantage Plus and Advantage, which have $11 billion in combined assets and aim to profit from corporate events such as takeovers and bankruptcies, fell 44 percent and 29 percent this year through October, respectively.
"If you're flat or down or you take a hit you need to pare back exposure," said Larry Chiarello, a partner at SkyView Investment Advisors LLC in Shrewsbury, New Jersey, which places money with hedge funds. "It's probably a prudent move on his part."
Paulson's Recovery Fund, which invests in assets he believes will benefit from a long-term economic upturn, slumped 25 percent in 2011.
Less Bullish
Armel Leslie, a spokesman for Paulson, declined to comment on the annual meeting.
Net exposure is calculated by subtracting the percentage of a hedge fund's short positions, or bets on falling securities, from its longs, or wagers on rising stocks and bonds. Paulson said on a conference call with investors in July that he had cut bullish investments to 60 percent from 81 percent and may pare risk further.
Paulson, 55, has been betting on an economic recovery by the end of 2012, fueling his bullishness on U.S. banking stocks that contributed to this year's losses.
Citigroup Inc., Paulson's fifth-largest stock holding in the third quarter, according to data compiled by Bloomberg, fell 41 percent this year through yesterday. The firm sold about 8.4 million shares of New York-based Citigroup last quarter, according to a regulatory filing. Bank of America Corp., the firm's 12th-largest stock position, slumped 54 percent in 2011. Paulson added 3.88 million shares of Charlotte, North Carolina-based Bank of America last quarter.
Redemption Requests
Paulson lost $468 million in June on Sino-Forest Corp., the Chinese forestry company accused by short-seller Carson Block of overstating timberland holdings. The hedge fund, previously the largest investor in the stock, sold the entire stake that month after Sino-Forest shares plunged 71 percent in two days.
The firm received less than 8 percent in year-end redemption requests for all its funds by the end of last month, which means withdrawal orders totaled about $2 billion.
Clients were permitted to pull a maximum of 25 percent of assets, or about $7 billion. Paulson and his employees account for about half of the firm's capital.
Hedge funds declined 2.9 percent this year through Oct. 31, based on Bloomberg's aggregate index, as global stocks tumbled amid a worsening European debt crisis and the threat of a U.S. recession. The MSCI All-Country World Index of global stocks fell 3.9 percent, including reinvested dividends.
Before it's here, it's on the Bloomberg Terminal.
LEARN MORE