No Stopping Technocrats as Europe Crisis Brings Down Governments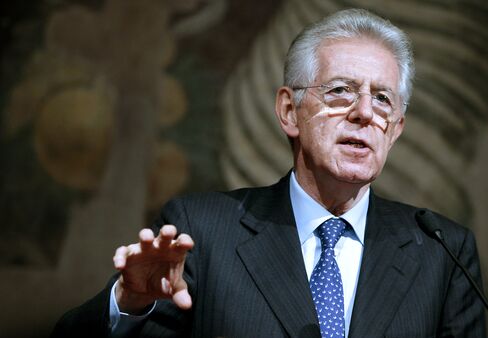 The European debt crisis has toppled four elected governments with the last two, in Greece and Italy, falling last week without a shove from voters.
The appointment of prime ministers in Athens and Rome to push through unpopular austerity measures echoes efforts in the past five decades by European leaders to control policy-making when democratic means fall short.
"The euro zone would never have been created if voters had been given a say," Fredrik Erixon, head of the European Centre for International Political Economy in Brussels, said in a telephone interview. "It's an elite project but that doesn't mean it's a bad project."
Greek Prime Minister Lucas Papademos, a former central banker, and Italian Prime Minister-designate Mario Monti, an academic and former European commissioner, were chosen by each nation's president after their elected predecessors were abandoned by political allies, making them unable to pass legislation demanded by the other members of the euro region.
"They're there not just because they're technocrats, but because it was easier to ask independent personalities to construct political consensus," European Commission President Jose Barroso said Nov. 14 in Paris. "The level of hostility between different political forces is enormous."
Progress toward building -- and now saving -- the 27-nation union has rested largely with the ruling elites. Decisions are taken at meetings of ministers from national governments, and the commission, its executive arm, is appointed by those governments.
Monnet's Dream
The bloc, the brainchild of French bureaucrat Jean Monnet, started in 1951 as a grouping of six nations bringing their coal and steel industries under common management. In 1957, the six signed the Treaty of Rome, extending cooperation to other economic areas.
When the prototype European Parliament came into being in 1952, it had no legislative powers. Members weren't elected until 1979 and the assembly shuttled between Brussels and Strasbourg, France. It was only able to amass rights to influence decisions as new treaties were signed over the years. In 1999, the parliament exercised its power by forcing the removal of the commission.
Maastricht Votes
The Maastricht Treaty creating the common currency was approved by an Irish referendum in June 1992 and narrowly passed by the French in September 1992. Danes rejected it in June 1992 before endorsing a revised version in May 1993 giving them the right to opt out of the common currency.
"Monetary union has been a 'top down' project dreamed up by political and business leaders and pushed through without undue consultation or communication with the people," said David Marsh, author of "The Euro: The Battle for the New Global Currency."
A proposed European constitution was shelved after French and Dutch voters rejected it in 2005. Its replacement, the Treaty of Lisbon, was only put to a popular vote in Ireland, which initially rejected it in 2008 before approving it in a re-vote the next year.
While the appointments in Greece and Italy avoided snap elections that may have created even greater turbulence in financial markets, governments made up of non-political experts can't make up for the single currency's flaws, said Philip Whyte, a senior research fellow at the Centre for European Reform in London.
Worse still, they will be forced to pursue austerity measures that could further depress their economies and drive up their debt.
'Deep Flaw'
"There's a deep flaw in the structure of the common currency and that's not something that technocratic governments can do anything about," Whyte said. "Monetary union without fiscal and political union is inherently unstable."
It has been left to the European Central Bank to maintain what monetary order remains in the euro area. Nations led by Germany have refused to consider jointly sold euro bonds, saying it would infringe on their sovereignty.
The ECB has bought limited amounts of Italian and Spanish bonds in recent months, without ever firmly stating it stands behind the debt of both countries. As a condition for the purchases, it sent a letter to Italian authorities in September demanding spending cuts, tax increases and labor-market revamping.
ECB Purchases
And there's nothing alarming about the ECB dictating policies to Italy, said Thomas Kleine-Brockhoff, a senior transatlantic fellow at the German Marshall Fund of the United States.
"Every day, they are buying Italian debt, which is a transfer of Italian debt to community debt," he said.
Greece's Papademos, a former vice president of the ECB, and Monti are struggling against pushback from elected officials, reflecting the squeeze from which they're not immune.
Greek opposition leader Antonis Samaras said backing for the country's new interim government should last no more than the three months needed to secure international financing before elections are held or risk a "social explosion."
Monti yesterday moved to finish cobbling together his government after two days of talks that threatened to unravel amid political posturing.
"In parliamentary democracies, you can't impose an alien," Kleine-Brockhoff said. "They still have to get parliamentary majorities to move things."
Before it's here, it's on the Bloomberg Terminal.
LEARN MORE