Mallya Denies Kingfisher Air May Collapse Amid Flight Cuts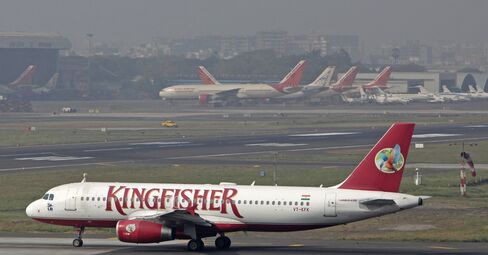 Vijay Mallya, the billionaire chairman of Kingfisher Airlines Ltd., dismissed speculation the carrier may collapse as it cuts flights, seeks new loans and asks for government assistance. Shares surged.
"To suggest an immediate grounding of the airline is neither fair nor reasonable," Mallya, said yesterday in Mumbai during an almost two-hour-long press conference. Cancellations "have been blamed on entirely the wrong reasons," he said.
Kingfisher gained 14.2 percent, rising for the second day, in Mumbai today after Mallya said the carrier will seek new loans, delay Airbus SAS A380s and may import jet fuel to pare taxes as part of a turnaround. Bangalore-based Kingfisher has made 16 straight quarterly losses because of a price war, debts and rising fuel costs.
Mallya "has given very positive words for his company, but again the whole question is how the industry will go ahead," said Sharan Lillaney, an analyst at Angel Broking Ltd. in Mumbai. "In the end, it's all about profits."
Jet Airways rose 4.3 percent to 248.95 rupees at close of trading in Mumbai. SpiceJet fell 2.5 percent to 21.15 rupees.
Kingfisher Loans
Kingfisher plans to raise about 10 billion rupees in new loans, including 1.5 billion rupees for reconfiguring planes, Ravi Nedungadi, chief financial officer at parent UB Group, said at yesterday's briefing without giving a timeframe. It may also hold a rights offer before the end of March and sell property in Mumbai to raise funds, he said.
An Indian investor has also approached Kingfisher about buying a stake, Mallya said, without elaboration. Reliance Industries Ltd., India's biggest company by market value, said today that it wasn't in talks on a deal, denying a report by the Hindu Business Line newspaper.
Mallya also called on the government to ease restrictions on overseas carriers investing in Indian airlines and to lower taxes on jet fuel.
Kingfisher will delay its orders for five A380 superjumbos because of market conditions, Mallya said. Deliveries were due to start in 2016. He didn't give a new timeframe. Some A320 planes will also be postponed as reconfiguration of existing fleet will increase capacity, Mallya said without elaboration.
Canceled Flights
Kingfisher has canceled 40 of 340 flights a day, it said last week, as it ends its Kingfisher Red low-cost unit and reconfigures the aircraft for full-service operations. The main business offers better margins and has less competition, while the low-cost segment is likely heading for a "bloodbath," Mallya said.
The carrier also cut flights that "were heavily loss-making," he said. "I accept we could have handled it better."
Mallya said that Kingfisher hadn't asked for a government bailout and that it wouldn't fire any of its about 7,000 employees. The carrier has asked banks to boost working-capital facilities and also sought to lower interest costs, he said.
Kingfisher has raised about 8 billion rupees of loans this year from Mallya's "friends, relatives and well wishers," Nedungadi said. That debt may be partly or completely converted into equity during the rights offer, he said.
The airline hasn't defaulted on interest repayments, Mallya said. It has also paid off bills with two of its three main fuel suppliers, Mallya said.
Government Steps
The finance ministry may ask lenders to help Kingfisher recast debt following an approach from the carrier, Civil Aviation Minister Vayalar Ravi said last week when the carrier's shares slumped 18 percent in two trading days. The oil ministry may also extend more credit to airlines, he said.
Kingfisher posted a net loss of 4.69 billion rupees for the quarter ended Sept. 30. That was double the year-earlier figure. Spending on fuel surged 71 percent in the quarter, eroding gains from a 12 percent increase in passenger numbers. The airline filled 76 percent of its seats, compared with 79 percent a year earlier.