Kingfisher Air Posts Wider Loss as Mallya Seeks India Help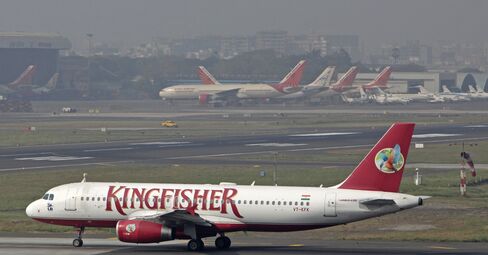 Kingfisher Airlines Ltd., controlled by billionaire Vijay Mallya, reported a wider second-quarter loss as it cuts flights, seeks government help and asks banks to increase credit limits.
The net loss was 4.69 billion rupees ($93 million) in the quarter ended Sept. 30, compared with 2.31 billion rupees a year earlier, Bangalore-based Kingfisher said in a statement today. Sales climbed 11 percent to 15.3 billion rupees.
Chairman Mallya will hold a press conference at noon in Mumbai, as the carrier tries to reassure investors and passengers following flight cancelations and its 16th straight loss. Jet Airways (India) Ltd. and SpiceJet Ltd. also lost money in the quarter because of rising fuel costs, competition from state-owned Air India Ltd. and a weaker rupee pushing up the repatriated cost of dollar-denominated debt from plane purchases.
"Carriers got into this mess by growing really fast," said Srisu Subrahmanyam, co-founder of Chicago-based Orchard Group, which advises airlines. "Their debt needs to be restructured to be more viable and fares need to go up to cover the costs of operations."
Kingfisher was little changed at 21.55 rupees at 9:59 a.m. in Mumbai trading. It jumped 9 percent yesterday after the Economic Times reported that it may sell real estate and change plane leases to help more than halve its 65 billion-rupee debt. The paper cited a presentation to investors.
Fuel Bills
Kingfisher said spending on fuel surged 71 percent in the quarter, eroding gains from a 12 percent increase in passenger numbers. The airline filled 76 percent of its seats, compared with 79 percent a year earlier, according to the statement.
Jet Airways, the nation's biggest carrier, posted a wider-than-expected second-quarter loss of 7.14 billion rupees. The airline and SpiceJet, the nation's only listed discount carrier, both rose 2.4 percent in Mumbai today.
The three listed airlines have all dropped more than 65 percent this year, as they struggle to turn a 19 percent jump in industrywide passenger numbers into profits amid a price war. State-owned Air India is also seeking a 65 billion rupee cash injection after winning 32 billion rupees of government bailouts since a 2007 merger with Indian Airlines Ltd.
Kingfisher has approached the government for assistance, and the finance ministry may ask lenders to help it recast debt, India's Civil Aviation Minister Vayalar Ravi said last week, when the carrier's shares slumped 18 percent in two trading days.
Lending Limits
On Nov. 11, Kingfisher said it asked banks to raise its lending limits to meet operating costs, and would slash flights to 300 a day from 340 as it reconfigures planes and stops offering low-cost services as part of a turnaround plan. The carrier hasn't asked for a state bailout, Mallya said on Twitter.
The carrier needs to raise about 10 billion rupees in fresh equity for banks to start lending to it again, according to State Bank of India Managing Director Hemant Contractor. The bank is the biggest Kingfisher shareholder not tied to Mallya, according to data compiled by Bloomberg, after it led a group of 13 lenders that agreed to convert debt to equity earlier this year.
Banks will also take control of Kingfisher's cash flow by opening a so-called escrow account to avoid loan defaults, the Economic Times reported today, citing a person it didn't identify.
Beer Brand
Mallya formed Kingfisher Airlines in 2005, naming it after his UB Group's beer brand. In 2008, the carrier completed a merger with Deccan Aviation Ltd., which operated India's first low-cost airline.
Kingfisher had a fleet of 66 planes ranging from Avions De Transport Regional turboprops to Airbus SAS A330s as of March 31, according to its annual report. The carrier has also ordered five Airbus A380 aircraft, deliveries of which are expected to start in 2016.
Losses mean that Indian airlines need about $2.5 billion of new cash to maintain operations, including $1.32 billion for Air India, according to CAPA - Centre for Aviation, a research company. Kingfisher needs $400 million in the next three months, it said.
The rupee has dropped 12 percent against the dollar this year, the worst performer among Asia-Pacific's 10 most traded currencies. Jet-fuel prices have also risen about 30 percent in Mumbai since Jan. 1, excluding tax, according to Indian Oil Corp.'s website.
"High costs due to fuel prices and heavy taxation, combined with fare discounting, is an unsustainable combination," said Binit Somaia, a Sydney-based director at CAPA.