Karzai Convenes Afghan Elders to Debate U.S. Ties, Taliban Talks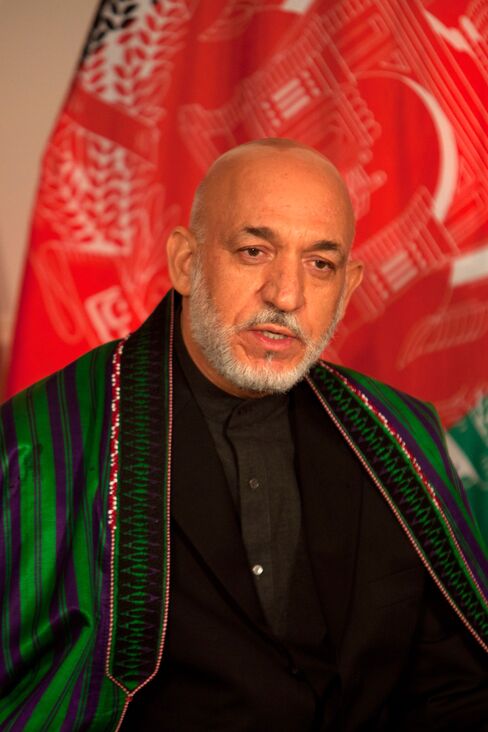 Afghan President Hamid Karzai will today convene a meeting of more than 2,000 of the country's leaders and elders as he attempts to garner support for an extended security agreement with the U.S.
The traditional loya jirga gathering brings together provincial and ethnic representatives who will also consider peace talks with the Taliban following the September assassination of envoy Burhanuddin Rabbani. Insurgents threatened to attack the council and Karzai's chief rival, Abdullah Abdullah, vowed to boycott it.
With the U.S. planning to withdraw most of its 98,000 combat soldiers by 2014, Karzai wants a mandate to broker a longer-term security arrangement that includes commitments to maintain a troop presence and fund and train military and police forces. Afghanistan's army isn't ready to face the Taliban alone, leaving Karzai with little choice, said S. Chandrasekharan, director of the South Asia Analysis Group.
"Afghan forces have shown they'll be unable to manage in the near future," New Delhi-based Chandrasekharan said yesterday. Still, a continued U.S. presence means "the chances are slim for a negotiated agreement with the Taliban, who have demanded that all foreign soldiers leave. There's a basic contradiction."
The security forces, which have taken control of some districts and cities, continue to have high attrition rates and lack sufficient strength in leadership, logistics, intelligence and surveillance, according to a U.S. Defense Department assessment released Oct. 28.
Security Plan
In the latest attempt to disrupt the gathering, a suicide bomber was shot dead trying to enter the tented venue where delegates will meet over at least three days in central Kabul, officials said Nov. 14. The Taliban said Nov. 13 they had obtained a security plan for the event, including a map of checkpoints and cellphone numbers of those taking part. The Interior Ministry rejected the claim as propaganda.
During the last jirga in June 2010 Taliban guerrillas fired rockets at the tent erected on the campus of Kabul University as Karzai addressed a press conference. The country's interior minister and intelligence chief resigned four days later.
In a sign of the opposition Karzai may face this week, Abdul Ahad Helmandwal, a senior tribal elder from Helmand province, said he's traveling to Kabul to express his opposition to the U.S. maintaining military bases in Afghanistan as the war there enters its second decade.
'Our Soil'
"We appreciate U.S. assistance for training and equipping of our army and police but we will never accept and let the U.S. have a long-term military presence in our soil," Helmandwal said in a phone interview Nov. 14.
Karzai's negotiations with the U.S. over the accord come as he has sent mixed signals to Afghanistan's neighbors and the Obama administration in recent months.
Strains between Pakistan and Karzai's government increased following guerrilla attacks in the Afghan capital in September that officials in Kabul and Washington said were sponsored by Pakistan. On Sept. 13, Taliban fighters fired rocket-propelled grenades into the U.S. Embassy compound, and a week later a suicide bomber killed Rabbani, Karzai's chief envoy for talks with the insurgents.
Last month, Karzai again accused Pakistan's military of supporting the Taliban, while at the same time saying his country as a loyal neighbor would assist Pakistan in the event of an attack by the U.S.
U.S. Footprint
A deal with the U.S. may complicate regional relations and rule out any peace deal with the Taliban, said Rashid Khan, a professor of international relations at the University of Sargodha in central Pakistan.
"Pakistan sees the U.S. military footprint on its western borders as a permanent source of instability," Khan said yesterday. "Other regional powers like Iran, Russia and China will not like Afghanistan becoming a permanent military base for the U.S. from where it could increase its influence in the region."
Helaluddin Helal, a member of the committee tasked with organizing the jirga, said Karzai is ready to listen to his countrymen. "The president wants to share his views," Helal said Nov. 14 in a phone interview. "Through consultations with elders, he will try to reach an outcome whether he should accept" the terms the Americans are offering, he said.
While Karzai, whose younger half brother was killed in July in the southern province on Kandahar, will accept advice, he may not change course, said Rahul Roy-Chaudhury, a senior fellow for South Asia at the International Institute for Strategic Studies in London.
"The meeting is not going to make the decisions for Karzai," Roy-Chaudhary said Nov. 14 by phone. "If there is a lot of opposition to his views he may alter them possibly but he won't change them completely."
Before it's here, it's on the Bloomberg Terminal.
LEARN MORE