International Cricket Council Postpones World Test Championship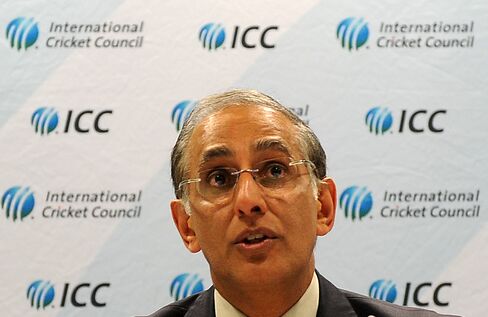 The International Cricket Council postponed the inaugural World Test Championship from 2013 until at least 2017, chief executive officer Haroon Lorgat said.
The governing body delayed the event between the top four teams in its Test rankings because of existing international cricket commitments, Lorgat said yesterday. It had been scheduled to take place in England with the final likely to have taken place at Lord's in London.
"At the last board meeting we decided that the first opportunity that we can play the World Test Championship is 2017," Lorgat said in comments broadcast on the ICC's website. "I'm disappointed it's not going to take place sooner."
The Dubai-based ICC had planned the new championship as a way of reviving interest in elite five-day Test matches, which face competition from one-day internationals and Twenty20, cricket's newest and shortest format.
The ICC's initial plan to replace the 2013 Champions Trophy, its secondary one-day competition, with the Test Championship was "not going to be possible," Lorgat said.
"It's a reality of the commitments that we've got already through to 2015," he said.
The Marylebone Cricket Club, which owns Lord's and has been a supporter of the Test Championship concept, said in a statement that the postponement was "disappointing."
The MCC said its World Cricket Committee has campaigned since July 2009 for the championship to be introduced, saying it would reinvigorate players, spectators and broadcasters and give meaning to every Test match.
The postponement "is a setback for Test cricket at a time when we need to work to find the optimum balance between all formats of the game," MCC Head of Cricket John Stephenson said.