IMF Sees 'Buildup' of China Bank Risk Needing More Oversight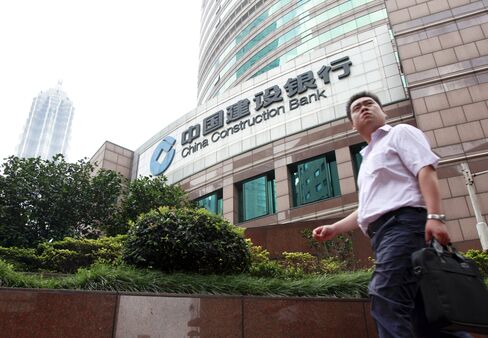 The International Monetary Fund called for China to expand oversight of banks as risks increase from off-balance sheet lending and a surge in property prices.
"Despite ongoing reform and financial strength, China confronts a steady buildup of financial sector vulnerabilities," the Washington-based IMF said in its first formal evaluation of the Chinese system. Banks need to upgrade risk-management systems, the central bank and regulators should add skilled personnel and disclosure standards must be raised, the IMF said.
While a stress test of 17 major commercial banks showed they were resilient to isolated shocks -- such as a real-estate slump or a shift in short-term versus long-term interest rates - - a combination of blows at the same time would leave the system "severely impacted," the fund said. Over the medium term, China is building up "contingent liabilities" from its government-dominated credit allocation model, which could hamper growth.
"The risks are manageable and can be addressed by reforms that upgrade the country's capacity to respond to crises while continuing to support strong domestic demand," Jonathan Fiechter, deputy director of the IMF's monetary and capital markets department, said on a conference call.
Today's report underscores concern that China's slowing growth and a cooling property market may spark a jump in non-performing loans. The MSCI China/Financials Index of shares has tumbled 23 percent this year, underperforming the broader Shanghai Composite Index of equities, which is down 10 percent.
Selling Stakes
The IMF assessment came a day after Bank of America Corp. said it will sell a second batch of shares in China Construction Bank Corp. The Charlotte, North Carolina-based lender will sell 10.4 billion shares of CCB this month, for an after-tax gain of about $1.8 billion, it said yesterday. The bank sold half of its CCB stake last quarter.
Goldman Sachs Group Inc., the fifth-biggest U.S. bank by assets, raised $1.1 billion last week selling shares of Industrial & Commercial Bank of China Ltd., the country's biggest lender. It was the third time New York-based Goldman trimmed its investment in ICBC, which has generated $2.65 billion of gains for Goldman since the fourth quarter of 2006.
China needs to overhaul the way interest rates are set and allow the yuan to trade more freely to help contain risks in its financial system, according to the IMF, which is tasked with surveillance of member economies to help identify dangers that could affect the global economy or lead to emergency credit from the lender.
Loan Growth
Slowing loan growth may be a bigger threat to the banking industry than the credit risk the IMF cites, said Lewis Wan, Hong Kong-based chief investment officer at Pride Investments Group Ltd., which manages $200 million of China assets.
"Chinese banks are smart, and they've become more selective in picking quality companies to lend to and requesting quality collateral," he said by phone. "What worries me is whether Chinese banks' loan growth will be sustainable" if U.S. and European slowdowns mean Chinese companies reduce borrowing.
Asset Bubbles
"The existing configuration of financial policies fosters high savings, structurally high levels of liquidity and a high risk of capital misallocation and asset bubbles, particularly in real estate," the IMF said. "The cost of these distortions is rising over time, posing increasing macro-financial risks."
Interest rates in China, which are set by the government through the People's Bank of China, need to be more influenced by market dynamics, the IMF said. "Relatively low" rates have distorted investment and savings decisions, generating incentives to over-invest and suppressing household income through low returns on deposits, it said.
China has used loan quotas rather than borrowing costs to manage credit growth, undermining the PBOC's control over monetary policy and hampering banks' ability to allocate credit effectively by assessing and pricing risk, the IMF said.
The search for higher yielding alternative investments by companies and households adds to the likelihood that asset bubbles may develop, according to the report.
Managing Credit
"Instead of credit growth targets, market-based interest rates should become the primary instrument for managing credit expansion," the IMF said. "This will reduce the risks that monetary control will be increasingly circumvented and ineffective in the face of capital inflows, off-balance sheet lending, and other financial innovations."
China's policy of allowing limited movement in its exchange rate requires "significant" efforts by the central bank to mop up domestic liquidity created from its purchases of foreign currency from banks by issuing bills, the IMF said. It also provides incentives for capital inflows by giving the perception of a one-way bet on the currency, it said.
"Moving to a more flexible exchange market would reduce the financial stability risks associated with cross-border flows and transactions" and ease the challenges for the PBOC of managing the excess liquidity, according to the report.
Premier Wen Jiabao's government has limited gains in the yuan to less than 7 percent against the dollar since ending a fixed peg in July 2010 that was established in 2008 to shield exporters from the global recession.
Yuan Appreciation
"My understanding is that authorities are prepared to let the appreciation continue in the months and years to come," IMF Managing Director Christine Lagarde told reporters while on a trip to Beijing on Nov. 10.
The IMF conducted joint stress tests with Chinese regulators of 17 banks accounting for 83 percent of the commercial banking system. It said the assessments showed most "appear to be resilient to isolated shocks" such as changes in the exchange rate and deteriorating asset quality in the real-estate market and among companies set up by local governments to build roads, sewage plants and subways.
"However, the system could be severely impacted if several major shocks materialized concurrently," the report said. The IMF said it wasn't able to carry out a full assessment of banking risks due to its inability to gain access to confidential data.
Shadow Banking
China's banking regulator is "very concerned" about the growth of so-called shadow banking, which is unregulated, lightly supervised and could increase systemic risk, Fiechter said. Authorities are working to protect banks from any fallout and to limit the informal lending market, he said.
Outstanding loans surged 58 percent from 2008 to 2010 as the government told banks to expand credit to help cushion the economy from the impact of the global crisis. Such growth is unlikely to be repeated, Fiechter said.
"China needs to work through the consequences of the rapid growth in the last several years," he said. "There's not that much of a risk to economic growth that China would have to again open up the floodgates," he said.
Today's report follows a decision by the fund's board last year in the wake of the global financial crisis to make financial-sector assessments mandatory for 25 systemically important countries. The appraisal will be carried out every five years.
The assessment was carried out from June to December 2010 and the report was completed in June 2011.
In a response to the report, the PBOC said that while the assessment was "overall objective and positive and the recommendations on the future reforms are constructive" the timeframe and suggested priorities of some proposals needed to take into account "many reality factors" in China.
— With assistance by Nerys Avery
Before it's here, it's on the Bloomberg Terminal.
LEARN MORE