French GDP Grew in Third Quarter on Factory Output, Consumers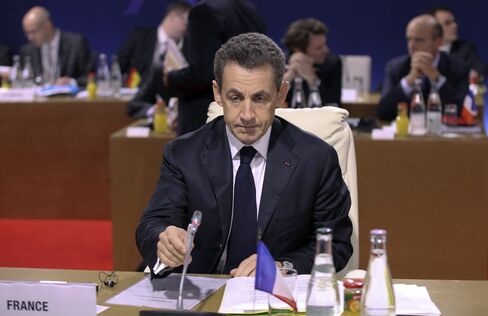 Nov. 15 (Bloomberg) -- French growth revived in the third quarter, buoyed by industrial production and consumer spending, before the onset of a slowdown that economists forecast may extend into next year.
Gross domestic product increased 0.4 percent from the second quarter, when it fell a revised 0.1 percent, the Paris-based statistics office, Insee, said today. Economists predicted growth of 0.4 percent, the median of 15 estimates in a Bloomberg News survey showed. Output was up 1.6 percent from the third quarter of 2010.
"Behind the quarterly figure is strength in July and August, followed by a marked turn in the hard data in September," Michel Martinez, an economist at Societe Generale SA in Paris, said before the data were released. "The year-end will be flat at best. After that the outlook depends on budget tightening and the euro crisis, the latter in particular."
Europe's sovereign debt crisis is biting into the real economy, discouraging the investment and hiring that helped drive France's expansion at the beginning of the year. Confidence among French factory executives fell to a two-year low in October, suggesting GDP will be unchanged in the fourth quarter, the Bank of France said last week.
The slowdown has forced President Nicolas Sarkozy's government to slash its growth forecasts twice in the past four months and to pledge budget cuts to prevent the deficit from swelling and protect France's top credit rating.
Rating at Risk
That Aaa rating is under pressure from a deterioration in debt metrics and the potential for additional liabilities from Europe's debt crisis, Moody's Investors Service said Oct. 17. France is among euro-region nations likely to be downgraded in a stressed economic scenario, Standard & Poor's said four days later.
The premium France pays to borrow for 10 years over Germany swelled to a 20-year high of 169 basis points Nov. 10 before S&P said a "technical error" unrelated to France's rating was the cause of a message that suggested the country had been mistakenly downgraded. The spread was about 160 basis points yesterday, more than three times as wide as at the beginning of the year.
Sarkozy has vowed to do whatever it takes to protect France's creditworthiness, announcing 18.6 billion euros ($25 billion) in tax increases and spending cuts on Nov. 7.
"People have to roll up their sleeves," Prime Minister Francois Fillon said as he gave details of the plan. "We have one goal: to protect the French people from the severe difficulties faced by some European countries."
Presidential Vote
The budget tightening comes as Sarkozy vies with the opposition Socialist candidate, Francois Hollande, to win the two-round presidential election due in April and May next year. Hollande would take 36 percent of the votes if an election were held now, compared with 25 percent for Sarkozy, according to a BVA poll published Nov. 8.
The "economy looms large ahead of the 2012 presidential campaign," said Pierre-Olivier Beffy, chief economist at Exane BNP Paribas in Paris. Pressure from the rating companies and bond investors led to the recent budget cuts and "signals the beginning of fiscal austerity in France," he said.
Growth in France, the euro area's second-largest economy, is a key determinant of the direction of the region as a whole.
German GDP data will be published at 8 a.m. Paris time, with third-quarter growth predicted to be 0.5 percent, according to the median of 40 estimates in a Bloomberg News survey. A report on euro-area third-quarter output will be published at 11 a.m. Paris time, with the median forecast of 39 economists surveyed for 0.2 percent growth.
To contact the reporter on this story: Mark Deen in Paris at markdeen@bloomberg.net
To contact the editor responsible for this story: Craig Stirling at cstirling1@bloomberg.net