Dell's Sales Miss Estimates as Company Sidesteps Low-End PCs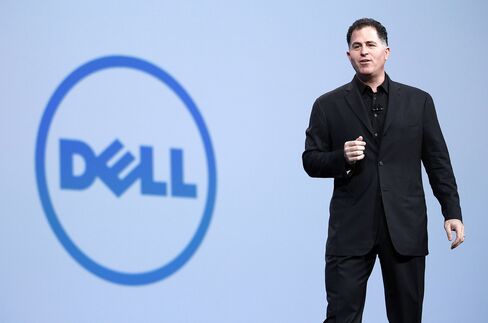 Dell Inc., the third-largest maker of personal computers, missed third-quarter revenue estimates after walking away from $2 billion in potential PC sales to focus on more profitable technology.
The Round Rock, Texas-based company gave up billions in "low-value" PC opportunities because it wanted to preserve margins, Vice Chairman Jeff Clarke told analysts on a conference call yesterday. That contributed to revenue declining to $15.37 billion in the period, from $15.39 billion a year earlier. Analysts had projected $15.7 billion.
While Dell beat profit estimates for the third quarter, the company told investors to expect more slow sales growth for the rest of the year. The company is coping with a hard-drive shortage triggered by flooding in Thailand, and it faces more price competition with PC market leader Hewlett-Packard Co. Dell is increasingly opting to sidestep the low end of the market in favor of servers, services and networking equipment.
"They walked away from unprofitable business," Jayson Noland, an analyst at Robert W. Baird in San Francisco. He has an "outperform" rating on Dell. "It sounds like HP got really aggressive on pricing."
Dell shares fell 3.2 percent to $15.13 at the close today in New York. The stock has gained 12 percent this year.
Third-quarter net income rose to $893 million, or 49 cents a share, from $822 million, or 42 cents, a year earlier. Excluding some costs, profit was 54 cents a share, topping the 47-cent estimate.
'A Bit Lighter'
Slow consumer sales in the U.S. and Western Europe and weak orders from the federal government hurt demand last quarter, Dell Chief Financial Officer Brian Gladden said in an interview.
"The revenue did come in a bit lighter than expected," he said. The company is "pruning" its product line to focus on more profitable areas, he said. Dell's sales of servers and networking gear rose 13 percent during the quarter, and services increased 10 percent, while revenue from desktop and laptop computers fell.
Total revenue will increase 1 percent to 5 percent this fiscal year, which ends in January, Dell said. Growth is "trending" to the lower end of that range, the company said. Analysts had predicted sales growth of 2 percent.
While the flooding may result in higher disk-drive costs, lower memory-chip prices are helping PC makers rein in expenses, said Chris Whitmore, an analyst at Deutsche Bank AG in San Francisco.
"Memory pricing has just been fantastic for the box makers," said Whitmore, who recommends buying Dell shares.
Tighter Focus
Under Chief Executive Officer Michael Dell, the company is winnowing its line of consumer products and focusing on small and medium-size businesses and government agencies, which account for more than half its sales. Dell now ranks behind Hewlett-Packard and Lenovo Group Ltd. in the PC industry, after leading the market as recently as 2006.
The company plans to keep making acquisitions to expand in hardware and software for corporate and government data centers, its CEO said at a company conference last month.
Dell also is increasing research-and-development spending as it integrates enterprise-computing companies it's acquired, Michael Dell told analysts yesterday. R&D outlays on an annual basis are approaching $1 billion, he said. In the previous fiscal year, Dell spent $661 million.
'New Dell'
"This is a new Dell," he said. "In a $3 trillion industry, there's plenty of opportunity for us to grow."
Even so, Dell's continued reliance on PCs has made it vulnerable to the Thailand floods.
Rising waters have swamped industrial parks where manufacturers make about a quarter of the world's disk drives. The flood has caused drive prices to increase by $10 to $25, Seagate Technology Plc CEO Steve Luczo said in a interview this month.
Dell has loaded up on disk-drive inventory, helping mitigate the shortage.
"It's still a pretty fluid situation," Gladden said.
Before it's here, it's on the Bloomberg Terminal.
LEARN MORE