Bullard Says Asset Purchases 'Must Be Employed Carefully'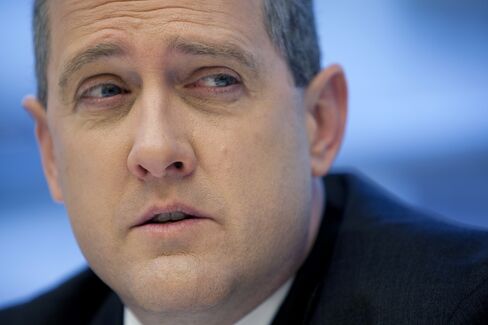 Federal Reserve Bank of St. Louis President James Bullard said current policy is appropriate and central bankers should think twice before deciding on further large-scale purchases of securities.
"Outright asset purchases are a potent tool and must be employed carefully," Bullard said in a speech today in St. Louis. "Increases in the size of the balance sheet entail additional inflationary risks if accommodation is not removed at an appropriate pace."
Federal Reserve policy makers are considering additional stimulus even as the economy picks up. Fed Chairman Ben S. Bernanke on Nov. 2 said unemployment is still "far too high" and additional stimulus "remains on the table."
Among data showing an improvement in the economy, a report from the Commerce Department today showed retail sales rose 0.5 percent in October as Americans snapped up Apple Inc. iPhones and demand for automobiles improved. The median forecast of 81 economists surveyed by Bloomberg News was a gain of 0.3 percent.
"To take further action would require the real economy to deteriorate further," Bullard told reporters after his speech to the CFA Society of St. Louis. "It is not like the committee has been asleep on the job here."
'Very Easy Policy'
"We already have a very easy policy in place," he said. "That's something that is often missed in this discussion. We are appropriately calibrated for the situation we are in."
Bullard told reporters any additional asset purchases should involve Treasuries, in contrast to Fed Governor Daniel Tarullo, who said on Oct. 20 that buying more mortgage bonds should "move back up toward the top of the list of options" as supporting housing would help the economy.
"The goal of the committee is to return to an all-Treasuries portfolio," Bullard said. "We are being fair to credit throughout the economy instead of favoring a particular sector."
Bullard also said he considers consumer price inflation "pretty high." While the Fed expected commodities prices to moderate after a first-half surge, they have recently moved up again, he said.
In his prepared remarks, Bullard said the U.S. economy has avoided the "recession scare" of August while the European debt crisis remain a risk.
'Moderate Growth'
Data on the U.S. economy "continues to show moderate growth," Bullard said. While events in Europe are "unpredictable," he said the union's leaders "tend to be very supportive of keeping the 'European Project' of ever-greater European integration moving forward."
Bullard repeated his call for quicker changes in monetary policy by the Federal Open Market Committee, including the size of the Fed's balance sheet, because that aligns policy most clearly with changes in the economy and inflation.
"A meeting-by-meeting balance sheet policy constitutes a rules-based approach because the committee would make adjustments in response to economic events, just as in the interest-rate targeting world," he said. In contrast, he said, "the policy approach of the last several years, with announcements of large dollar amounts, fixed end dates, and rapidly changing tactics, seems fairly discretionary."
The FOMC has used unconventional policy instruments at two recent meetings to try to bring down an unemployment rate stuck near 9 percent or higher for more than two years. In August, the central bank pledged to hold interest rates near zero until mid-2013, and in September it announced it would swap $400 billion of short-term debt for longer-term securities in a bid to lower borrowing costs.
Target Rate
Bullard said he disagreed with Chicago Fed President Charles Evans's call to keep the target for the benchmark U.S. interest rate near zero until either unemployment falls below 7 percent or the medium-term inflation outlook rises above 3 percent.
"Unemployment rates have a checkered history in advanced economies over the last several decades," Bullard said. He cited the example of Europe, where unemployment rose and has simply remained high during the past 30 years. "If such an outcome happened in the U.S. and monetary policy was tied to a numerical unemployment outcome, monetary policy could be pulled off course for a generation," he said.
In addition, low interest rates hurt savers, he said. "It may be better to focus on labor-market policies to address unemployment instead of monetary policy."
Growth Forecasts
The U.S. economy is likely to expand at a 2.3 percent annual rate in the fourth quarter, according to the median of 63 economists surveyed from Nov. 4 to Nov. 9 by Bloomberg News. That's up from a forecast of 2 percent a month earlier. The world's largest economy expanded at a 2.5 percent rate in the third quarter, the fastest pace of the year.
Bullard was the first Fed official last year to call for a second round of asset purchases. He published a paper in July 2010 entitled "Seven Faces of the Peril," which called on the Fed to buy Treasury notes, a policy known as quantitative easing, as a way to prevent deflation.
Policy makers this year are no longer worried about inflation falling below forecasts. Prices, including food and fuel, increased 3.9 percent in the 12 months ended September, the biggest year-over-year increase since September 2008, the Labor Department said last month.
Bullard, 50, who doesn't vote on monetary policy this year, joined the St. Louis Fed's research department in 1990 and became president of the regional bank in 2008.