Buffett's Stake in Century-Old IBM Bolsters Berkshire's Defense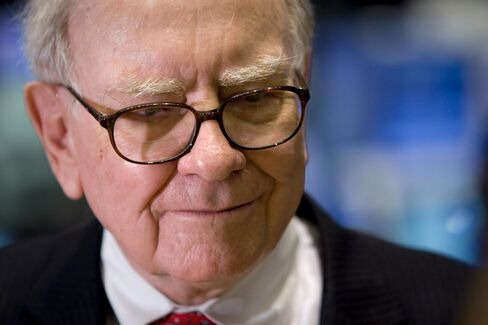 Nov. 15 (Bloomberg) -- Warren Buffett, who bought a railroad in his biggest acquisition, turned to a century-old technology company in the third quarter to help guard his Berkshire Hathaway Inc. against economic slumps.
Buffett spent more than $10 billion buying International Business Machines Corp. stock, his biggest investment in the period. The stake gives Berkshire 5.5 percent of a company that has moved from competition with Apple Inc. and Dell Inc. to focus on providing business clients with software and services. IBM sold its personal-computer business in 2005 and has beaten the Dow Jones Industrial Average each year since.
"IBM has a very resilient strategy and is well-enough diversified to perform regardless of the backdrop," said Brad Zelnick, an analyst with Macquarie Capital USA in New York.
Buffett, 81, has built Berkshire to withstand recessions and market declines by seeking firms with lasting competitive advantages, or what he calls "moats." Berkshire's Burlington Northern Santa Fe railroad, bought in 2010 for $26.5 billion, has a network of 32,000 miles that clients rely on in good markets and bad. The company's Geico car-insurance unit invests in its brand to help withstand competition.
"His investment style has always been to minimize the downside," said Meyer Shields, an analyst with Stifel Nicolaus & Co. The IBM stake "is very consistent" with that approach, said Shields, who has a "hold" rating on Berkshire shares.
Stock Performance
IBM was little changed yesterday and has advanced about 28 percent this year, the biggest gain in the Dow average. Berkshire, which isn't part of the index, has slipped 5.4 percent since Dec. 31. In 2008, the Dow average slid 34 percent, while Armonk, New York-based IBM declined 22 percent and Omaha, Nebraska-based Berkshire fell 32 percent.
"Our defense has been better than our offense," Buffett, Berkshire's chairman and chief executive officer, said last year in his annual letter to shareholders.
Buffett's firm also took stakes in CVS Caremark Corp., Intel Corp., Visa Inc., DirecTV and General Dynamics Corp., Berkshire said yesterday in a filing listing U.S. equity holdings as of Sept. 30. The IBM stake of about 64 million shares was disclosed by Buffett earlier in an interview on CNBC. Berkshire's other new stakes were valued at between $174 million and $200 million each as of Sept. 30.
The IBM holding is Berkshire's second-largest by market value behind a Coca-Cola Co. stake of $13.6 billion as of yesterday. Buffett spent about $1.3 billion building the Coca-Cola stake in the 1980s and early 1990s.
Wells Fargo
Buffett's stake in Wells Fargo & Co. had a cost of about $8 billion, according to Berkshire's 2010 annual report. The IBM stake was valued at about $12 billion yesterday.
"They do have some of the characteristics Buffett likes," Tom Lewandowski, an analyst with Edward Jones & Co., said of IBM. "But a little out of character in the fact that it is technology and he has generally had an aversion to that."
IBM may benefit in a downturn from increased business with clients that turn to the company for services to help reduce costs, said David Rolfe, chief investment officer of Berkshire investor Wedgewood Partners Inc.
"In a recession, businesses are cutting their budgets and they're looking to optimize sourcing things," Rolfe said. "That lends that stickiness if you will of business services in a downturn."
IBM, which reported $16 billion of losses in the early 1990s, had an increase in per-share profit for more than 25 straight quarters as CEO Sam Palmisano transformed the company and repurchased stock. IBM sold its PC unit, which Palmisano called "commoditized," to Lenovo Group Ltd. in 2005. The company has spent more than $25 billion in its remaining businesses to become the biggest computer-services provider.
"IBM is the technology company with the least amount of technology risk," Zelnick said.
To contact the reporters on this story: Sarah Frier in New York at sfrier1@bloomberg.net; Andrew Frye in New York at afrye@bloomberg.net.
To contact the editor responsible for this story: Dan Kraut at dkraut2@bloomberg.net.