Asian Stocks Fall as Rising Italian Yields Stoke Crisis Concern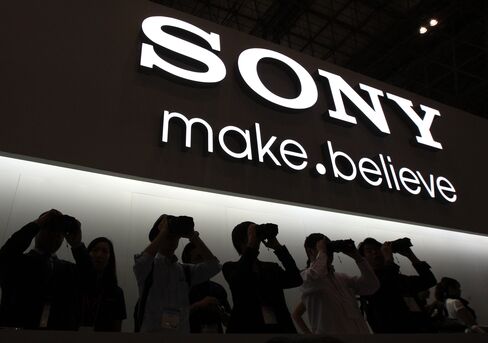 Asian stocks fell, paring yesterday's advance, after Italian borrowing costs surged, reviving concern Europe's sovereign-debt crisis is spreading, damping the outlook for earnings.
Standard Chartered Plc, the U.K.'s No 2 lender by market value, slid 4.1 percent in Hong Kong. Elpida Memory Inc. slumped 9.1 percent on speculation the chipmaker will be removed from the MSCI Asia Pacific Index after a membership review. Evergrande Real Estate Group Ltd., a Chinese developer, dropped 6 percent after a report cited Chairman Hui Ka Yan saying the outlook for housing prices is "difficult."
The MSCI Asia Pacific Index dropped 1 percent to 117.59 as of 8:11 p.m. in Tokyo with all 10 industry groups falling. Almost three stocks fell for each that rose on the gauge. The measure rose 1.2 percent yesterday, paring two weeks of losses.
"Bond tenders in Italy last night just underscore that investors are not going to pay too much to risk at this stage, given the prevailing uncertainty," said Tim Schroeders, who helps manage $1 billion in equities at Pengana Capital Ltd. in Melbourne. "You have to remain steadfast and disciplined in looking for opportunities when the market gets hysterical either on the buy side and sell side, not get caught up in day-to-day noise."
Japan's Nikkei 225 Stock Average fell 0.7 percent as turnover on the Tokyo bourse's first section fell to the lowest this year. Hong Kong's Hang Seng Index declined 0.8 percent. Australia's S&P/ASX 200 dropped 0.4 percent, and South Korea's Kospi Index lost 0.9 percent.
European Yields Soar
Futures on the Standard & Poor's 500 Index fell 1.1 percent today. The S&P 500 lost 1 percent yesterday in New York after the yield on Italian five-year debt surged following an auction and Spanish 10-year yields advanced to a euro-era record relative to German yields.
Stocks also fell after German Finance Minister Wolfgang Schaeuble said Europe's permanent bailout fund may not be implemented before 2013. German Chancellor Angela Merkel's Christian Democratic Union party voted to offer euro states a "voluntary" means of exiting the currency bloc.
"Investor concern hasn't been eased," said Yoshinori Nagano, a senior strategist in Tokyo at Daiwa Asset Management Co., which oversees about $120 billion. "Europe's debt crisis is starting to calm down overall, but it won't be solved anytime soon."
Asian banks and exporters fell, with Standard Chartered sliding 4.1 percent to HK$168 in Hong Kong. HSBC Holdings Plc, Europe's biggest lender, lost 1.9 percent to HK$62.05.
Nintendo Co., a maker of video-game consoles that gets more than 40 percent of its sales in Europe, fell 2.5 percent to 12,070 yen. Hyundai Motor Co., South Korea's biggest carmaker by market value, lost 0.7 percent to 230,000 won. Esprit Holdings Ltd., a clothier that counts Europe as its biggest market, fell 2.9 percent to HK$10.04.
Elpida Slumps
The MSCI Asia Pacific Index declined 14 percent this year through yesterday, compared with a 0.5 percent drop by the S&P 500 and a 13.5 percent loss by the Stoxx Europe 600 Index. Stocks in the Asian benchmark are valued at 12.9 times estimated earnings on average, compared with 12.6 times for the S&P 500 and 10.3 times for the Stoxx 600.
Elpida slumped 9.1 percent to 330 yen as MSCI Inc. plans to announce the results of its semi-annual index review at 11 p.m. Central European time today. Investors and funds that track indexes may buy or sell stocks depending on their inclusion in gauges. Elpida has fallen 65 percent this year.
China's developers fell in Hong Kong with Evergrande sliding 6 percent to HK$3.15 after the firm's chairman told Radio Television Hong Kong the company has no plans to acquire land for residential or commercial use for the remainder of the year as the outlook for home prices in China is "difficult." China Overseas Land & Investment Ltd. lost 1.3 percent to HK$13.94.
Paladin Rises
China Railway Group Ltd. dropped 3.2 percent to HK$2.70 after the official People's Daily reported that portions of a 2.3 billion yuan ($362 million) construction project were illegally subcontracted to unqualified builders, including a former cook.
Among stocks that rose, Paladin Energy gained 3.1 percent to A$1.66 after Prime Minister Julia Gillard said she would seek to overturn a ban on uranium shipments to India in a bid to strengthen ties and boost Australia's resource-driven economy. Gillard will call for the policy shift at her Labor Party's national conference next month and said exports to Asia's third-largest economy would boost jobs.
Sumitomo Mitsui Financial Group Inc., Japan's second-biggest lender, led Japan's banks higher after it raised its full-year net-income forecast to 500 billion yen ($6.5 billion) from 400 billion yen as lower bad-loan costs outweigh a drop in lending income, it said in a statement. The bank gained 1.4 percent to 2,094 yen.