Amgen Fills Gap for Early Biotech as Venture Funds Shy Off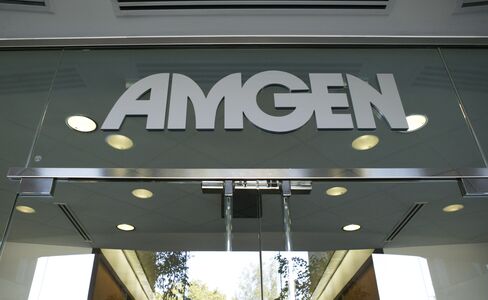 When Amgen Inc., the world's largest biotechnology firm, decided that heart drugs being developed by startup MiRagen Therapeutics Inc. were too risky for a partnership deal, the company didn't just walk away.
Instead, Amgen turned to its venture capital arm to help fund the 4-year-old company. While Amgen has cut research spending, the Thousand Oaks, California-based biotech says its venture fund has invested in 26 companies since starting with $100 million in 2004.
"This is where all the drugs are coming from," said Tracy Lefteroff, managing partner of life sciences services at PricewaterhouseCoopers in San Jose, California. "There is no successful drug development really going on in large pharma. They've been extremely ineffective at developing pipeline drugs internally."
Use of corporate venture funds has been a growing phenomenon this year as traditional venture capitalists shy off because of increasing U.S. regulatory and marketing hurdles. Corporate venture funds were involved in 25 percent of early stage U.S. biotechnology financing deals during the first half of 2011, compared with 15 percent for all of 2010, according to PricewaterhouseCoopers and the National Venture Capital Association. The funds represented 12 percent of total investment, compared with 5.3 percent last year.
Corporate funds don't have to raise money from outside investors, and their parent companies have been stockpiling cash. The 12 biggest drugmakers have $157 billion in cash and short-term investments as of their most recent quarterly reports, according to data compiled by Bloomberg. Investing in early stage biotechnology companies can create strategic and financial benefits, Lefteroff said.
Failed Investments
To be sure, a majority of biotechnology investments fail. Less than 10 percent of therapies being developed for a specific condition or disease from 2003 to December 2010 won regulatory approval, according to a study of 4,275 drugs by BIO Investor and BioMedTracker, a San Diego-based research service.
MiRagen received $1.5 million, a bit less than the typical first investment. If the Boulder, Colorado-based startup's drugs work, the ideal is for the company to become a partner with Amgen in later development, or be acquired by it, though that isn't a given, said Janis Naeve, director of the San Francisco-based fund.
"There's still some fantastic opportunities out there," Naeve said in an interview.
Finding Prospects
The fund seeks treatments for illnesses including cancer, heart disease, inflammation and blood diseases. A year ago, Amgen Ventures was one of five funds including Eli Lilly & Co.'s Lilly Ventures to invest in a $36.5 million round of funding for Sutro Biopharma Inc., based in South San Francisco, California. Sutro is developing a way to create novel therapies from antibody-drug conjugates.
Amgen Ventures typically spends $2 million to $3 million for its first investment in a company, and $10 million in total, Naeve said. Two companies supported by the fund have been bought. Amgen acquired Avidia, a developer of drugs for inflammation and autoimmune diseases, for $290 million in 2006, and Gilead Sciences Inc. purchased Calistoga Pharmaceuticals Inc., in February for $375 million for its cancer and inflammation treatments.
"It would be great if the business develops, or is acquired by Amgen, but it's fine if it doesn't," Naeve said.
Amgen slid less than 1 percent to $56.59 in New York trading. The shares have gained 3.1 percent this year.
Boehringer's Fund
Michel Pairet, head of Ingelheim, Germany-based Boehringer Ingelheim GmbH's 100 million-euro ($132.4 million) venture fund, which was founded in March 2010, expects 10 percent to 15 percent of the companies he invests in to be acquired by Germany's largest closely held drugmaker.
"Of course I will be delighted if they are acquired by another big pharma and that I have a return to re-invest," Pairet said.
While corporate venture funds aren't new, their prominence has risen since the recession as a lifeline to biotechnology companies as traditional investors seek quicker, and safer bets, said John Craighead, managing director of the Biotechnology Industry Organization in Washington.
"Corporate VCs have always had an important role in venture investing," Craighead said in an interview. "Given the environment right now, where we've seen far fewer investments by private VCs, their relative importance has increased."
The shift means corporate venture funds are becoming bigger backers of companies with drugs and devices that are years away from Food and Drug Administration approval. The funds are being approached by startups directly, and are finding themselves leading groups of investors rather than playing a side role.
Leading Role
"Historically, we liked syndicates that have been led by others," said Atul Saran, senior vice president of corporate development and ventures for AstraZeneca Plc's MedImmune Ventures, in an interview. "Now we're looking at more we're tending to lead ourselves."
Funding startups to develop medicines is often cheaper, and less risky, than drugmakers doing the work in-house, said Kevin Centofanti, senior managing partner and head of the health-care practice at Brooks Houghton & Co., a New York-based investment bank.
"Large firms can't be as nimble, and they can't be as typically innovative either," Centofanti said in an interview. "Frankly, it's a cheaper way for them to get into the drug development game."
Amgen ranks third in venture investing from 2005 through the first half of this year, behind Novartis AG, the Basel, Switzerland-based drugmaker that is Europe's second-largest, and Novo Nordisk A/S, the world's biggest insulin maker.
'This is Neat'
Amgen's investment with MiRagen began after a company scientist saw a presentation by the startup soon after its founding in 2007, William Marshall, MiRagen's chief executive officer, said in an interview. That led to a meeting with the venture group's parent company.
Amgen's reaction was, "'Man this is neat, there's some really compelling data, but boy is it early,'" Marshall said.
MiRagen's therapy relies on small molecules, called micro RNA, that block the protein-making work of genes linked with heart failure. The science behind the therapy was demonstrated in mice in a study published by the journal Nature in 2006.
Amgen's investment was critical for MiRagen's future, because it validated the research, which traditional venture capitalists are seeking when they make decisions, Marshall said.
"Once a validating partnership occurs, VC financing is easy to come by," he said. "You can get the money when you don't really need it. It's a wacky state of affairs."
Corporate funds can take a longer view on development, since they don't have to raise money from outside investors expecting quick returns, said Steven Weinstein, managing director of Novartis Venture Funds in Cambridge, Massachusetts.
"Years ago, you'd say 'Wow, that's an amazing biological concept, or an amazing platform, and I'll fund it and we'll figure out what to do with it," said Weinstein. "Now, you don't do that bet."
Before it's here, it's on the Bloomberg Terminal.
LEARN MORE