AMR Tumbles to Lowest Since 2003 as Pilots Review Contract Offer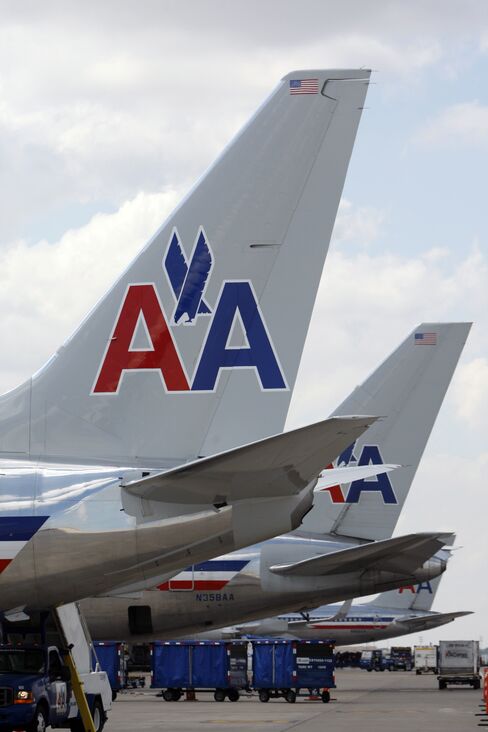 American Airlines parent AMR Corp. tumbled to its lowest closing price since 2003 after trying to end a five-year stalemate with a contract proposal that offers pilots smaller pay increases than they had sought.
The Allied Pilots Association said today it was reviewing the plan as its board began a three-day meeting, and declined to comment further. Fort Worth, Texas-based American urged the union to permit members to vote on the offer, saying it was "time to close this chapter."
The two sides are split over compensation and the extent of flying that other carriers might do for American. With AMR directors gathering tomorrow for their last scheduled session of 2011, the lack of a pilot accord to help cut costs rekindled speculation the company may seek bankruptcy protection.
"We regard the achievement of competitive pilot wage and benefit levels as key to American's long-term survival," William Warlick, a credit analyst at Fitch Ratings in Chicago, said in a report today. He said a contract on terms similar to American's plan is "essential if the carrier is to move toward a sustainable operating profile in 2012 and beyond."
AMR dropped 10 percent to $1.92 in New York trading, its lowest price since March 28, 2003. Today's plunge was the most in six weeks and pushed the shares' decline to 75 percent this year.
Union Evaluation
Tom Hoban, an APA spokesman, said the pilots wouldn't publicly discuss the contract offer until the union's board and negotiators finish evaluating it. American, the third-largest U.S. airline, has said it needs lower labor expenses to compete with its biggest peers as parent AMR heads toward a fourth straight annual loss in 2011. The pilot talks began in 2006.
Jeff Kauffman, a Sterne Agee & Leach Inc. analyst in New York, cut his AMR rating to "neutral" from "buy" because "labor progress appears to be hitting a wall" with its pilots.
"The company continues to whittle away its liquidity as we enter a high cash-burn time of year," Kauffman said in a note to investors. AMR ended the third quarter with $4.3 billion in unrestricted cash and short-term investments. The company has said bankruptcy isn't "a goal or preference."
Under the airline's contract proposal, any new jets with more than 50 seats would be flown by American's own pilots. Current rules call for regional unit American Eagle to fly aircraft of that size, along with a limited number of 70-seat jets.
Wage Scale
The offer would set separate pay rates and rules for pilots on aircraft of fewer than 125 seats, creating a "B" wage scale.
American also wants to expand a so-called code-share agreement with Alaska Airlines to fill gaps in its U.S. West Coast network. It would start similar relationships with US Airways Group Inc. on a Boston-New York-Washington shuttle where flight limits prevent American from adding its own service, and with JetBlue Airways Corp. in New York, so the carriers would be able to book American passengers on those flights.
The proposal was posted on American's labor website late yesterday after one day of negotiations following a weekend break. Hoban, the union spokesman, said Nov. 13 that the two sides were separated by a "wide gulf" on pay.
American's View
"APA negotiators haven't offered viable responses to numerous options that company negotiators have suggested as possible solutions," American said yesterday. "Instead of waiting and letting more precious time slip by, the company elected to put a comprehensive proposal on the table."
Pilots are a bellwether work group in industry labor talks, and American is focusing on the APA while also negotiating with unions for flight attendants and mechanics. AMR has said it has an $800 million annual labor-cost disadvantage to its biggest U.S. peers.
American reached an agreement in principle yesterday with the Transport Workers Union representing 180 flight dispatchers. The carrier announced a similar accord on Oct. 26 with the TWU group for 10,400 baggage handlers and other airport ground workers. Both plans require ratification votes.
Bargaining with pilots stalled late last week, with the APA objecting to the company's proposals as American made what it said were "significant" movements toward the union position in several areas.
Union's View
According to the union, the company is proposing a "concessionary contract" that would save at least $100 million a year before any benefits from expanding code-share flights.
"As pilots look at the components of the proposal, there may be some who describe it as concessionary," American said on its website. "The reality is that in virtually every area of the proposal, we have offered industry-leading terms."
To help resolve differences, American offered two options on pivotal points such as compensation, productivity, pension and benefits.
Under one of American's proposed pay plans, pilots would get a 4 percent average raise on the date the contract is signed, followed by a 3 percent boost after 15 months, and increases of 2 percent after 30 months and again after 45 months.
The second option offers a 5 percent average increase at signing, followed by a 4 percent jump after 12 months, a 2 percent increase after 24 months and 3 percent after 36 months.
Pilots had sought a 10 percent signing bonus, followed by 7 percent raises in each of the next three years.
"I don't see us moving off that figure," Hoban said on Nov. 13. "It's a pretty reasonable offer."
New union accords, including one for the 8,700 APA-represented pilots, are the final piece of a plan to return AMR to profit and make American competitive, according to the airline.
Before it's here, it's on the Bloomberg Terminal.
LEARN MORE