Yale Quarterback Withdraws Rhodes Application to Play Harvard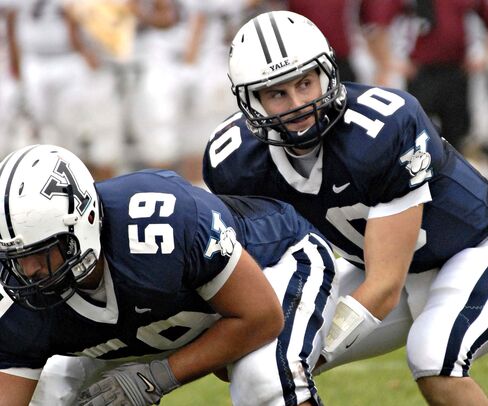 Yale University senior quarterback Patrick Witt withdrew his application for the Rhodes Scholarship to play in his final college football game this weekend against Harvard University.
Witt, 22, said last week he would ask the Rhodes Trust for an interview on Nov. 19, which would have allowed him to meet with scholarship representatives at Emory University in Atlanta and then fly back to New Haven, Connecticut, for a noon kickoff against the Crimson. The schools meet on the final weekend of every season in a contest known as "The Game."
Witt didn't say whether the trust considered his request for an early interview in a brief statement released by the school last night, a day after he passed for 379 yards and three touchdowns in a 33-24 win over Princeton University.
"I will be playing in the Yale-Harvard game this Saturday," Witt said. "I have withdrawn my application for the Rhodes Scholarship. My focus this week is solely on preparing for the game alongside my teammates and coaches."
Witt, the leading passer in Yale history, said yesterday in an e-mail that he wouldn't have further comment. He said last week the decision was the "biggest of my life" and had become a distraction as he tried to prepare for both the game against Harvard and the interview.
The Rhodes Scholarship, awarded by the trust, is the oldest and one of the most prestigious international graduate scholarship awards, granted each year to students who display outstanding intellect, character, leadership and commitment to service. Recipients are given the opportunity for postgraduate study at the University of Oxford in England.
Leadership
"In the description of the Rhodes, leadership is a major facet of who they select as candidates and finalists," Witt said last week in an interview. "In some ways, if I were to attend the interview and miss the game, I wouldn't be acting as the leader that they selected to interview."
Witt passed Alvin Cowan as the Bulldogs' all-time passing leader in the win over Princeton and now has 5,807 yards for his career. Yale has a 5-4 record this season while Harvard, at 8-1, clinched its 14th Ivy League title with last week's 37-20 win over the University of Pennsylvania.
Witt previously said he's exploring the possibility of applying for a Rhodes Scholarship again next year. He was offered a job with The Boston Consulting Group after interning with the company in Los Angeles last summer, and said that may be a possibility for next year.