Corporate Bond Volatility Falls Below Treasuries: Credit Markets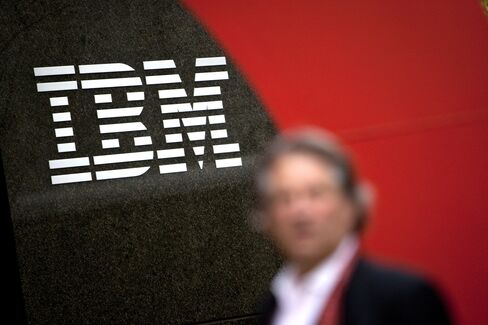 Investment-grade company debt is proving a haven for bondholders whipsawed by swings in Treasuries as Europe's debt crisis rattles credit markets.
Corporate bonds are the least volatile relative to Treasuries since at least 2002, based on price movements in exchange-traded funds from Barclays Plc. The gap expanded to 4.53 percentage points as of Nov. 11. As recently as seven weeks ago, the 30-day historical volatility of company debentures was 0.5 percentage point higher, according to data compiled by Bloomberg.
While turmoil in Europe sent investors fleeing to the safest securities, U.S. investment-grade bonds have outperformed Treasuries since the end of September, returning 1.44 percent versus a 0.15 percent loss for the government debt, according to Bank of America Merrill Lynch index data. The decline in volatility has helped entice borrowers from International Business Machines Corp. to Amgen Inc. to sell bonds.
"If people are risk averse, a lot of money is going to go into Treasuries, but not everyone wants to earn nothing on their money and the next-safest asset class is probably corporate bonds," Jeff Zavattero, head of credit trading at Mitsubishi UFJ Securities USA in New York, said in a telephone interview. "In any kind of European meltdown scenario, there's probably going to be some initial shocks wider for corporates, but what we see in the space is a flight to quality."
'Completely Decoupled'
Corporate debt volatility, which measures the risk to investors from price fluctuations, has "completely decoupled" from Treasuries the past two months as the sovereign crisis deepened, Rich Gordon, fixed-income market strategist at Wells Fargo & Co., wrote in a Nov. 8 note to clients. Treasury bond volatility has averaged 7.26 versus 7.46 for corporate bonds since 2002, Bloomberg data show.
"Havens are supposed to be safe, and if the bonds are moving around by two points a day, how safe are they?" Gordon said of Treasuries in a telephone interview.
Elsewhere in credit markets, a benchmark gauge of U.S. corporate credit pared an earlier decline. The Markit CDX North America Investment Grade Index, which investors use to hedge against losses on corporate debt or to speculate on creditworthiness, declined 0.2 basis point from Nov. 10 to 129.5 basis points as of 12:15 p.m. in New York. U.S. bond markets were closed on Nov. 11.
The index typically rises as investor confidence deteriorates and falls as it improves. Credit swaps pay the buyer face value if a borrower fails to meet its obligations, less the value of the defaulted debt. A basis point equals $1,000 annually on a contract protecting $10 million of debt.
Interest Rate Swaps
Interest-rate swap spreads, a measure of stress in credit markets, rose to the highest level since May 2010. The difference between the two-year swap rate and the comparable-maturity Treasury note yield increased as much as 2.34 basis points to as high as 47.45 basis points from Nov. 10, according to data compiled by Bloomberg. The measure was at 46.91 at 12:16 p.m. in New York.
The gauge, which gains when investors favor government bonds, has jumped from 31 on Oct. 28. A basis point is 0.01 percentage point.
Corporate bond volatility, represented by the annualized standard deviation of changes in price over the last 30 days, was 5.59 percent on Nov. 11, as measured by Barclays's iShares iBoxx Investment Grade Corporate Bond ETF. The volatility of the iShares 7-10 Year Treasury Bond ETF was 10.115.
Bond Sales Surge
The gap means the annualized movement in prices of corporate bonds has been 4.53 percent less than Treasuries using prices from the last month, Russell Rhoads, an instructor with the Options Institute of the Chicago Board Options Exchange, said in a telephone interview.
The difference in volatility between the ETFs reached 5.203 on Nov. 1, the most in figures reaching back to September 2002, Bloomberg data show.
Corporate bond offerings have surged to $63.2 billion this month in the U.S., following $64.9 billion in all of October, Bloomberg data show. Armonk, New York-based IBM, the largest computer-services company, sold $1.85 billion of notes on Oct. 27.
Relative yields on investment-grade corporate bonds in the U.S. have contracted as confidence grows the U.S. won't fall into recession. Spreads narrowed to 237 basis points as of Nov. 11 from 272 basis points on Oct. 5, the widest since July 2009, on concern Europe's fiscal crisis would infect bank balance sheets, according to Bank of America Merrill Lynch's U.S. Corporate Master Index.
'Strong' Fundamentals
Optimism that European leaders will resolve the fiscal crisis rose last week as Italy's Senate approved debt-reduction measures, paving the way for a new government led by former European Union Competition Commissioner Mario Monti, while Greece taps Lucas Papademos to head a unity government.
The U.S. economy will grow by 2.2 percent next year, according to the median forecast of 63 economists surveyed by Bloomberg. That compares with a forecast of 2 percent in last month's poll. The chance of renewed recession fell to 25 percent from 30 percent, economists in the survey said.
"The volatility was highly correlated earlier this year, but now that valuations have gotten much cheaper, investors are seeing that some corporates look attractive," said David Leduc, chief investment officer at Standish Mellon Asset Management Co. in Boston, which oversees about $80 billion. "The fundamentals for a lot of these companies are quite strong."
Before it's here, it's on the Bloomberg Terminal.
LEARN MORE