UniCredit Said to Prepare 7.5 Billion-Euro Stock Sale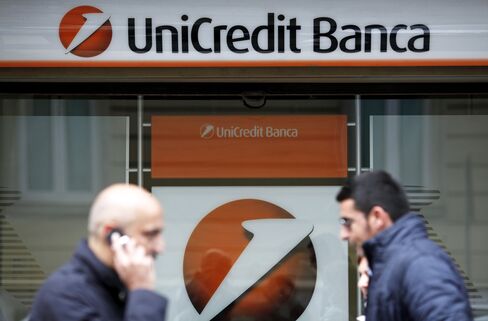 UniCredit SpA's board will consider approving a share sale of 7.5 billion euros ($10.3 billion) to strengthen capital, two people familiar with the situation said.
The strategic committee of Italy's biggest bank met in Milan yesterday and recommended the stock sale, which is expected to be approved today by directors, said the people, who asked not be named because the discussions aren't public. The board also is scheduled to approve quarterly earnings and the bank's new business plan.
Chief Executive Officer Federico Ghizzoni is preparing the biggest Italian stock sale in more than two years, as well as seeking to cut costs and shed jobs to comply with a regulatory deadline to bolster capital by June. Ghizzoni's plan will include job reductions, Gabriele Piccini, country manager for Italy, told reporters yesterday.
"A capital increase is a necessity and should allow the bank to do a bit of cleaning up of assets," said Stefano Girola, who helps oversee 3 billion euros at Albertini Syz & Co. in Milan. "Profitability is so low within Italian retail banking they really need to restructure." He doesn't own UniCredit shares.
Capital Shortfall
Shares rose as much as 5.5 percent before reversing gains to fall 2.3 percent at 80.6 cents as of 12:30 p.m. in Milan, valuing the bank at 15.6 billion euros. UniCredit lost about half of its value this year, compared with a 32 percent decline of the 46 firms tracked by the Bloomberg Banks and Financial Services Index.
UniCredit has the biggest capital shortfall among Italy's lenders, the European Banking Authority said last month, or 7.4 billion euros. The Milan-based bank must reach a core capital target of 9 percent by June 30 after writing down sovereign debt holdings, and it has until Dec. 25 to submit its money-raising plans to national supervisors.
European regulators last month ordered banks to increase the ratio of the highest quality capital they hold in a bid to stem concern that the sovereign debt crisis could trigger bank failures. UniCredit had about 39 billion euros of Italian government bonds as of June 30.
"Over time, government debt exposure could transfer risk from the sovereign to Italian banks and then to the rest of Europe," Alberto Gallo, a credit strategist at Royal Bank of Scotland Group Plc, wrote in a note to clients yesterday.
Non-Profit Foundations
The Bank of Italy will allow UniCredit to count as much as 2.4 billion euros of convertible and subordinated hybrid equity-linked securities, known as CASHES, as core capital, a person familiar with the decision said on Nov. 9.
The rights offer is "larger than expected so the market might not like it in the short term," said Alessandro Frigerio, a money manager at RMJ Sgr in Milan. He doesn't own the shares.
A share sale is likely to be backed by the bank's non-profit foundations, which hold more than 11 percent of its capital. The largest foundation is Fondazione Cariverona, which owns 4.2 percent.
Global coordinators for the rights offer will be Bank of America Corp., Mediobanca SpA and UniCredit, according to two people familiar with the plan. Joint bookrunners are JPMorgan Chase & Co., BNP Paribas SA, Societe Generale SA, Deutsche Bank AG, UBS AG, Credit Suisse Group AG and HSBC Holdings Plc, while co-bookrunners will be ING Groep NV, Banco Santander SA, Royal Bank of Canada and Royal Bank of Scotland Group Plc., the people said. The bank is likely to start the regulatory process for the sale in January.
Libyan Stake
UniCredit has raised 7 billion euros in the last three years through two capital increases, including a rights offer and a convertible-bond sale. At that time the foundations bought new shares and bonds to finance the lender after credit markets froze following the bankruptcy of Lehman Brothers Holdings Inc. in 2008, while renouncing the right to dividends.
Complicating the planned stock sale is the 7.6 percent stake in the bank owned by Libya's central bank and sovereign wealth fund, which is frozen by the European Union, U.K. and U.S. as part of their effort to cut off former Libyan leader Muammar Qaddafi's access to funding.
Cutting Costs
The board will also review a cost-cutting program, which may include the exit from research, sales and trading for western European equities, two people said Nov. 11. The board will weigh an agreement to transfer equity units that employ about 150 people to a competitor.
UniCredit may incur a cost as part of such an arrangement, and the Italian bank, which initially won't have a stake in the merged business, will retain its central and eastern European brokerage, said one of the two people.
UniCredit last month reorganized its securities sales to combine regional activities within equities and credit after hiring Jakob Groot and Michael Baptista. Cash equity sales are headed by Baptista in London, the bank said on Oct. 25.
The firm's equity research unit covers about 400 companies from Munich, Vienna, Milan and London. The firm's equity-sales business isn't among the top three in Italy and Germany as ranked by Thomson Extel in its 2010 survey.
Piccini said job cuts will be agreed with labor unions, declining to elaborate. The bank will cut as many 5,000 jobs, daily Il Giornale reported yesterday.
UniCredit has "a lot of room to deliver on cutting costs," Pedro Fonseca, an analyst at Berenberg Bank, said in a Bloomberg TV interview on Nov.11. Intesa Sanpaoplo SpA, Italy's No. 2 bank, "did surprise the market on a positive, announcing a further headcount reduction than we expected. Hopefully, UniCredit will do the same."
Before it's here, it's on the Bloomberg Terminal.
LEARN MORE