Triumph Out-Monsters Ducati, BMW in 'Naked Bike' Commuter Trial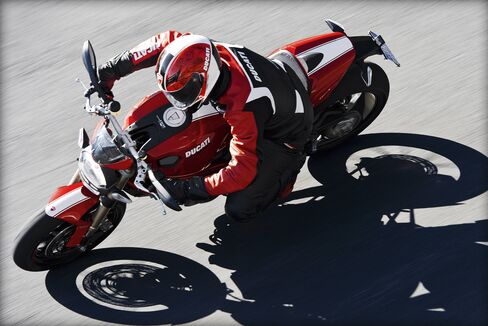 Biking magazines, advertisers and movies would have us believe motorcyclists spend their time screaming around racetracks or roaming the highways in packs wearing bandannas. This is not so.
Most riders do little more than go to and from work, trying to avoid being smashed by things with four wheels. It is for these riders -- who don't want to be hunched over a replica race bike or manhandle a big tourer -- that so-called street-naked or super-naked bikes were designed.
The design philosophy is simple. No fairing panels that cover the engine, little or no weather protection, upright riding position for comfort, raised handlebars for quick steering, and plenty of speed. They are quick, light and nimble traffic-beaters.
The latest 1,050cc Speed Triple from Hinckley, England-based Triumph Motorcycles Ltd., the new Ducati Monster 1100Evo and the BMW K1300R are leading exponents of this category. While all three dart around town and along backroads at a pulse-raising rate, they do their jobs very differently.
Bayerische Motoren Werke AG came up with the K1300R and its unusual design to help rid the Munich-based company's bikes of their stodgy pipe-and-slippers image. It succeeds in spades. The 1,300cc inline-four motor is magnificent.
There's no sense of having to work the machine into life. It pulls away with silkiness, pulls some more, and doesn't stop pulling until the fighter-jet howl makes you glance at the clocks and realize that the police might want a word.
Elated Bewilderment
I tested all three bikes with two other journalists, both of whom climbed off the BMW with expressions of elated bewilderment, like people emerging from a crashed aircraft without a scratch.
"I'm not sure whether I'm excited or traumatized," said one. "That thing is nuts."
The bike is superb at all speeds except a crawl, when it feels a tiny bit twitchy. And with this much power, a tiny bit twitchy can be unsettling in crowded streets, as if a flick of the wrist might accidentally send you careering into the nearest bus stop. The BMW is a beast that needs a delicate touch.
The Triumph is more forgiving, combining low-rev smoothness with enormous yet manageable power all the way through the range, never feeling like it wants to tear itself from your hands. Handling is light, refined and accurate, driving through bends with an agility that suggests it would be as accomplished on a track as it is on public roads.
Bag of Spanners
Creeping and spurting through city traffic, it becomes immediately clear which bike you wouldn't want for a daily commute. Ducati Motor Holding SpA's Monster is rough as guts unless it's kept revved hard, clanking like a bag of spanners while the Speed Triple and K1300R ease along with buttery smoothness. Brakes on the Ducati and Triumph are confidence-inspiring, while the BMW's are a little abrupt and grabby.
If you're taking a regular pillion, forget the Monster and the Triumph. My wife scrambled off the Ducati, shot it a look usually reserved for me, and requested not very politely never to see it again. Offered a theoretical choice, she didn't pause before picking the BMW. The pillion seat on the Triumph might as well not be there.
Still, for sheer beauty, the Ducati is a clear winner. The white center stripe down the blood-red tank looks fantastic, and the curvy Monster profile has barely changed since it first rolled out of Bologna's Borgo Panigale in 1992 to become a modern classic.
Cornering With Abandon
Where the BMW has all the grace and elegance of an American footballer bent on vengeance, the Monster looks coquettishly over its shoulder and bats its eyelids. As with all Ducatis, it can be thrown into corners with confidence and abandon.
The BMW's adventurous styling will inspire either admiration or loathing. One tester described its hard, angular lines as "an accident in a Lego factory." In matt black, that may work. Our test model, clad in something that looks like radioactive mustard, doesn't.
After eight hours riding through the city streets, expressway and country lanes of Singapore (yes, Singapore has country lanes), we had to decide which bike we'd like in our driveways at 7.30 a.m. every morning.
Each bike had clear advantages and flaws: The BMW's supreme engine weighed against its bulky shaft-drive weight and challenging looks, the Ducati's mid-range power and open-road enjoyment against its rotten performance at slow speed. And then there was the Triumph.
By virtue of doing almost everything well, the British bike came top of all three Christmas lists.
            The BMW K1300R, Triumph Speed Triple and
                Ducati Monster 1100Evo at a Glance

               BMW             Triumph            Ducati
Engine:        1,300cc inline  1,050cc triple     1,100cc V-twin
               four
Transmission:  6-speed         6-speed            6-speed
Speed:         155mph/249kph   150mph/241kph      130mph/209kph
Gas mpg:       56              36                 44
Price:         13,900 euros*   $11,990            $11,995
               ($19,050)

*Not yet available in the U.S.
(Matthew Oakley writes for Bloomberg News. The opinions expressed are his own.)
Before it's here, it's on the Bloomberg Terminal.
LEARN MORE