Sugar Harvest in India Seen Missing Forecast as Yields Drop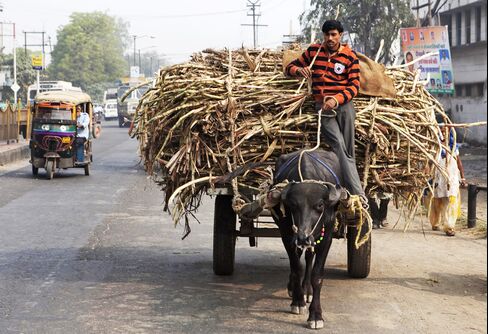 Sugar output in India, the world's second-biggest producer, may drop short of government and industry estimates as wet conditions curbed cane yields amid the country's heaviest June monsoon rainfall in three years.
Production of refined sugar may be little changed at 24.35 million metric tons in the year ending in September, according to a survey of 777 farmers across six states by Geneva-based SGS SA for Bloomberg. The Indian Sugar Mills Association and the National Federation of Cooperative Sugar Factories Ltd. estimate output at 26 million tons and the government at 25 million tons, compared with 24.3 million tons last year.
Sugar is heading for the worst year since 2003 in New York after the highest price in three decades in February spurred farmers to plant more cane. Global output will exceed demand by 8.4 million tons in the year from Oct. 1, the most in nine years, according to Kingsman SA, a researcher in Lausanne, Switzerland in September. A smaller crop than expected in India may derail plans by millers to increase exports by 54 percent this season, and help slow the decline in futures.
"This will support world market prices," said Sergey Gudoshnikov, senior economist at the International Sugar Organization in London. "The exportable surplus will go down" if output is below the government prediction, he said Nov. 9.
Price Drop
Futures plunged 30 percent from the high of 36.08 cents a pound on Feb. 2 and have lost 21 percent this year on the ICE Futures U.S. exchange, worse than the 13 percent decline in the Standard & Poor's GSCI Agriculture Index of eight raw materials. Futures in Mumbai declined 4.3 percent this year to 2,845 rupees ($56.6) per 100 kilograms.
Farmers in India may harvest 370.4 million tons of cane, 9.2 percent more than last year, according to the survey, carried out from Oct. 10 to 25 in states representing 93 percent of output. The farm ministry expects a 342.2 million ton crop.
About 64 percent of the cane may be crushed for sugar production with a recovery rate of 10.26 percent, SGS said. The rate is based on the average between 2000-2001 and 2009-2010 reported by the cooperative producers, it said. The rest is used for jaggery, a local sweetener, livestock feed and seeding.
"The overriding message is that plantings increased because of better prices and margins compared with other crops," said Mark Oulton, the market research director for SGS, from Wilkes-Barre, Pennsylvania. "Yield projections are down because of an early and very heavy monsoon in some states and drier conditions in others."
More Acres
Uttar Pradesh, the biggest cane producer, increased by as much as 19 percent from last season the price mills must pay growers for the crop. Rates were raised to as much as 250 rupees per 100 kilograms for the best quality cane from 210 rupees, the state government said in a statement on Nov. 8.
While farmers planted 13 percent more acres this year, yields may drop 3.2 percent, the survey said. Reporting of "bad" crop conditions more than doubled to 15 percent from 7 percent the previous year. About 33 percent of farmers describing conditions as bad said it was because of early and heavy monsoon rains, while 44 percent said it was too dry.
Monsoon rains in June were the heaviest since 2008, according to India's state forecaster. Precipitation in July, usually the wettest month of the June-September rainy season, was 14 percent below a 50-year average, it said on Aug. 1.
The SGS survey a year ago projected output of 23.27 million tons in 2010-2011, compared with a prediction from the mills' association at the time of 25.5 million tons. The mills now estimate last year's crop at 24.3 million tons.
The outlook for a bigger harvest has prompted producers to ask the government to allow exports of as much as 4 million tons in the year from Oct. 1, compared with 2.6 million the previous year. A panel of federal ministers may meet Nov. 16 or Nov. 17 to consider the demand, Food Minister K.V. Thomas said Nov. 8.