SK Telecom to Pay 3.4 Trillion Won for Hynix to Take on Samsung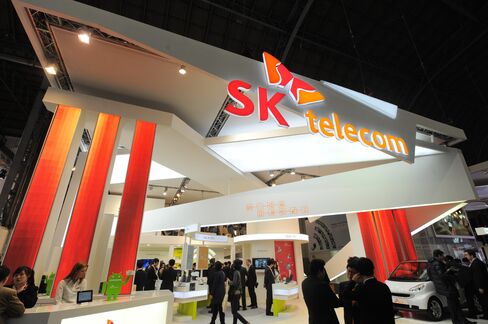 Nov. 14 (Bloomberg) -- SK Telecom Co., South Korea's No. 1 mobile-phone operator, agreed to pay 3.4 trillion won ($3.1 billion) for 21 percent of Hynix Semiconductor Inc. in the country's biggest technology deal in more than a decade.
The company will buy 101.85 million new shares of the semiconductor maker at 23,000 won apiece and 44.25 million existing ones for 24,500 won each, Seoul-based SK Telecom said in a statement. The offer is a premium of at least 3.1 percent, compared with the 22,300 won closing price of the stock today.
The deal brings the phone operator into the $39 billion annual market for computer-memory chips dominated by Suwon, South Korea-based Samsung Electronics Co. The sale, when completed, would end a two-year effort by Hynix shareholders to dispose of the stakes they gained through a 2001 government-led bailout.
Korea Exchange Bank, which is leading the sale, said today that shareholders aim to close the deal by the first quarter. Three disposal attempts failed in the past two years.
SK Telecom's biggest purchase comes as prosecutors investigate whether the chairman of the carrier's controlling group misused funds. Seoul authorities searched the offices of some SK Group affiliates on Nov. 8 while investigating whether money was misappropriated. Chairman Chey Tae Won will prove his innocence, the group said in an e-mail response to Bloomberg News that day.
The acquisition adds semiconductors to Chey's business portfolio, which includes telecommunications and oil refining.
Chip Industry
The planned acquisition of Hynix is negative for the carrier's credit, Standard & Poor's Ratings Services said today, citing the cyclical nature of the chip industry. Moody's Investors Service and Fitch Ratings also said last week the deal could hurt SK Telecom's credit.
Hynix had a net loss of 562.6 billion won in the third quarter after chip prices dropped amid slowing growth in sales of personal computers. The benchmark DDR3 2-gigabit DRAM fell today to 74 cents, the lowest on record, according to data compiled by Bloomberg.
Samsung, which earned 23 percent of its revenue last year from semiconductors, was the only manufacturer among the three biggest to post a profit from the business last quarter.
Hynix creditors approved a bailout of the company in October 2001 to give the then-struggling chipmaker money it needed to stay in business amid an industry downturn.
Hyosung Corp., the sole bidder in a 2009 sale attempt, later walked away from negotiations, saying speculation it received political favors to pursue the takeover made it difficult to negotiate a fair acquisition. Two subsequent attempts by creditors to sell their Hynix stake failed after no bidders emerged.
In 2002, Micron Technology Inc., based in Boise, Idaho, scrapped a $3 billion takeover offer after it was rejected by Hynix's board.
To contact the reporters on this story: Jun Yang in Seoul at jyang180@bloomberg.net; Seonjin Cha in Seoul at scha2@bloomberg.net
To contact the editor responsible for this story: Michael Tighe at mtighe4@bloomberg.net