Shanghai Cuts Rates in Nation's First Muni Bonds: China Credit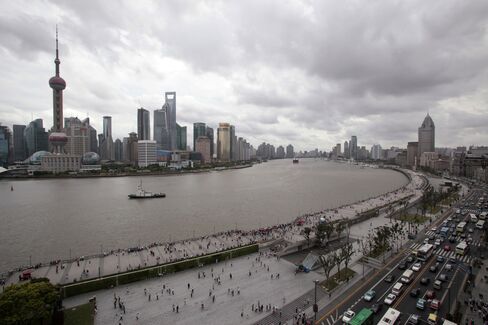 Shanghai cut its borrowing costs by almost two percentage points as China allows local governments to sell bonds for the first time, helping policy makers reorganize 10.7 trillion yuan ($1.7 trillion) of debt.
The city sold 3.6 billion yuan of three-year notes at 3.10 percent and 3.5 billion yuan of five-year securities at 3.30 percent, according to a trader participating in the auctions. That was five basis points lower than the median estimates in a Bloomberg survey of seven analysts. Five-year bonds sold by companies set up by the city to fund infrastructure yield an average 5 percent. Tax-exempt, top-rated five-year U.S. municipal debt yields 1.1 percent, a Bloomberg index shows.
The market for regional authorities' debt, which hasn't existed since the Communist Party took power in 1949, will require issuers to publish annual reports and stipulate clearer obligations than for the more than 6,000 companies set up by local governments to raise money for sewers, bridges and toll roads. China's non-performing loans may surge to 12 percent in the next few years from about 1.8 percent as many of the enterprises lack sufficient revenue, Credit Suisse Group AG said in an Oct. 12 report.
"This is going to really improve the transparency in this part of the market," said Mike Werner, an analyst at Sanford C. Bernstein & Co. in Hong Kong.
The cities of Shanghai and Shenzhen, as well as the provinces of Zhejiang and Guangdong will be able to sell debt under a pilot program, the Finance Ministry said on Oct. 20. The State Council will set a limit for the amount of debt and the Ministry of Finance will pay interest on the securities in the trial program, the announcement said.
Higher Costs
"They are investments of safety and good value," Chen Qiwei, a senior bond trader at Shenzhen Development Bank Co. in Shanghai said. "Because the central government is still making the payments on behalf of the local authorities, there won't be any default risk."
Guangdong will auction 3.45 billion yuan in 5-year and three-year bonds on Nov. 18, according to a statement on the Chinabond website. The ban on local governments issuing bonds and obtaining bank loans was outlined in a 1994 budget law.
Borrowing by so-called local-government financing vehicles accelerated as part of China's 4 trillion yuan stimulus program started in November 2008. Almost a third of the companies are losing money, according to a study published in September in the magazine of the country's official bond clearinghouse.
Yields Reverse
Yields on their debt started to rise in the past year as Standard & Poor's estimated that as much as 30 percent of lending to the government entities may go sour. Last month, Shanghai Pudong Road & Bridge Construction Co. sold 700 million yuan of AA rated five-year bonds at a coupon of 6.9 percent. In July last year, Shanghai Yangpu City Construction Investment Group Co. sold 1.2 billion yuan of 2017 bonds at a coupon of 4.95 percent.
The climb in yields has reversed since the municipal bond plan was announced. Shanghai Urban Construction Investment & Development Corp.'s five-year bonds sold in April 2009 yield 5.29 percent, according to prices from Chinabond, the state-owned clearing house. That's down from 6.16 percent on Oct. 17.
Yields on China's benchmark five-year bonds fell 27 basis points, or 0.27 percentage point, this month to 3.31 percent as of Nov. 11, Chinabond data show. The seven-day repurchase rate, a gauge of interbank funding availability, has slumped 1.58 percentage points in November to 3.30 percent, as the government sought to avoid a hard landing in the economy.
'State of Feverishness'
China's central bank sold one-year bills at a lower rate for a second week today. The People's Bank of China issued the bills at 3.4875 percent, beneath its benchmark deposit rate for the first time since January, compared with 3.5733 percent at a Nov. 8 sale.
Premier Wen Jiabao said on Oct. 25 that monetary policies will be "fine tuned," a turnaround after interest rates were increased five times since September 2010. Inflation slowed to 5.5 percent in October from a three-year high of 6.5 percent in July. Gross domestic product increased 9.1 percent in the third quarter, after averaging 10 percent growth over the past five years, official figures show.
'Default Concern'
Entities set up by local governments owed 10.7 trillion yuan at the end of last year, 42 percent of which was in 2011 and 2012, according to a June report by the National Audit Office. Forty-four percent of the debt was from city-level governments, the report said, and 30 percent from provinces.
Shanghai's sale "is a breakthrough in the local governments' financing system," said Wang Jianhui, an analyst in Beijing at Southwest Securities Co. "It doesn't ease concern over defaults at certain cities loaded with debt but it certainly does promote transparency."
"Shanghai isn't exactly a bad city so it's not a very good representation of what's to come for other cities or provinces," said Chia Woon Khien, the Singapore-based head of currency and rates strategy for Asia excluding Japan at Royal Bank of Scotland Group Plc. "There will still be a lot of doubt from investors because the law hasn't changed."
County and city-level companies set up by local governments are mostly rated AA or below, according to an October report by China Credit Rating Co., an official ratings company. Five-year corporate bonds rated AA yield 6.73 percent, almost 2 percentage points higher than the 4.88 percent on top-rated debt, according to Chinabond. Liyang City Construction Development Co. sold 1.2 billion yuan of AA rated seven-year bonds on Nov. 8 at a coupon of 8.2 percent.
Credit Risk
Five-year credit-default swaps on China's sovereign bonds fell five basis points yesterday to 139 basis points, according to CMA, which is owned by CME Group Inc. and compiles prices quoted by dealers in the privately negotiated market. The contracts pay the buyer face value in exchange for the underlying securities or the cash equivalent should a government or company fail to adhere to its debt agreements. The yuan was little changed at 6.3523 per dollar in Shanghai.
The trial will help get local government debt back on to balance sheets, rather than being obscured in the accounts of the separate financing units, said Chia at RBS.
Guangdong has the highest GDP among China's 23 provinces at 4.6 trillion yuan in 2010, while Zhejiang's GDP climbed 21 percent to 2.8 trillion yuan last year, data compiled by Bloomberg show. Shanghai's output was 1.7 trillion yuan and Shenzhen's 951 billion yuan.
"Shanghai has had very strong economic development over the past 20 years," Sanford's Werner said. "Some of the central and western provinces or cities are going to have a lot more trouble."
— With assistance by Kyoungwha Kim, Henry Sanderson, and Judy Chen
Before it's here, it's on the Bloomberg Terminal.
LEARN MORE