Receding Thai Floods Let Nissan, Honda Resume Some Production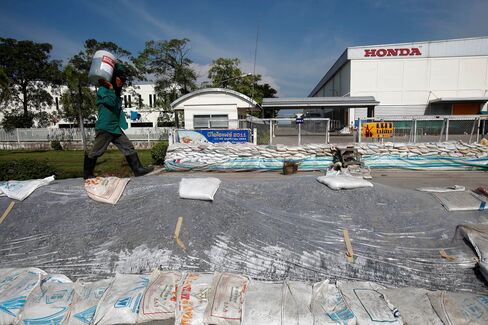 Thailand's four-month-old flood crisis began to ease as water levels fell north of Bangkok and Nissan Motor Co. and Honda Motor Co. resumed output at some plants after parts supply recovered.
"The flooding situation has improved, with water receding and more water being drained to the sea," Prime Minister Yingluck Shinawatra wrote today on her Facebook page. "Drainage in the west may take some time, but the government has tried to clear the canals in that area to accelerate the process."
Thailand's floods have claimed 562 lives since late July and shuttered 891 factories in seven industrial estates north of the capital, disrupting deliveries to plants operated by Japanese companies including Sony Corp. and Pioneer Corp.
Yingluck last week proposed spending 130 billion baht ($4.2 billion) to help flood victims and rebuild damaged roads, bridges and buildings. Authorities are still struggling to maintain a network of dikes and sandbag barriers that are protecting Bangkok from slow-moving floodwaters that have submerged parts of the capital for the past three weeks.
Nissan Motor, Japan's second-biggest automaker, resumed partial output today, the Yokohama-based company said on its website. The company closed its factory in Samut Prakan, southeast of Bangkok, on Oct. 14 after floods affected parts suppliers. Honda, Japan's third-biggest automaker, restarted production of "some motorcycle and power products" today, the Tokyo-based company said in a statement.
Honda, Toyota
Honda and Toyota Motor Corp., Japan's largest carmaker, withdrew full-year profit forecasts this month after the floods disrupted supply chains in Southeast Asia's biggest automaking hub. Toyota has said it expects to resume production in Thailand Nov. 21 and that operations in Japan should "almost fully recover" within the same week.
Factories in Ayutthaya, where Honda's main auto plant is located, may restart next month, the Thai government has said.
Flooding this year has affected 64 of Thailand's 77 provinces, damaging World Heritage-listed temples in Ayutthaya, destroying 15 percent of the nation's rice crop and flooding the homes of almost 19 percent of the country's 67 million people, according to government data. The death toll from the disaster rose to 562, the Department of Disaster Prevention and Mitigation said on its website today.
The Thai capital is still surrounded by floodwaters that may take a month to recede. Efforts to save Bangkok and areas around the capital that the government estimates account for about half of Thailand's industrial output have prolonged flooding in communities outside the water barriers, sparking clashes with residents who want the levees torn down.
Police Protection
Bangkok Governor Sukhumbhand Paribatra yesterday ordered the police to guard levees after angry residents in a flooded northern district removed sandbags to accelerate the flow of water from their neighborhoods.
Thailand's Flood Relief Operations Command ordered the Bangkok Metropolitan Authority "to take urgent measures to stop the actions of residents to avoid causing damage to the center of Bangkok," Sukhumbhand said late yesterday.
Yingluck at the weekend said defenses around Bangkok are holding, leaving only a "slim" chance that flooding in the capital may worsen. Justice Minister Pracha Promnog, who heads the government's flood relief command, said damaged barriers will be repaired today.
Waters more than a meter deep have moved south through Bangkok over recent weeks, forcing the closure on Oct. 25 of the Don Mueang airport, which sits on the city's northern edge and mostly handles domestic flights. Floodwaters have reached as far south as Mo Chit, a station on the inner-city rail network known as the Skytrain.
Suvarnabhumi Airport and public transport links are still operating normally, and Bangkok's business and tourist districts have been unaffected.
"I want to ask people to tolerate the flood situation and use unity as a force to help get us through the crisis," Yingluck said today. "The government will work quickly to help alleviate your suffering. We will do the best we can and we won't give up."
Before it's here, it's on the Bloomberg Terminal.
LEARN MORE