Olympus Shares Jump 17%, Rising for First Time Since Oct. 27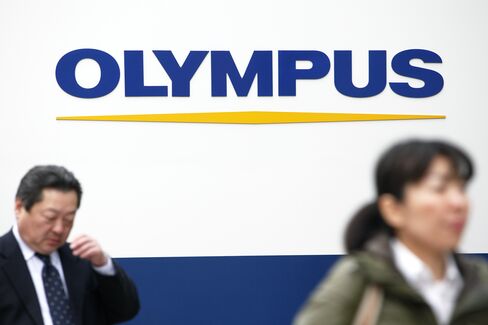 Olympus Corp., the camera maker that admitted hiding losses with inflated takeover fees, rose for the first time in more than two weeks in Tokyo after a report that the company may avoid delisting and instead pay a fine.
The stock rose 17 percent to 540 yen at the close after buy bids outnumbered offers 30-to-1 in the morning session. It was the first gain since Oct. 27, according to Bloomberg data. The shares have declined 78 percent so far this year.
"Investors are buying back the shares because of reports that Olympus may avoid delisting," said Satoshi Yuzaki, a Tokyo-based analyst at Takagi Securities Co. "There may be some speculators putting in buy orders, too."
Reuters, citing a source it didn't identify, reported yesterday that Japan's securities watchdog may recommend that a fine be imposed on Olympus for false financial reports, which could prevent delisting of the company shares. Last week, the camera maker admitted that three of its top executive colluded to hide losses, reversing weeks of denials that there was any wrongdoing in past acquisitions.
Earnings Deadline
"We are not in the position to comment right now," Tsuyoshi Kitada, a spokesman for Olympus, said by telephone today.
A spokesman for the Securities and Exchange Surveillance Commission declined to comment.
Olympus, the world's biggest maker of endoscopes, last week said it concealed losses by paying $687 million to advisers for the 2008 acquisition of Gyrus Group Ltd. The Tokyo Stock Exchange subsequently said it's considering moving the Tokyo-based company to a watch list for possible delisting because of accounting fraud.
According to Tokyo exchange rules, a company found to have falsified earnings statements is first placed under the "watch list" post, where it is kept for a month. During that period, the exchange will review the magnitude of the wrongdoings, including whether the falsification was done in an organized manner.
Today was the last day for Japanese companies to file earnings reports for the previous quarter. Olympus had postponed the release of second-quarter earnings from Nov. 8 because of a probe into $1.4 billion of writedowns and fees related to acquisitions. The company said Nov. 10 it aims to file by Dec. 14.
Asahi Shimbun also reported Saturday that Koji Miyata, a former Olympus executive, started to collect company employees' signatures advocating the return of ousted President Michael Woodford.
Before it's here, it's on the Bloomberg Terminal.
LEARN MORE