Olympus Sale of Growing Unit Helped Hide Balance-Sheet Hole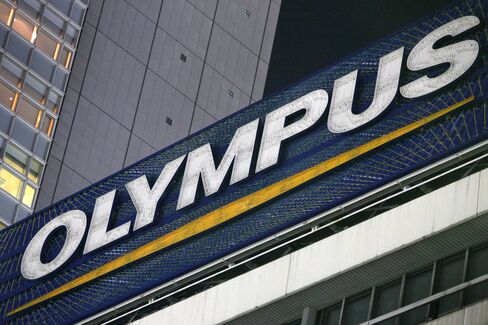 Olympus Corp.'s 2009 sale of its profitable diagnostics unit may have undermined efforts to expand into health care as the company sought cash to shore up a balance sheet that was hiding decades of losses.
Olympus's then-President Tsuyoshi Kikukawa said the Japanese camera maker was unable to compete in the industry, even as he bought face cream, plastic cookware and recycling companies. A day after Beckman Coulter Inc. purchased the Olympus unit, Chief Executive Officer Scott Garrett told analysts the division's "long and enviable track record of above-market growth" would give an immediate boost to earnings. Barclays Capital upgraded Beckman on the deal.
"If we hadn't wasted all our money on silly things," diagnostics would have been a good business to invest in, said Michael C. Woodford, who publicly questioned Kikukawa's acquisitions after he was fired as chief executive officer on Oct. 14. "We had to strengthen our balance sheet and didn't have the money to invest."
Scrutiny of Olympus's past deals has intensified since the Tokyo-based company admitted Nov. 8 that it used the purchase of Gyrus Group Ltd. and three other takeovers to cover up losses on investments dating back decades. The $1 billion sale to Beckman of a unit Olympus spent four decades building helped the Japanese company bolster its finances, even as it booked writedowns on acquisitions to hide the impairments.
Lack of Trust
Olympus has asked its main banks to join a meeting on Nov. 16, Koichi Miyata, president of Sumitomo Mitsui Financial Group Inc., told reporters today in Tokyo. The camera maker's Tokyo-based spokesman Tsuyoshi Kitada declined to comment.
"The problem with making an investment decision on all the information we have is that we can't trust the people who put the information there," said Ben Collett, head of Japan equities at Louis Capital Markets HK Ltd. "Anyone close to this issue, or involved at the time, has to be taken out immediately."
Olympus's shares have dropped almost 80 percent since Woodford's dismissal. The Tokyo Stock Exchange said 92-year-old Olympus may be delisted as it faces regulatory and criminal probes at home and in the U.S. Kikukawa stepped down Oct. 26, and newly installed President Shuichi Takayama last week blamed him and two senior aides for the cover-up.
Before Woodford's dismissal, Olympus won plaudits from Goldman Sachs Group Inc. analysts Toshiya Hari and Kenya Moriuchi for making the Briton its first foreign head in April. Woodford had promised to focus on the more profitable medical business, cut costs and bring discipline to mergers and acquisitions, they wrote in an Oct. 12 report.
Medical Opportunity
The slump in Olympus's shares has left the company with a market capitalization of $1.6 billion, or $6.2 billion less than the value of its medical unit, according to data compiled by Bloomberg and BGC Partners Inc.
While Olympus owes more money than 98 percent of Japan's biggest companies versus common equity, and camera revenue tumbled in the past three years, it still sells three times as many endoscopes as all its competitors combined, data compiled by Bloomberg show.
Olympus sold its blood-testing and chemical-analysis unit for 77.5 billion yen ($1 billion) to Beckman in August 2009.
In a conference call with analysts after announcing the deal in February, Garrett said the division's expected revenue for the year would be about $500 million. By contrast, Olympus paid 4.8 times sales in its $2.1 billion takeover of U.K.-listed medical-equipment maker Gyrus in February 2008.
High Price
"We paid a really high valuation for Gyrus in an area where we already had better products," Woodford said. "I said so at the time."
Only 18 months after the Olympus sale, Danaher Corp. bought Beckman for $6.8 billion. The deal valued Beckman's equity and net debt at 8.6 times earnings before interest, taxes, depreciation and amortization, the cheapest deal of more than $1 billion on record for a medical-instruments maker, according to data compiled by Bloomberg. Olympus paid 27 times Ebitda for Gyrus.
Danaher picked up Beckman relatively cheap after the company's shares plunged and it put itself up for sale. Beckman received a warning from the Food and Drug Administration in June last year for marketing a heart test without proper clearance, and Garrett left three months later when earnings fell short of analysts' estimates.
Cayman Islands
Tokyo-based Olympus admitted last month it paid $687 million in fees to advisers on Gyrus. Most of that went to a Cayman Islands fund that no longer exists, according to filings from the offshore center's registry.
The fees may have never reached the advisers and instead may have been used to cancel out non-performing securities Olympus was keeping off its books, according to a report in the Shukan Asahi magazine. Olympus said last week an independent committee appointed to look into its acquisitions is still examining the method used to hide the losses.
"You can't just throw $700 million down a pipe without anyone else being involved," Collett said. "There's a combination of events that need to involve other parties."
'Tobashi'
Olympus's revelations recall the practice of concealing impaired investments known as "tobashi" that became widespread in Japan in the late 1980s, according to Yasuhiko Hattori, a professor at Ritsumeikan University in Kyoto.
"M&A is probably one of the most popular ways to do 'tobashi,'" said Tadashi Kageyama, the Hong Kong-based head of Asia-Pacific investigations at risk consultant Kroll Inc. "You have a lot of consulting fees where you can hide these losses."
Between 2006 and 2008, Olympus paid 73.4 billion yen to increase stakes in News Chef Inc., which makes plastic containers for microwave ovens; Humalabo, a face-cream maker; and recycling company Altis Co., according to a letter Woodford sent to Kikukawa, a copy of which was given to Bloomberg News.
The prices paid were based on forecasts that revenues at the companies would rise as much as 30-fold over four years, Executive Vice President Hisashi Mori told reporters in Tokyo on Oct. 27. Mori was fired last week for his role in the cover-up.
"We explored M&A to accelerate growth centered on the medical business," Takayama said at the Oct. 27 briefing. "One way to achieve that was the acquisition of Gyrus and the three Japanese companies."
Olympus wrote down 55.7 billion yen, or 76 percent, of the acquisition value of the three companies in March 2009.
Before it's here, it's on the Bloomberg Terminal.
LEARN MORE