Kingfisher Rises on Report to Cut Debt by 65 Billion Rupees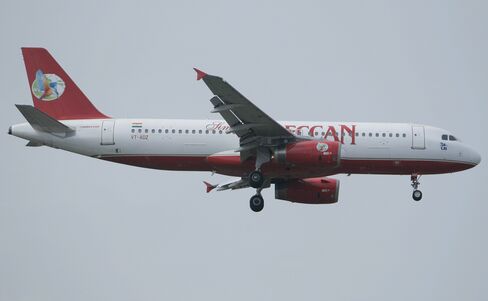 Kingfisher Airlines Ltd., the Indian carrier that's cut flights and sought government help, rose in Mumbai after the Economic Times said the carrier has a plan to cut its 65 billion rupee ($1.3 billion) of debt by more than half.
The company, controlled by billionaire liquor tycoon Vijay Mallya, intends to raise 9 billion rupees selling property and 7 billion rupees by changing plane leases, the Economic Times said, citing a presentation prepared for investors. The proposal also includes parent UB Group converting 6.8 billion rupees of debt into equity, the report said.
Kingfisher said Nov. 11 that it was financially stable, in compliance with vendors' credit terms and had only cut flights to reconfigure planes. The statement came after the Bangalore-based carrier tumbled 18 percent in two trading days because of reports about pilots quitting and a cash shortage.
"The company's single biggest headache is debt," said Jagannadham Thunuguntla, chief strategist at SMC Wealth Management Services Ltd. in New Delhi. "If the banks are ready to support on that front, there's every reason to believe the stock will move up."
Kingfisher Chief Executive Officer Sanjay Aggarwal didn't respond to two calls to his mobile phone. Ravi Nedungadi, chief financial officer of parent UB Group, said in a text message that he couldn't take calls because he was in meetings. Mallya will meet the press tomorrow to discuss the company's earnings, it said in a statement.
Jet, SpiceJet
The carrier, named for Mallya's flagship beer, surged 8.9 percent to 21.4 rupees at the 3:30 p.m. close of trading in Mumbai. Jet Airways (India) Ltd., the nation's biggest carrier, fell 2.5 percent and SpiceJet Ltd., the nation's only listed low-cost airline, dropped 5.35 percent.
Kingfisher needs to raise to raise about 10 billion rupees in equity for banks to start lending to it again, State Bank of India Managing Director Hemant Contractor said today in Mumbai.
The bank is the biggest Kingfisher shareholder not tied to Mallya, according to data compiled by Bloomberg. It led a group of 13 lenders that agreed to convert debt to equity earlier in the year. The airline is in talks with banks about higher lending caps, it said Nov. 11.
Kingfisher hasn't sought a state bailout, Mallya said on his Twitter feed today. Prime Minister Manmohan Singh told reporters Nov. 12 that the government may help the carrier. Singh didn't elaborate on what assistance could be given, according to Press Trust of India.
"No bailout involving taxpayers' money," said Mallya, who is also a lawmaker in the upper house of the parliament. We "want working capital management assistance."
Government Action
The finance ministry may ask lenders to help Kingfisher recast debt and the oil ministry may extend credit for fuel to airlines, Civil Aviation Minister Vayalar Ravi said last week. He said Kingfisher approached the government for assistance.
The airline said last week that it cut flights by 40 a day to 300 as it changes seating in planes as part of a turnaround plan following three years of losses. The carrier is halting low-cost services and scrapping unprofitable routes, it said.
The company is complying with vendors' credit and payment terms, and it doesn't see "any risk to its future or long-term viability," it said Nov. 11. It also said that staff had been paid late for the last two or three months.