Lowe's Profit Beats Analysts' Estimates on Same-Store Sales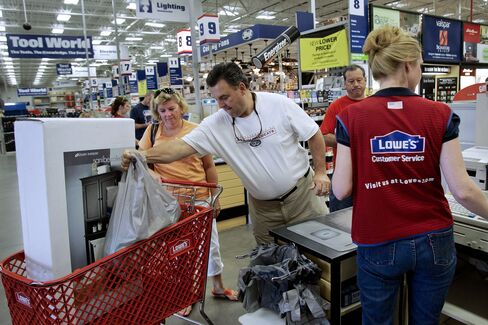 Lowe's Cos., the second-largest U.S. home-improvement retailer, reported third-quarter profit that exceeded analysts' estimates, helped by sales at older stores.
Profit rose to 35 cents a share, after adjustment for store closings and discontinued projects, the Mooresville, North Carolina-based company said today in a statement. Analysts projected profit excluding some items of 33 cents, the average of 20 estimates in a Bloomberg survey.
Spending related to Hurricane Irene in August and September boosted comparable-store sales, which rose 0.7 percent in the quarter, after Lowe's had projected they'd be flat. Chief Executive Officer Robert Niblock has streamlined operations this year to curb costs, closing 27 stores since August while eliminating 1,700 store-management jobs and reducing the number of regional offices in the U.S.
"Good operating-expense control in the quarter" was outweighed by charges, Niblock told analysts on a conference call today. "Our performance is not at the level we expect relative to the market."
Revenue advanced 2.3 percent to $11.9 billion, exceeding the average analysts' estimate of $11.7 billion.
"The positive comps were moderately better than expected given sluggish macroeconomic trends," Colin McGranahan, an analyst at Sanford C. Bernstein & Co. in New York, wrote today in a note to clients. He rates the shares as "market-perform."
Lower Forecast
The company, which trails Home Depot Inc. by sales, lowered its full-year profit forecast to $1.37 a share to $1.40 a share, including charges of 20 cents. It projected $1.48 to $1.54 in August, when it estimated charges of 6 cents.
Moody's Investors Service lowered its rating on Lowe's debt two levels to A3, the fourth-lowest investment-grade rating, from A1. The New York-based firm said in a note that the retailer has increased a target for leverage and may take on more funded debt to finance share buybacks.
Lowe's rose 1.7 percent to $23.50 at the close in New York trading. The shares have fallen 6.3 percent this year.
Before it's here, it's on the Bloomberg Terminal.
LEARN MORE