Jibril Turns Against Foreign Powers That Aided Qaddafi Overthrow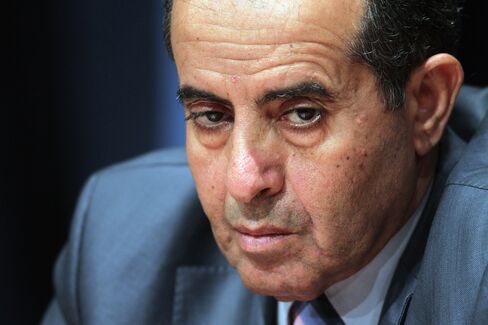 Former Libyan opposition Prime Minister Mahmoud Jibril traveled the world to gather foreign supporters to oust Muammar Qaddafi. Now, he views those allied nations with suspicion.
As Libya moves through a post-Qaddafi phase and prepares for democratic elections, the U.S.-educated former professor sees ally Qatar meddling in domestic politics by supporting a prominent Islamist. He also has a "hunch" Qaddafi was "killed based on a request by a certain foreign power" that wanted the dictator to be "silent forever."
Jibril said he regrets that Qaddafi wasn't kept alive to face trial and suspects foul play. One or more "foreign powers" he declined to name had an interest in ensuring Qaddafi stayed quiet.
"Too many secrets could have been discovered," he said in an Nov. 10 interview in Cambridge, Massachusetts, where he attended a conference at Harvard University. "He was the black box of the whole country. He had too many wheelings and dealings with too many leaders in the world. With him, unfortunately, a lot of information is gone."
While France, the U.K., Italy and the U.S. -- which had leading roles in the North Atlantic Treaty Organization's bombing in Libya -- may have had compelling political reasons for preferring Qaddafi dead, the likeliest scenario is that dictator was murdered by an angry mob, according to Karim Mezran, a Libyan exile and a political science professor at Johns Hopkins University's School of Advanced International Studies in Bologna, Italy.
Who Killed Qaddafi?
Qaddafi died on Oct. 20 while trying to escape a NATO air strike on a convoy from his besieged coastal hometown of Sirte. French officials said it was a French Mirage jet that fired at the convoy, which was then attacked by local Libyan fighters.
The exact circumstances of his death remain unclear, with members of Libya's National Transitional Council offering conflicting accounts. Videos surfaced on the Internet showing him first wounded yet alive and later lifeless with blood pouring from his head. An autopsy confirmed he died from a gunshot to the head.
Jibril, who was the international face of the rebel insurgency, has altered his views on the leaders from whom he won aid, recognition and access to frozen Libyan assets. He says his foreign allies are now pursuing their own interests in his country, which holds Africa's largest oil reserves.
"Because of the lack of state apparatus right now, every foreign power you can think of is trying to look after its own interests in Libya. No one is excluded," Jibril said. "This is the name of the game. This is politics. Countries have interests in Libya and everybody is looking out for their own."
Oil Interests
Oil producers such as Italy's Eni SpA and France's Total SA have rushed to resume operations in Libya. Libyan Oil Minister Ali Tarhouni predicted that production would reach 700,000 barrels a day by the end of this year. Output fell to 60,000 barrels a day in July from 1.7 million barrels in January, according to the International Energy Agency, after an uprising against Qaddafi.
Jibril identified Qatar, the most assertive Arab state in the struggle to unseat Qaddafi, as the "most obvious" example of foreign intervention. Qatar trained and supplied rebel fighters with weapons, provided humanitarian aid and least $100 million in loans, and its jets helped enforce the UN-imposed no-fly zone.
Former Terrorist
The Persian Gulf state has shown support for Abdel Hakim Belhaj, a veteran anti-Qaddafi fighter who heads the Tripoli Military Council. The most powerful military figure in Libya today, Belhaj is a former head of the Libyan Islamic Fighting Group, listed by the U.S. as a terrorist organization, and joined the Taliban after Sept. 11. He was picked up and held by the U.S. Central Intelligence Agency in 2004 and sent to Libya, where he spent spent seven years in a prison until his release in 2010.
"The indicators on the ground say yes, that he is being supported by Qatar," Jibril said.
When asked about the motivations for his resignation on Oct. 23, Jibril said that he had merely honored a commitment to step down once the regime fell. He was succeeded by Abdurrahim El-Keib, an engineer studied and taught in the U.S.
Jibril suggested that discord between the armed factions that fought to bring down the old regime also played a role.
"We used to have the same objective, we used to have Libyans as one hand," Jibril said. "After the liberation, you know, things became completely different."
Libyans started competing with each other and as a result, the country is divided, he said.
Legitimacy
"We are having two types of legitimacy: an official legitimacy, as represented by the National Transitional Council and its government, and the real legitimacy on the ground, as represented by those people who have arms in their hands," he said. It will take some time for that to change, he added.
Jibril expressed concern about the direction taken by the newly liberated country, where militia groups have refused to lay down their arms and revenge killings of Qaddafi's tribe continue unabated.
"We are still in the heat of the moment," Jibril said.
In the absence of political parties and rules to govern the interaction between factions, anything can happen, Jibril said, adding "this is very dangerous."
Under current plans, Libyans will choose a panel to oversee the writing of a new constitution within eight months. That will be followed by a referendum and presidential and legislative elections.
"I think this is a very long phase" said Jibril, who advocates a shorter timeline to get to elections. "I am not quite comfortable with this political vacuum."
Asked about his political future, Jibril said his next role will probably be that of a mentor to "the young people and women" who want to help shape Libya's future.
Before it's here, it's on the Bloomberg Terminal.
LEARN MORE