Italy Sells 3 Billion Euros of 5-Year Bonds as Yield Surges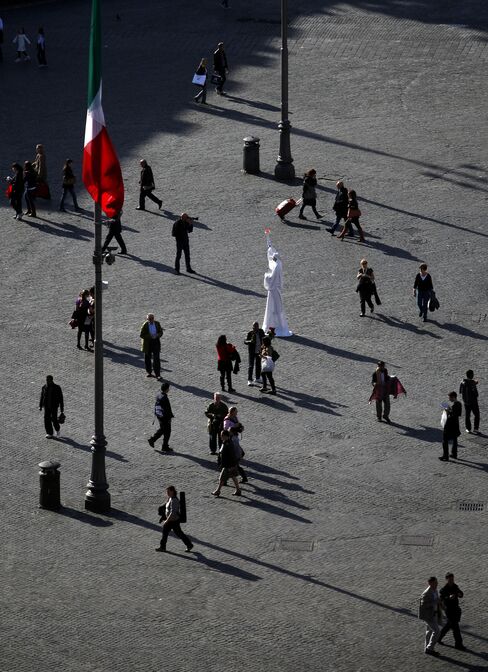 Italy sold 3 billion euros ($4 billion) of five-year bonds, the maximum target, at the highest yield in more than 14 years as Mario Monti seeks to form a new government to restore investor confidence in public finances.
The Rome-based Treasury sold the bonds to yield 6.29 percent, the highest since June 1997 and up from 5.32 percent at the last auction on Oct. 13. Demand was 1.47 times the amount on offer, compared with 1.34 times last month.
Demand was "decent" even as dealers "remain cautious on the developments in Italy," Annalisa Piazza, an economist at Newedge Group in London, said in a note to investors after the auction. "Credibility has been lost and it will take a while for market participants to believe that the country is back on the right track."
Monti, 68, accepted a mandate from President Giorgio Napolitano yesterday to succeed Silvio Berlusconi, who resigned as premier on Nov. 12 after defections eroded his parliamentary majority and the country's 10-year bond yield surged over the 7 percent threshold that prompted Greece, Ireland and Portugal to seek bailouts. The yield on Italy's benchmark 10-year bond was 6.4 percent at 11:15 a.m. in Rome after the auction, down from a euro-era record of 7.48 percent on Nov. 9.
Last Auction
Italy was forced to pay 6.087 percent on one-year bills at an auction on Nov. 10, the most in more than 14 years, amid the worsening European debt crisis.
Monti, an economist and former adviser to Goldman Sachs Group Inc., will try to reassure investors that Italy can cut a 1.9 trillion-euro debt and spur economic growth that has lagged behind the euro-region average for more than a decade.
The country faces about 200 billion euros in bond maturities next year, more than twice as much as Spain, which has also seen yields surge on fallout from the debt crisis. The first bond redemption comes on Feb. 1, when Italy must pay back 26 billion euros for debt sold 10 years ago.
Italy has a record of reaching outside politics for government leaders. Former Bank of Italy Governor Carlo Azeglio Ciampi was called in to run an administration in 1993 that oversaw a broad accord between employers and unions. As head of a technical government starting in 1994, Treasury Minister Lamberto Dini pushed through a pension overhaul.
Before it's here, it's on the Bloomberg Terminal.
LEARN MORE