Greek Opposition Leader Gives Government Three-Month Lifespan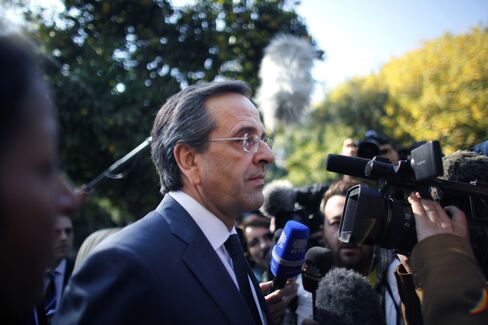 Nov. 14 (Bloomberg) -- Greek opposition leader Antonis Samaras said backing for the country's new interim government should last no more than the three months needed to secure international financing before elections are held.
Hours before Prime Minister Lucas Papademos gives his first speech in parliament since being sworn in, Samaras told his New Democracy deputies that elections should be held on Feb. 19 and his party's support for Papademos didn't mean sharing power with the ruling socialist Pasok party.
"Elections are a safety valve to avoid a social explosion," Samaras said in comments broadcast on state-run NET TV. "We want this interim government to succeed in its mission and will help it succeed, but how long it stands will depend also on us. And when we say temporary, we mean temporary."
Papademos formed a government on Nov. 11 after four days of wrangling among former Prime Minister George Papandreou, Samaras and opposition LAOS party leader George Karatzaferis. His government must implement budget measures and decisions related to an Oct. 26 European bailout amounting to 130 billion euros ($177 billion), as well as manage a voluntary debt swap, before preparing the country for elections.
Averting Collapse
Immediately at stake is the payment of an 8 billion-euro loan installment under a previously-agreed 110 billion-euro EU-led rescue. The tranche must be paid before the middle of December to prevent a collapse of the country's economy.
Disbursement was halted by German Chancellor Angela Merkel and French President Nicolas Sarkozy after Papandreou called a referendum on the second European bailout terms, roiling markets and angering Greeks and European Union partners.
A small team of officials from the European Commission, the International Monetary Fund and the European Central Bank is likely to visit Athens "very soon" to discuss matters with the Greek government and main political parties, European Commission spokesman Amadeu Altafaj said today.
"We still have to wait to get a clear and unequivocal written statement about the commitments to be undertaken by the Greek authorities" regarding the Oct. 26 deal, Altafaj said. There's no deadline for these commitments, which need to be offered "as quickly as possible" to restore confidence.
Won't Sign
Samaras repeated today he wouldn't sign a separate letter requested by EU officials to show commitment to the austerity measures to revive the economy, saying that his signature on Greek official documents was enough.
Papademos will present the government's main policy goals today at the beginning of a three-day vote of confidence in the Greek Parliament in Athens.
Greece's telecommunications regulator said today it raised a total of 380.5 million euros in a sale of operating licenses to the country's three mobile-phone companies, part of planned state asset sales that are part of the bailout terms.
The government plans to put the final touches to the 2012 budget as well this week.
Greece's biggest public and private sector union groups will hold a general strike on the as yet unspecified day the 2012 budget is being voted in parliament, Costas Tsikrikas, chairman of public sector union ADEDY, told reporters today. Public employees will also hold a work stoppage from midday tomorrow to protest against job and pay cuts.
"We may have a new government with Papademos as prime minister, who says he's not a politician but a technocrat, but in reality he's being called to make political decisions that will greatly affect the lives of people," Tsikrikas said.
A majority of Greeks say Papademos was the right choice to lead the interim government and that elections should be held later than currently envisioned in mid-February, according a poll published in Athens-based Ethnos newspaper yesterday.
Of the 952 households polled by Marc SA from Nov. 10-11, 79 percent approved of Papademos. When asked if the government's term should last longer, 54 percent agreed, while 76 percent said it should make important decisions during its term.
To contact the reporters on this story: Tom Stoukas in Athens at astoukas@bloomberg.net; Maria Petrakis at mpetrakis@bloomberg.net
To contact the editor responsible for this story: John Fraher at jfraher@bloomberg.net