GCL-Poly Plans to Boost Polysilicon Capacity Amid Oversupply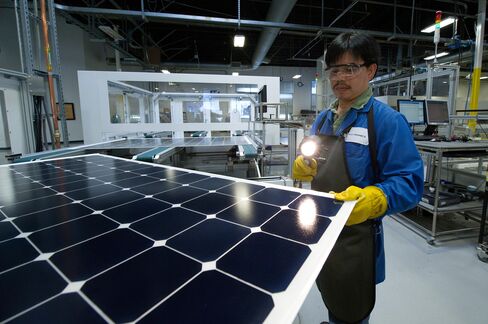 GCL-Poly Energy Holdings Ltd., China's biggest polysilicon maker, plans to sell 1.5 billion yuan ($236 million) of 7.05 percent notes due in 2018 to increase production capacity amid a global surplus.
The company will sell the bonds today to institutional investors through its Jiangsu Zhongneng unit and will list the issue on Shanghai's stock exchange, according to a Hong Kong stock exchange filing yesterday. The interest rate can be reset higher after five years, GCL-Poly said.
The expansion comes as customers increasingly demand lower prices for polysilicon, driven by oversupply. GCL-Poly joins LDK Solar Co., the second largest maker of wafers, to raise capacity even though prices are dropping, aiming to grab share as smaller companies are driven out of the business.
GCL-Poly's plan to boost production is part of a long-term strategy to increase its share of the market, said Aaron Chew, an analyst at Maxim Group LLC in New York.
"GCL isn't planning for 2012, they're planning for 2020," he said in an interview. "I would never expect GCL to slow down its expansion plans. Its whole purpose is to dominate this industry."
Plunging Prices
Prices for polysilicon, the main raw material in solar cells, have plunged 94 percent to $30.19 a kilogram from $475 three years ago as the top five producers more than doubled output, according to data compiled by Bloomberg. The industry will make about 20 percent more than is needed this year, and the oversupply will increase to 28 percent in 2012, according to Robert Schramm-Fuchs and Shai Hill, analysts at Macquarie Group Ltd.
About 90 percent of China's polysilicon plants comprising half of the country's production may suspend output this month because of the price slump, Xie Chen, an analyst at the China Nonferrous Metals Industrial Association, which acts as a conduit between industry and government, said in a Nov. 4 interview.
MEMC Electronic Materials Inc., the second-largest U.S. polysilicon company, said Nov. 3 that prices in the third quarter were "sharply lower" and gross margins, a measure of profitability after production costs, dropped to 11.4 percent, from 24.3 percent in the prior quarter.
The Hemlock Semiconductor Group, the world's biggest polysilicon maker, is putting off plans to expand a plant in Tennessee, citing a lack of demand.
It will complete next year the first phase of a Clarksville, Tennessee, facility with annual production capacity of 10,000 tons and has put on hold any subsequent phases, the Hemlock, Michigan-based company said Nov. 10.
Before it's here, it's on the Bloomberg Terminal.
LEARN MORE