Powell Said to Be Considered by White House for Fed Board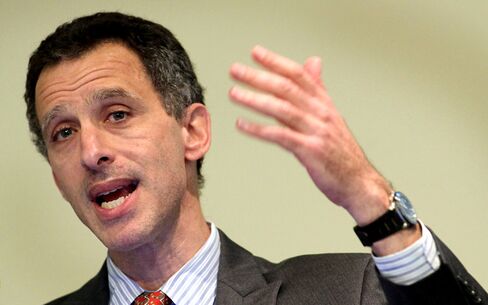 Nov. 14 (Bloomberg) -- The White House is considering Jerome Powell, a former Treasury Department official in a Republican administration, for a vacancy on the Federal Reserve Board, a person familiar with the matter said.
Powell, undersecretary of the Treasury for President George H.W. Bush, is under consideration, the person said on condition of anonymity. Another potential nominee with Republican ties, Richard Clarida, withdrew from consideration in August. President Barack Obama also is still considering Jeremy Stein, a Harvard University economist who specializes in banking and finance, for a separate Fed appointment, the person said today.
Nominating Powell may be a path to filling vacancies on the seven-member Fed board after Peter Diamond, a Nobel laureate economist, withdrew in June in the face of Republican opposition. A potential third Fed spot may open at the end of January with the expiration of Governor Elizabeth Duke's term.
"The president has made no final decisions on who he will name to the two vacant seats on the Federal Reserve Board of Governors," said Amy Brundage, a White House spokeswoman.
Powell, known as Jay, is a 1975 graduate of Princeton University and a 1979 graduate of Georgetown University Law Center, according to the Bipartisan Policy Center, where he has served as a visiting scholar.
Debt Market
As undersecretary of the Treasury under the first President Bush, Powell had responsibility for policy on financial institutions, the Treasury debt market, and related areas, the Washington-based Bipartisan Policy Center said.
Powell said "no comment" in an e-mail when contacted by Bloomberg News today. The Wall Street Journal previously reported the consideration of Powell.
Stein served in the Obama administration from February to July of 2009 as a senior adviser to U.S. Treasury Secretary Timothy F. Geithner and as a staff economist on the White House's National Economic Council.
To contact the reporter on this story: Scott Lanman in Washington at slanman@bloomberg.net
To contact the editor responsible for this story: Kevin Costelloe at kcostelloe@bloomberg.net