Euro-Area Industrial Production Drops Most in 2 1/2 Years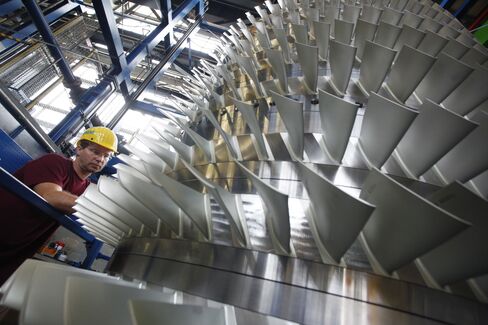 European industrial production declined the most in 2 1/2 years in September, led by capital and consumer goods, as the sovereign-debt crisis pushed the economy toward a recession.
Production in the 17-nation euro area dropped 2 percent from August, when it rose 1.4 percent, the European Union's statistics office in Luxembourg said today. Economists had forecast a drop of 2.3 percent, according to the median of 35 estimates in a Bloomberg News survey. From a year earlier, September production increased 2.2 percent.
The European Commission cut its 2011 and 2012 euro-area growth forecasts last week and said there is a risk of recession as leaders struggle to contain the region's debt crisis. Gross domestic product probably rose 0.2 percent in the third quarter from the previous three months, when it also increased 0.2 percent, according to a Bloomberg News survey. The statistics office will published that data tomorrow.
"The weak end to the quarter suggests that industrial output may contract pretty sharply" in the last three months of the year, Ben May, an economist at Capital Economics Ltd. in London, said in an e-mailed note. Recent data "appear to support our view that the euro zone will soon fall back into another fairly deep recession."
The euro remained lower against the dollar after the report, and traded at $1.3687 as of 10:11 a.m. in London, down 0.5 percent on the day.
Consumer Goods
Output of capital goods dropped 4.2 percent in September from August and intermediate goods fell 2.2 percent, the statistics office. Production of durable and non-durable consumer goods fell 3.8 percent and 1.3 percent respectively. Energy output slumped 1.4 percent in the month.
In Germany, Europe's largest economy, industrial output dropped 2.9 percent on the month, today's report showed. France reported a decline of 1.9 percent, while Italian output fell 4.8 percent. Siemens AG, Europe's biggest engineering company, on Nov. 10 forecast stagnant profit for next year on faltering export demand. European manufacturing output contracted for a third month in October, according to a survey published Nov. 2.
The euro-region economy may expand 1.5 percent this year and 0.5 percent in 2012, the Brussels-based commission said on Nov. 10. It had previously forecast growth of 1.6 percent for 2011 and 1.8 percent for next year.
'Standstill'
"The recovery in Europe has come to a standstill," EU Economic and Monetary Affairs Commissioner Olli Rehn said. "Growth is held back by sharply deteriorating confidence."
EU leaders are struggling to tame a debt crisis that started in Greece more than two years ago. In Italy, Former European Union Competition Commissioner Mario Monti will head a new government as the nation tries to restore confidence in its ability to reduce the euro region's second-biggest debt.
The European Central Bank unexpectedly cut its benchmark interest rate by 25 basis points to 1.25 percent this month, with President Mario Draghi forecasting a "mild recession."
"The debt crisis is becoming a massive political problem, an upheaval of the political system," ECB Executive Board member Juergen Stark said on Nov. 10. "What is necessary in this situation is to do one's homework in the countries that are in a critical situation."
Before it's here, it's on the Bloomberg Terminal.
LEARN MORE