Einhorn's Greenlight Buys Legg Mason While Selling Pfizer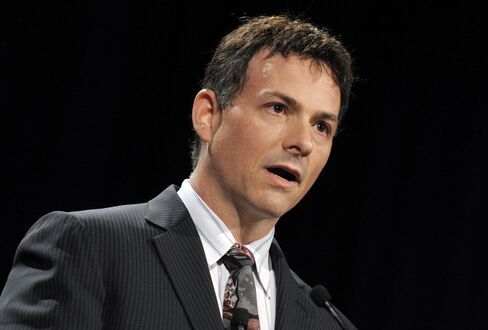 David Einhorn's Greenlight Capital Inc. bought stock in money manager Legg Mason Inc. during the third quarter while exiting positions in BP Plc and Pfizer Inc.
Greenlight also built new positions in Marvell Technology Group Ltd., CBS Corp., Barrick Gold Corp. and Compuware Corp. as well as the Market Vectors Junior Gold Miners exchange-traded fund, a Securities and Exchange Commission filing today showed. The hedge fund sold shares of Aeropostale Inc. and Amdocs Ltd.
The New York-based hedge fund increased the proportion of its equity investments in technology companies and financial stocks by 7.1 percent and 5.9 percent, respectively, data compiled by Bloomberg show. It cut health-care and energy stock weightings by 11.1 percent and 3.7 percent, the data show.
Einhorn's funds have posted negative returns in 2011. Greenlight Capital LP fell 1.2 percent in the third quarter and
6.2 percent this year, according to a letter to investors dated Nov. 7. The investor, whose fund can bet on rising and falling prices, is best known for shorting Lehman Brothers Holdings Inc. before it collapsed in September 2008.
Greenlight also added to positions in Apple Inc., Best Buy Co., General Motors Co. and Microsoft Corp. during the third quarter, today's filing showed.
Before it's here, it's on the Bloomberg Terminal.
LEARN MORE