De Palma Still Shocks With 'Blow Out,' 'Dressed to Kill': DVDs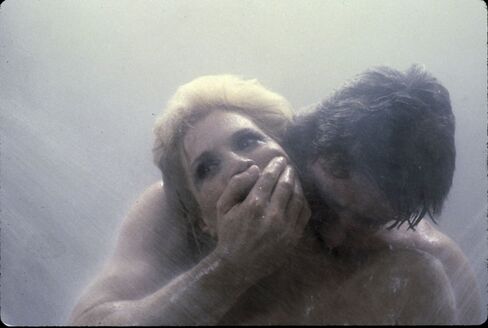 "Dressed to Kill" and "Blow Out," provocative films made by Brian De Palma in the early 1980s, still have the power to shock.
Both are now available in new DVD editions. To mark the 30th anniversary of "Blow Out," Criterion has issued a marvelous two-disc set. Meanwhile, 20th Century Fox Home Video has produced a Blu-ray version of "Dressed to Kill."
"Blow Out" is about Jack (John Travolta, in his best performance), a Philadelphia sound-effects man caught up in a murder. Recording ambient city sounds one night, he accidentally tapes the crash of a car, which flips off a bridge into the water after its tires are shot out.
The driver is the state's governor, who is running for president. He drowns, but Jack saves the politician's call-girl companion Sally (played by Nancy Allen, De Palma's wife at the time). In the ensuing cover-up, which Jack bristles at, he and Sally are stalked by an assassin (John Lithgow).
The incident summons up everything from the Zapruder film to Chappaquiddick.
In "Dressed to Kill," Allen plays a hooker who, after witnessing the murder of a sexually frustrated housewife (Angie Dickinson), is tailed by a fright-wigged transsexual. The victim's son (Keith Gordon) is a computer freak who teams with the prostitute to figure out the murderer's identity.
Violent Fantasies
What made "Dressed to Kill" so controversial at the time -- and what still resonates today -- is the luxuriantly sensual way in which De Palma films his violent scenes.
Purely as a matter of style, these sequences are almost indistinguishable from his scenes of erotic fantasy. (The film opens with a famous one: Dickinson's body double soaping herself in a steamy shower while gazing longingly at her husband.)
For defenders of this film -- and I am one of them -- it isn't enough to say that De Palma is taunting audience members by putting their most lurid sex fantasies on the screen. Since so much of the fantasizing in this film leads to death, either real or imaginary, the inescapable conclusion is that, for De Palma, there is a price to be paid for sexual pleasure.
"Dressed to Kill" is a marvelous sick joke, but its erotic obsessions are deadly serious.
Travolta Comeback
De Palma makes it clear that there is a line between fantasy and reality. He isn't endorsing sexual murder just because he stages it so consummately. Would a similar charge be raised against a war-movie director who stirringly imagined the agonies of combat? (In fact, De Palma accomplished this feat as well in his great 1989 Vietnam film "Casualties of War.")
"Blow Out," which shares some thematic links with De Palma's idol Alfred Hitchcock and Antonioni's "Blow-Up," is a more terrifying movie than "Dressed to Kill" because it feels more personal.
Travolta's Jack is an innocent overwhelmed by freakishness and depravity. His closing scene is one of utter desolation. (De Palma says the downbeat ending explains why the film flopped financially).
It was Travolta's performance in this film that, years later, compelled Quentin Tarantino to cast him in "Pulp Fiction" and revive the actor's flagging career.
In the DVD extra for "Blow Out," writer-director Noah Baumbach ("The Squid and the Whale") interviews De Palma at length about the film's style.
De Palma can sometimes sound like a filmmaker for whom craftsmanship is everything.
"The position of the camera is as important as what you're photographing," he argues. But his director's credo is clear: "We create illusions for you to fall in love with."
As De Palma's movies demonstrate, that love is complicated.
(Peter Rainer is a critic for Muse, the arts and leisure section of Bloomberg News. Opinions expressed are his own).