China Sent 157,588 Students to U.S. Colleges, Most of Any Nation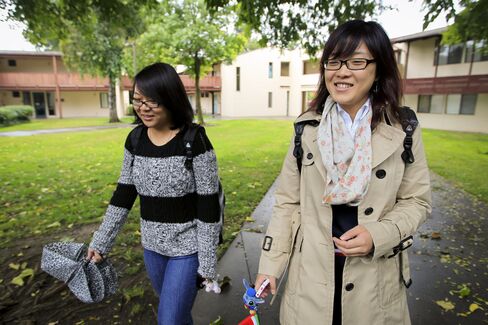 Students from China at U.S. colleges and universities surged 23 percent this year to 157,558, accounting for more than a fifth of all international scholars in the country.
For the second year in a row, China sent the most students to the U.S., followed by India, which sent 103,895, and South Korea, with 73,351, according to a report released today from the Institute of International Education, a nonprofit organization based in New York.
The total number of international students in the U.S. climbed 4.7 percent in the 2010-2011 academic year to 723,277, with the fastest growth coming from China and Saudi Arabia, which sent 22,704 students, a 44 percent increase. Most of the increase came from China, where employers value U.S. degrees and parents have the means to afford them, said Peggy Blumenthal, the former chief operating officer and now senior counselor to the president of IIE.
"The real driver there is the rise of the middle class in China," Blumenthal said in an interview. "Parents now have money to send their students to the best universities anywhere in the world."
China's one-child policy means not just parents but four grandparents can help students pay for college, she said.
China sent 56,976 undergraduates, a 43 percent jump, and 76,830 graduate students, a 16 percent increase.
The country with the biggest decline was Japan, which sent 21,290 students to the U.S., a 14 percent drop.
The University of Southern California, in Los Angeles, enrolled the most international students, with 8,615, followed by the University of Illinois, in Urbana-Champaign, with 7,991, and New York University, with 7,988. Harvard University, in Cambridge, Massachusetts, was 10th, with 5,594.
Before it's here, it's on the Bloomberg Terminal.
LEARN MORE