Argentina Cuts Reserve Requirements After Deposits Plunge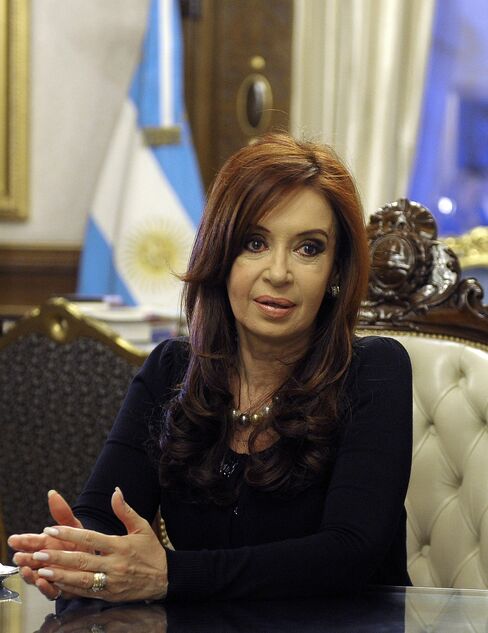 Argentina's central bank cut dollar reserve requirements after bank deposits plunged $645 million last week following the government's moves to restrict foreign exchange purchases in South America's second-biggest economy.
Argentine banks will be required to hold just 20 percent of their dollar deposits at the central bank as reserves, Banco Central de la Republica Argentina said in a Nov. 11 statement. Banks previously had to keep all dollar savings not being used to finance exporters at the central bank.
President Cristina Fernandez de Kirchner's efforts to slow capital flight since her Oct. 23 re-election by ramping up oversight of foreign exchange purchases, ordering energy and mining companies to repatriate export revenue and telling insurance companies to bring investments back to the country sent investors to banks to withdraw dollars.
"This will facilitate the ability of financial institutions to meet their client demands," the government said in a statement on the presidential website.
Dollar deposits have plunged 5 percent this year to $15.3 billion through Nov. 4, according to the latest central bank data, heading to their first annual decline since a financial crisis in 2001 that led to the government defaulting on $95 billion of bonds.
Falling Reserves
"This is just a signal to try to calm down expectations," former central bank President Martin Redrado said via e-mail. "It is a very mild" measure, he added.
Central bank reserves fell to $46.6 billion on Nov. 11 from a record $52.6 billion in January as Fernandez taps savings to pay debt and steady the peso, whose 6.7 percent decline this year is the biggest among major Latin American economies after Mexico. The government has spent $7.5 billion in reserves this year to pay debt and will tap $5.7 billion more next year, according to the central bank and the government's draft 2012 budget.
The peso fell 0.3 percent to 4.2727 at 2:17 p.m. New York time. The benchmark dollar bond due in 2017 rose 2 basis points, or 0.02 percentage point, to 10.23 percent.
Economy Minister Amado Boudou, who will become vice president on Dec. 10, said the government's moves since Fernandez's re-election are aimed at fighting money laundering.
Facing inflation economists estimate at 24 percent, Argentines pulled $9.8 billion out of the economy in the first half of this year, compared with $11.4 billion in all of 2010, according to central bank data. Capital flight has accelerated since then and will reach a record $25 billion this year, said Jorge Todesca, a former deputy economy minister.
The government last week delayed a report on third-quarter capital flight to Dec. 1 from Nov. 10.
Before it's here, it's on the Bloomberg Terminal.
LEARN MORE