Uniqlo's Yen in U.S. May Turn American Eagle Japanese: Real M&A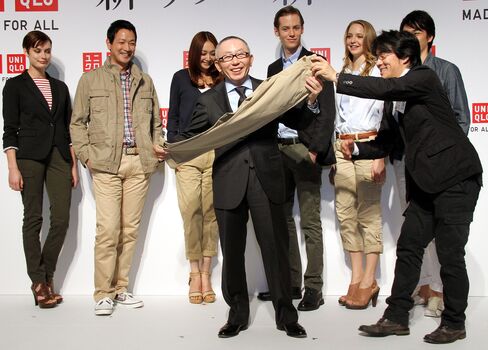 Fast Retailing Co.'s goal to make Uniqlo the world's largest clothing retailer is turning companies from American Eagle Outfitters Inc. to Aeropostale Inc. into potential takeover targets.
Tadashi Yanai, the 62-year-old billionaire and chief executive officer of Yamaguchi, Japan-based Fast Retailing, said in an interview this month he's seeking acquisitions to expand in the U.S. beyond its three Uniqlo stores in New York and boost global sales sixfold to more than $60 billion within the decade.
Yanai is looking abroad after revenue at Fast Retailing, which gets most of its sales domestically, stalled as demand in Japan fell for the first time in at least five years. With the yen surging to a post-World War II high and Fast Retailing's cash ballooning to a record $2.6 billion, Takagi Securities Co. says it may now be more affordable for Yanai to buy rather than build. That could put American Eagle and Aeropostale, which each have about 1,000 outlets in the U.S. and are at least 25 percent cheaper than the average apparel retailer versus free cash flow, on his shopping list, according to Morningstar Inc.
"If they have no market share or presence per se in the U.S., for them it's going to be like an emerging market," Keith Wirtz, who oversees $14.6 billion as chief investment officer at Fifth Third Asset Management in Cincinnati, said in a telephone interview. "U.S. properties in yen terms are cheap. The idea that they might want to have some penetration in the largest consumer market on the planet is not a surprise."
Ube to Fifth Avenue
Fast Retailing "has no plan to pursue any M&A activity with either American Eagle Outfitters Inc. or Aeropostale Inc.," the company said in an e-mailed statement. "While M&A activity is part of the company's overall, longer term strategy for growth, M&As are not the company's strategic priority at this time," Fast Retailing added.
Jani Strand, a spokeswoman for Pittsburgh-based American Eagle, said the company doesn't comment on rumors or speculation. Leigh Parrish, a spokeswoman at Aeropostale in New York, didn't return a telephone message seeking comment.
Shares of Fast Retailing rose 1 percent to 13,620 yen today. The company traces its roots to a menswear shop that Yanai's father started 62 years ago in Ube, Japan, located near the western tip of the country's main island of Honshu.
Fast Retailing opened the first Uniqlo store in Hiroshima in 1984 and by the end of August had 843 outlets in Japan and 181 internationally. Fast Retailing's global brands, including Theory, Comptoir des Cotonniers and Princesse Tam.Tam, accounted for 15 percent of sales in its fiscal year ended August.
Flagship Store
Uniqlo, which opened its first U.S. store in New Jersey in 2005 only to close it the next year, returned to America in 2006 with an outlet in New York's SoHo district. It started two more last month, including the opening of its global flagship store on Fifth Avenue that coincided with an advertising campaign which featured celebrities from actress Susan Sarandon to jazz musician Esperanza Spalding wearing Uniqlo clothes.
Bolstered by the success of its Heattech thermal wear and Bra Top camisoles, the casual-clothing chain's sales more than doubled in the five years ended August 2010, enabling Fast Retailing to become Asia's largest apparel retailer, according to data compiled by Bloomberg.
The company has now amassed 202 billion yen ($2.6 billion) in cash and short-term investments, more than any other clothing retailer in the world apart from Arteixo, Spain-based Inditex SA, the maker of Zara-brand clothes, and Hennes & Mauritz AB of Stockholm, data compiled by Bloomberg show.
Stronger Yen
In dollar terms, Fast Retailing's cash more than doubled in value in the last five years as the yen has appreciated by about 50 percent against the U.S. currency.
After revenue rose less than 1 percent last fiscal year as the biggest recorded earthquake in Japan's history caused sales domestically to decline, Yanai plans to take advantage of a slump in equity values to buy companies as he targets a record 1 trillion yen in sales this year and 5 trillion yen by 2020.
"Now that the yen is strong and the stock market is stagnant, it is a really good environment for M&A," said Yanai, who wouldn't say how much he'd be willing to spend on a purchase.
In 2007, Yanai lost a bidding contest to acquire Barneys New York, the luxury department store that was then owned by Jones Apparel Group Inc., to a private equity firm owned by the government of Dubai.
'In the Boonies'
While Fast Retailing wanted to use Barneys to showcase and sell international products in America, Yanai says he's no longer interested in the luxury department store. Instead, he wants to expand in the U.S. by looking for local chains that can offer a platform to help support Uniqlo's growth.
"We will focus on the large cities and have local chains in the surrounding areas," Yanai said. "It will be totally opposite from what we did in Japan where we started out as a roadside store in the boonies."
American Eagle, known for jeans and preppy shirts, and Aeropostale, which sells casual clothing targeted at 14- to 17-year-olds, would both complement the Uniqlo brand and give Yanai access to mall-based shoppers all across America, the world's largest economy, according to Jaime Katz, a retail analyst at Morningstar in Chicago.
Third-quarter revenue at American Eagle exceeded analysts' estimates, helped by online sales and demand for its aerie line of women's lingerie, its preliminary results this month showed.
Higher Estimates
That prompted analysts who cover American Eagle to increase the per-share earnings estimates by 13 percent in the past four weeks, according to data compiled by Bloomberg. The increase was bigger than all but one specialty apparel retailer in North America -- Aeropostale.
Analysts more than doubled their quarterly profit projections to 28 cents a share for Aeropostale after the company increased its own forecast on Nov. 3, an announcement that led to its biggest share gain in nine years.
Aeropostale also generated $673 in sales per square foot last year, almost two-thirds more than average specialty apparel retailers, data compiled by Bloomberg show.
"Those are the likely candidates," Mark Luschini, chief investment strategist at Philadelphia-based Janney Montgomery Scott LLC, which manages $54 billion, said in a telephone interview. "If they are trying to get to our market quickly, it may be just as inexpensive and certainly more efficient for them" to consider acquiring those types of companies, he said.
Relative Value
While both have rallied at least 35 percent since slumping to their 2011 lows within the past three months, American Eagle and Aeropostale still trade at discounts to the industry based on their free cash flows, data compiled by Bloomberg show.
American Eagle is valued at 14.9 times its cash from operations of 92 cents per share in the past year after deducting capital expenses, the data show. That's 41 percent less than the industry average of 25.3 times. Aeropostale traded at 18.3 times free cash flow. Both have more cash than debt.
"They have very strong cash flows, very little debt and a store base that can be distributed through already," Morningstar's Katz said in a telephone interview. The advantage in acquiring American Eagle or Aeropostale is that "there's really no kind of set-up time to get into the U.S. market, they're already there," she said.
Shares of American Eagle fell 0.4 percent to $13.71 in New York today. Aeropostale lost 1.7 percent to $16.72.
'Frustratingly Slow'
While analysts project the U.S.'s gross domestic product will increase 1.8 percent this year as Japan contracts, Fast Retailing would be expanding into an economy where improvement is likely to be "frustratingly slow," Federal Reserve Chairman Ben S. Bernanke said this month. Fed officials also lowered their outlook for growth next year.
U.S. retail sales may increase 2.8 percent this holiday season, slower than the 5.2 percent gain a year earlier, according to the Washington-based National Retail Federation. American consumers are still grappling with an unemployment rate above 9 percent more than two years after the end of the longest recession since the Great Depression.
Still, the slowing U.S. economic recovery has made acquisitions of American companies cheaper for Japanese rivals as stock market valuations decline and the dollar weakens.
The Standard & Poor's 500 Index lost as much as 19 percent from its 2011 high on April 29 through Oct. 3. The benchmark gauge of American common equity now trades at 13.3 times the average earnings of its companies, down from almost 24 times in December 2009, data compiled by Bloomberg show.
'Burning a Hole'
The yen reached a post-World War II high of 75.35 against the dollar on Oct. 31, extending a 2011 rally spurred by investors seeking havens from Europe's sovereign debt crisis and the U.S., which lost its AAA rating from Standard & Poor's in August. Japan's currency tends to strengthen in periods of financial turmoil because the country's current-account surplus makes it less reliant on foreign capital.
"This is the time you start to buy," said Philip Orlando, the New York-based chief equity market strategist at Federated Investors Inc., said in a telephone interview. His firm oversees about $355 billion. "If you've got the ability to go in and buy a brand name store at a huge discount either because of the depressed nature of the financial markets or the depressed-relative of the U.S. currency and you've got money burning a hole in your pocket, you go ahead and do it."
Before it's here, it's on the Bloomberg Terminal.
LEARN MORE