Nissan Leaf Unloved in Hong Kong Where Maseratis Rule Smog: Cars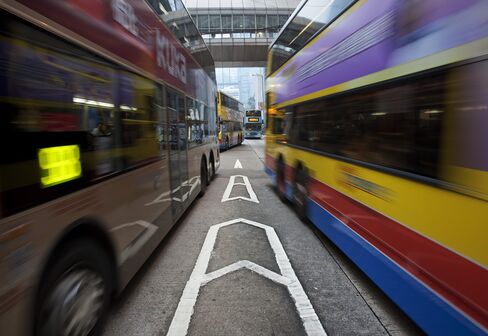 Hong Kong is small, rich and cosmopolitan. It's also choking on smog.
For carmakers like Nissan Motor Co. that should make the city a perfect base from which to launch their electric vehicle strategy on the rest of Asia.
The snag is that the carmakers' target market of trendsetting early adopters are proving hard to find, with Hong Kongers content to covet their neighbors' Maseratis, Mercedes and Porsche Cayennes through the haze. Even with subsidies that are among the most generous in Asia, only 64 Nissan Leaf EVs were sold in the first nine months of the year.
"People don't really care how much a car costs, but how great it feels," said Rahul Dansanghani, 28, who drives a Mercedes S-Class sedan. "Electric vehicles are beneficial for the environment and may offer some cost savings, but the Hong Kong buyer's main focus is luxury."
The city recorded the fastest pace of growth in new millionaires in the world last year, according to a report by Capgemini SA and Bank of America Corp. Cracking Hong Kong takes on added importance for automakers eyeing China, the world's largest car market, said Michael Dunne at Dunne & Co.
"Taste among the most educated and discerning Chinese customer is often shaped by what's being bought in Hong Kong," said Dunne, president of the Hong Kong-based industry researcher. "If carmakers can't make them work in there, it would be difficult to envision widespread purchases in a place like China."
China Market
China is forecast to buy more electric cars than the U.S. in 2020, driven by government subsidies and investment in charging infrastructure, The Boston Consulting Group said in a June 14 report.
Hong Kong's government wants 30 percent of the city's private cars to be either dual-energy, such as Toyota Motor Corp.'s Prius hybrid, or fully electric by 2020. Private buyers of electric vehicles are exempted from registration levies, which could halve the cost of some models, said Eva Wong, a spokeswoman for the Environment Bureau. Corporate purchasers enjoy additional tax incentives, she said.
Consumers in Hong Kong save about HK$292,500 ($37,600) on Nissan's all-electric Leaf, three times the incentive in Japan and about the twice the amount in China, according to company and government estimates. That still puts a price tag of about HK$420,000 ($54,000) on the car, about the same as a basic Mercedes E-Class sedan in Hong Kong.
Charging Stations
While most people in the 1,104-square-kilometer (426 square miles) territory use their cars for small journeys, easing concerns over the limited range of EVs, the paucity of charging stations acts as another deterrent.
Most of the city's 7.1 million people live in high-rise apartments that lack recharging points for their batteries. About 330 top-up points have been installed in commercial and residential properties, with another 200 planned in the coming months, according to the environment bureau. That makes it harder to top up the battery overnight.
"Many people have shown interest but they are stuck by the charging," said Elven Leung, a senior manager with Nissan Hong Kong, whose dealers have run five test-driving events for the public.
Nissan's shares rose 2 percent at the close of trading in Tokyo today, while the benchmark Nikkei 225 Stock Average gained 1.1 percent.
Government Support
The government will more than triple the number of public car-charging stations to 1,000 by next June from 300 now, Environment Secretary Edmond Yau said on Sept. 6.
Yokohama, Japan-based Nissan's Hong Kong sales compare with 7,256 in its home market and 15,576 globally, according to the company. Mitsubishi Motors Corp. delivered about 100 of its i-MiEV minicar in Hong Kong since it started taking orders in October 2009.
For all their presumed benefits, Hong Kong buyers may also be paying a premium for a battery-charged vehicle that will have a negligible impact on traffic fumes, according to Marco Gerrits, a Beijing-based partner at BCG.
Vehicles are the second-biggest source of pollution in Hong Kong after power stations, and their numbers rose 9.6 percent between 2004 and 2009, according to the government. More than two-thirds of the city's buses will be European Union II emission standard or less at the end of 2011, according to the Clean Air Network, a Hong Kong-based advocacy group.
Roadside Smog
Replacing 90 percent of the current fleet on the road with vehicles that meet the European Union V standards -- the most stringent of five classes -- would be more effective than boosting plug-in hybrids and electric vehicles to a tenth of all automobiles, Gerrits said.
Pollution is linked to 4,800 additional deaths in the former British colony between 2007 and 2010, according to the University of Hong Kong. Roadside smog reached "very high" levels for a record one in four days in 2010.
The government's target for low-emission buses is 15 percent by 2020. Hong Kong set up a state-funded HK$300 million fund in March to subsidize electric vehicles adoption by public transport operators.
"It's decisive that the government supports electric vehicles," said Claus Weidner, Chief Operating Officer of Mercedes Benz's Hong Kong unit, which started test driving a fleet of Smart-brand electric cars in September. "It's a money and a tax question. This makes it easier for consumers to come into this market."
For Dansanghani, the Hong Kong resident, a decision to go electric rests on the brand.
"If they started to get luxury car brands like Lexus, Mercedes and Porsche to create their own electric cars, that possibly could attract more customers." he said.
— With assistance by Kongho Chua, and Liza Lin
Before it's here, it's on the Bloomberg Terminal.
LEARN MORE