Indian Billionaires Fail to Turn Air-Travel Boom Into Profit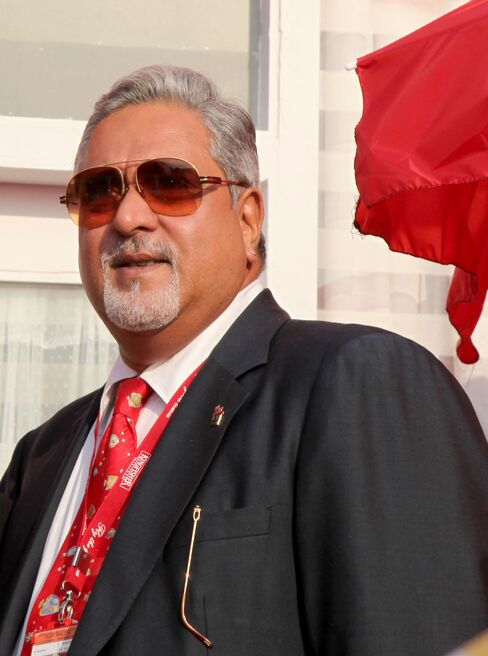 Even billionaires can't figure out how to make money in Indian aviation.
Kingfisher Airlines Ltd., controlled by brewing tycoon Vijay Mallya, is expected to report a second-quarter loss today, following Kalanithi Maran's SpiceJet Ltd. and Jet Airways (India) Ltd., the nation's biggest carrier. All three companies have also slumped more than 65 percent in Mumbai this year.
Indian airlines have failed to turn a 19 percent jump in passenger numbers into profits because of a price war, fuel taxes that average about 25 percent and the rupee's 11 percent depreciation this year. State-owned Air India Ltd. can also offer below-cost fares after winning 32 billion rupees ($639 million) of government bailouts since a 2007 merger.
"We have a serious issue on hand and that is to address the viability of Indian carriers," said Kapil Kaul, the Indian head for CAPA Centre for Aviation. The financial status of domestic carriers is "very fragile," he said.
CAPA expects the nation's airlines to lose about $2.5 billion in the year ending March, including losses of as much as $2 billion for Air India. Only closely held IndiGo, India's biggest discount airline, may make a profit, Kaul said, without giving a precise forecast.
Jet fell 2.5 percent to 259.7 rupees, while SpiceJet dropped 5.4 percent to 23 rupees at the 3:30 p.m. close of trading in Mumbai.
Kingfisher Rises
Kingfisher gained 8.9 percent after the Economic Times said the board will today consider a proposal to sell real estate to raise about 9 billion rupees over the next two years. It will also discuss a plan to convert loans from its parent into equity and to change aircraft lease terms, the daily said, citing a presentation to investors.
The carrier's Chief Executive Officer Sanjay Aggarwal didn't respond to two calls to his mobile phone. Ravi Nedungadi, chief financial officer of parent UB Group, said in a text message that he can't take calls because he was in meetings. Mallya will hold a press meet at noon in Mumbai tomorrow to discuss the airline's second-quarter earnings, according to a company statement today.
Kingfisher said in a statement last week that it was seeking to increase bank lending limits, and cutting flights to 300 a day from 340 as it reconfigures planes and stops offering low-cost services as part of a turnaround plan. It denied having reduced services because of a shortage of pilots. The airline made the statement after shares plunged 18 percent in two trading days amid reports about cancellations.
'Over Taxed'
The airline will likely report a 3.1 billion rupee loss for the three months ended Sept. 30, according to an ICICI Bank Ltd. estimate compiled by Bloomberg. The carrier, named for Mallya's flagship beer, has made about 48 billion rupees of losses in the last three fiscal years.
"In India, airlines are over taxed and over charged," Mallya, the airline's chairman and managing director, wrote on Twitter last week. The carrier confirmed it was his feed. Mallya, 55, said he couldn't talk because he was busy when called by Bloomberg News yesterday.
Kingfisher has a 19 percent share of India's domestic aviation market about the same as Air India and IndiGo, according to the Directorate General of Civil Aviation. Mumbai-based Jet has a 26 percent share, including low-cost unit JetLite.
Jet Losses
Jet slumped to a wider-than-expected 7.14 billion rupee loss for the three months ended Sept. 30 after a 50 percent jump in its fuel bill and a 2.76 billion-rupee loss from currency fluctuations. Passenger numbers rose 16 percent from a year earlier.
The carrier hasn't reported an annual profit in the last four years. The fortune of Chairman Naresh Goyal has shrunk to $435 million from $1.3 billion since 2007, according to Forbes.
SpiceJet, controlled by Maran who built a $2.5 billion fortune after founding Sun TV Network Ltd., had a loss of 2.4 billion rupees in the three months ended Sept. 30, compared with a profit of 101.1 million rupees a year earlier. The New Delhi-based airline said fuel costs and the weaker rupee offset passenger numbers that jumped about 30 percent in the first eight months.
"The industry is focused on a war of market share and revenue growth," said Srisu Subrahmanyam, co-founder of Chicago-based Orchard Group, which advise airlines. "This has benefited the consumer due to the fare wars for market share but it cannot be sustained."
The drop in the rupee, the worst performer among Asia-Pacific's 10 most traded currencies this year, has raised the cost of airplanes bought from overseas. Jet-fuel prices have also risen about 30 percent in Mumbai since Jan. 1, excluding tax, according to Indian Oil Corp.'s website.
Air India Handouts
Air India has lost money every year since combining with Indian Airlines Ltd. in 2007. It has kept flying because of government handouts, and it is seeking another 65 billion rupees by the end of March. The airline is also close to agreeing a debt-restructuring package with state-controlled banks that will pare interest expenses by 13 billion rupees a year.
"Air India is still suffering because of the merger, but at least it has government support," said P.C. Sen, a former chairman of the carrier. "For private airlines, things are quite different."
The industrywide losses mean that India's airlines need about $2.5 billion of new cash to maintain operations, including $1.32 billion for Air India, according to CAPA. Kingfisher needs $200 million immediately followed by another $200 million within three months, it said.
Kingfisher Debt
Kingfisher has a 14.8 billion-rupee revolver loan maturing in January and a 60 billion-rupee term loan running until 2019, according to Bloomberg data. It doesn't have any bonds.
Mallya, who has a $1.1 billion fortune, according to Forbes, has already propped up Kingfisher's finances. In the year ending March, he doubled personal loan guarantees to 61.7 billion rupees, for which he received 508.7 million rupees. United Breweries (Holdings) Ltd., Mallya's holding company, also increased guarantees to 168.5 billion rupees.
Prime Minister Manmohan Singh said Nov. 12 that the government may help Kingfisher, according to Press Trust of India. He didn't elaborate. The finance ministry may ask lenders to help the carrier recast debt and the oil ministry may extend credit for fuel to airlines, Civil Aviation Minister Vayalar Ravi said last week.
To help the wider industry, the government should cut fuel taxes and lower airport charges, the Associated Chambers of Commerce & Industry of India said yesterday. It also called for an end to a ban on overseas carriers buying into Indian airlines.
"Almost every airline needs funds," said D.S. Rawat, the business group's secretary general. "There will be a question mark on their survival if they aren't able to raise them," he said.
Before it's here, it's on the Bloomberg Terminal.
LEARN MORE