China 'Basically Ready' to Allow Foreign Firms to Sell Stock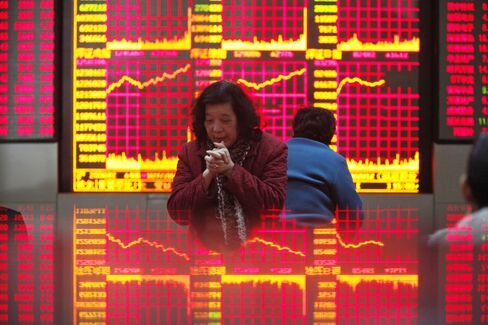 The Shanghai Stock Exchange said it's "basically ready" to let foreign issuers sell stock, paving the way for companies from HSBC Holdings Plc to Coca-Cola Co. to list in the world's second-biggest equity market.
Trading should start "as soon as possible when the time is ripe," Xu Ming, executive vice president in charge of the international stocks board, said in a Nov. 11 interview at the exchange. While there's no timetable, the exchange has finished work on technological and regulatory requirements, Xu said.
The trading of foreign equities will mark the biggest change for China's stock market in more than five years and add impetus to Shanghai's drive to become a global financial center by 2020. It will broaden options for the nation's 85 million individual investors who are restricted from buying shares abroad by China's capital controls, with HSBC, Coca-Cola and NYSE Euronext among companies expressing interest in selling stock in Shanghai.
"The internationalization of the securities market will benefit the whole nation and overseas companies are highly motivated," Xu said.
Listing in China would let foreign companies benefit from higher valuations and give them access to Chinese currency to fund their expansion in the world's second-biggest economy, Arjuna Mahendran, Singapore-based head of investment strategy for Asia at HSBC Private Bank, overseeing $460 billion globally, said in a June interview.
Asset Bubbles
China's currency has appreciated as the nation's economy, which grew 10.4 percent last year, attracted inflows of capital. The yuan reached 6.3370 per dollar on Nov. 4, the strongest level since the country unified the official and market exchange rates at the end of 1993.
China is also seeking to revive investor interest in an equities market that has slumped the past two years as the government raised interest rates and imposed curbs on property transactions to tame inflation and prevent asset bubbles. Overseas companies are barred from selling stock in China, though are allowed to do so in Hong Kong, a former British colony that reverted to mainland sovereignty in 1997.
Shanghai, the nation's financial hub and home to one of China's two stock exchanges, has been contacted by foreign companies in the finance, telecommunications, consumer goods and manufacturing industries, Fang Xinghai, head of the city's financial services office, said in a May 2010 interview. The international board has been slowed by issues such as legal jurisdiction, accounting standards and regulatory approvals, said Hubert Tse, a partner at law firm Boss & Young in Shanghai.
Coca-Cola
Coca-Cola, the world's largest soft-drink maker, plans to invest $4 billion in China over three years from 2012 and announced in June that it's in talks to list in Shanghai. NYSE Euronext's chief operating officer said in June of last year it was "very interested" in selling shares.
HSBC Chief Executive Officer Stuart Gulliver said in May it was his "desire" that Europe's biggest bank be the first foreign financial institution to be listed on the Shanghai exchange. Paul Harris, a London-based spokesman for HSBC, said the company's position is unchanged. HSBC's origins date back to 1865 when it operated as the Hongkong and Shanghai Banking Corp. to finance trade in opium, silk and tea.
"They are all big companies and most of them are from the Fortune 500," Xu said. "Many of the companies are already listed and some have multi-listings such as HSBC."
Investor Protection
He said the exchange is looking for companies that already have operations in China, an earnings history and strong corporate governance. Companies seeking to list on the international board should have a market value of more than 30 billion yuan ($4.7 billion) and combined three-year net income of more than 3 billion yuan, the 21st Century Business Herald reported in April, citing a draft plan.
"We favor companies of good quality, that are stable and are of fairly large scale," Xu said. "We need to consider the protection of small investors and see if the operations of the companies carry risks."
Xu said the Shanghai bourse has set no priority on which foreign companies can list first, refuting media reports that so-called red-chips, or overseas-incorporated Chinese businesses listed in Hong Kong, would be first. Hong Kong-listed Cnooc Ltd., China's largest offshore energy producer, would sell stock if it received regulatory clearance, Chairman Fu Chengyu said in March.
Hong Kong Exchanges
"We have no plan for the first batch of companies to be listed or how many there will be in the first batch," Xu said. "We don't give priority to whether foreign companies or red-chip companies should be listed first. Whoever is ripe will get listed first."
Ronald Arculli, chairman of Hong Kong Exchanges & Clearing Ltd., said China opening itself to foreign listings will stimulate greater interest in the Greater China region, including Hong Kong.
"We don't see the competition that will come about that's going to be bad for anyone," Arculli said in an interview with Bloomberg Television today. "That would mean China is gradually opening up and relaxing some of the controls, and that would create more activity."
The China Securities Regulatory Commission is working on rules for share issuance on the international board, Xu said. A change in leadership at the regulatory body won't hinder progress, he said.
National Strategy
The central government last month appointed Guo Shuqing, chairman of China Construction Bank Corp., as head of the CSRC as part of the biggest reshuffle of financial officials in a decade. Guo replaces Shang Fulin, who succeeds as chairman of the China Banking Regulatory Commission. The international board is "coming closer," Shang said at a financial forum in Shanghai on May 2.
The international board is part of "a national strategy, not a strategy of a certain government department," Xu said. "Whichever leader comes to power, the strategy won't change."
China's benchmark Shanghai Composite Index has fallen 10 percent this year, adding to a 14 percent drop last year after the central bank raised interest rates three times and lifted the reserve-requirement ratio to curb inflation. China has the world's second-biggest stock market with a combined market value of $3.6 trillion for the Shanghai and Shenzhen bourses as of Nov. 11, according to data compiled by Bloomberg. The U.S. is the largest with a market value of $15.2 trillion.
There are about 104 million investors in China, including mutual funds, institutional investors and 85 million individuals, the Shanghai exchange said.
"China and its capital markets don't lack money," Xu said. "Once the companies are listed, it will have a huge advertisement effect."
— With assistance by Stephanie Hoi-Nga Wong, Allen Wan, and Shidong Zhang
Before it's here, it's on the Bloomberg Terminal.
LEARN MORE