U.S. Stocks Rise on Consumer Confidence as Italy Approves Plan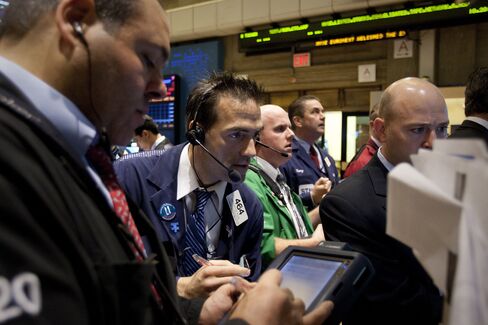 U.S. stocks rallied, preventing a second straight weekly drop in benchmark indexes, as American consumer confidence topped estimates and Italy's approval of debt-reduction plans eased concern about Europe's debt crisis.
All 10 groups in the Standard & Poor's 500 Index rose as 487 stocks gained. Bank of America Corp. and Citigroup Inc. increased at least 2.4 percent as financial shares advanced. Caterpillar Inc. and Alcoa Inc. climbed more than 3.4 percent to pace gains among the biggest companies. Walt Disney Co. jumped 6 percent as the largest theme-park operator reported a 30 percent gain in profit, beating analysts' projections.
The S&P 500 added 2 percent to 1,263.85 at 4 p.m. in New York. The gauge has risen 0.9 percent since Nov. 4, preventing a second weekly drop. The Dow Jones Industrial Average advanced 259.89 points, or 2.2 percent, to 12,153.68. The Russell 2000 Index of small companies gained 2.6 percent. Trading volume dropped to about 6 billion shares, the lowest since July 25, as the Treasury market was shut for Veterans Day.
"Things are starting to settle back in," Philip Orlando, the New York-based chief equity market strategist at Federated Investors Inc., said in a telephone interview. His firm oversees about $355 billion. "The expectation was that Italy and Greece were going out of business. That was overdone. We're going to see some necessary austerity measures put in place," he said. "In the U.S., the economic numbers have absolutely turned the corner and are starting to accelerate."
Stocks extended their rally as the Thomson Reuters/University of Michigan preliminary index of consumer sentiment rose to 64.2 this month, the highest since June. The median estimate of economists surveyed called for 61.5.
Italian Bond Yields
Earlier gains were driven by a drop in Italian bond yields as the nation's Senate approved budget measures in a bid to allow for a new government. In Greece, Lucas Papademos, a former vice president of the European Central Bank, was sworn in as premier of a unity government.
The Morgan Stanley Cyclical Index jumped 2.7 percent as investors became more optimistic that the global economic recovery would not be derailed by Europe's debt crisis. The Dow Jones Transportation Average added 2.8 percent, while the KBW Bank Index gained 2.1 percent.
Gauges of consumer discretionary, industrial and commodity shares in the S&P 500 had the biggest gains among 10 industries, rising more than 2.3 percent. Bank of America climbed 3 percent to $6.21, while Citigroup advanced 2.4 percent to $29.33. Caterpillar, the world's largest construction and mining-equipment maker, increased 4.3 percent to $96.13. Alcoa, the biggest U.S. aluminum producer, rose 3.4 percent to $10.60.
'Risk On'
"It's like investors hit the keystroke to risk on," Mark Luschini, chief investment strategist at Philadelphia-based Janney Montgomery Scott LLC, which manages $54 billion, said in a telephone interview. "The European situation is seemingly coming to some closure and a decent consumer confidence report brought investors to risk assets."
Walt Disney climbed 6 percent, the most in the Dow, to $36.70. Higher fees from pay-TV operators, advertising gains and improved results at resorts drove revenue and profit growth. Audience ratings for ESPN increased 13 percent in the quarter, according to Nielsen data provided by Barclays Capital. Disney resorts benefited from higher ticket prices and a new ship.
Nvidia Corp. advanced 3.5 percent to $14.98. The maker of graphics processors reported third-quarter sales and profit that topped analysts' estimates, lifted by demand for chips used by computer gamers and designers. Nvidia has been winning market share in sales of graphics processors for desktop PCs from Advanced Micro Devices Inc., according to Patrick Wang, an analyst at Evercore Partners Inc.
Single-Serve Brewers
Green Mountain Coffee Roasters Inc. rallied 6.9 percent to $43.71. The largest U.S. seller of single-serve brewers plunged 39 percent yesterday, the most ever, as sales trailed estimates. The stock before today had lost 63 percent since its peak in September amid scrutiny of its accounting practices from short sellers including David Einhorn, wiping out $11 billion of market value.
E*Trade Financial Corp. fell 4.1 percent, the most in the S&P 500, to $9.09. The board of the online brokerage rejected putting the company up for sale. Before today, the shares dropped 41 percent in 2011, more than its bigger rivals Charles Schwab Corp. and TD Ameritrade Holding Corp.
The brokerage hired Morgan Stanley in July to explore a sale and then replaced the bank with Goldman Sachs Group Inc. E*Trade, based in New York, initiated the review following a request by Citadel LLC, its biggest shareholder, to address "catastrophic losses" that have driven the shares down 96 percent since 2007.
'Strong Desire'
"A strong desire to sell was never present at E*Trade and if any offers were in fact on the table, they were not compelling enough to change that fact," Patrick O'Shaughnessy, a Chicago-based analyst at Raymond James & Associates Inc., said in a report today. "In our view, the pool of potential buyers is and always has been relatively small."
Molycorp Inc. slumped 14 percent to $33.45. The owner of the largest rare-earth deposit outside China cut its 2011 production forecast and posted third-quarter profit and revenue that missed analysts' estimates. Rare earths are 17 metals used in batteries, electric cars, wind turbines and other products.
Before it's here, it's on the Bloomberg Terminal.
LEARN MORE