Tampa Bay NFL Blackout Shows Need to End FCC Policy, Groups Say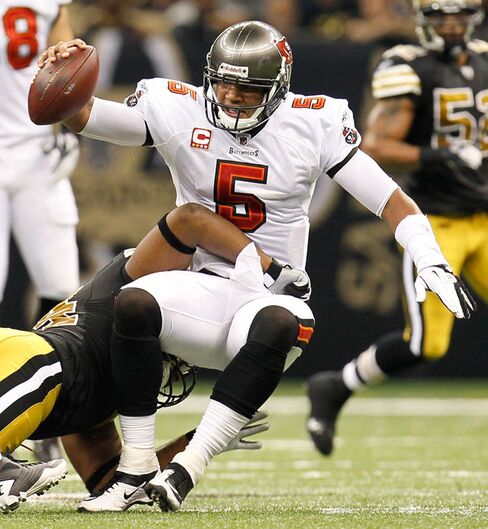 U.S. regulators should void a rule that keeps professional sports contests, including National Football League games, off cable and satellite television when stadiums aren't sold out, five groups said.
The Federal Communications Commission's sports blackout practice that dates from 1975 "supports blatantly anti-fan, anti-consumer behavior by professional sports leagues," the groups, including Washington-based Sports Fans Coalition, said in a petition to the agency to be filed Nov. 14.
The Nov. 13 home game for the Tampa Bay Buccaneers against the Houston Texans won't be shown locally, marking the eighth blackout this season in the NFL and the fourth affecting a Tampa Bay game, the coalition said in a statement today. The Buccaneers play in a stadium that cost taxpayers $168.5 million, the coalition said.
"The FCC's blackout rule simply helps to perpetuate the anti-consumer practice of withholding sporting events from fans who cannot afford tickets to games, even when those fans helped to subsidize sports through public funding, laws and regulations," said Brian Frederick, executive director of the Sports Fans Coalition, according to the statement.
About 8 percent of NFL games have been blacked out since 2000, Brian McCarthy, a spokesman for the league, said in an e-mail.
"The policy has been successful in striking a balance between encouraging fans to attend games and allowing the games to continue to be broadcast on free television," McCarthy said.
The Sports Fans Coalition calls itself a nonprofit advocacy group for fans. Signing the petition along with the coalition were the Washington-based policy groups Public Knowledge and Media Access Project, the National Consumer League, which says it works for economic justice for consumers, and the League of Fans, a sports reform project founded by consumer advocate Ralph Nader.
The Sports Fans Coalition accepts funding from Time Warner Cable Inc. and Verizon Communications Inc., David Goodfriend, a spokesman for the coalition, said in an interview.
Neil Grace, an FCC spokesman, declined to comment.
Before it's here, it's on the Bloomberg Terminal.
LEARN MORE