Jackman's Las Vegas Act Charms Broadway; 'Blue Flower': Review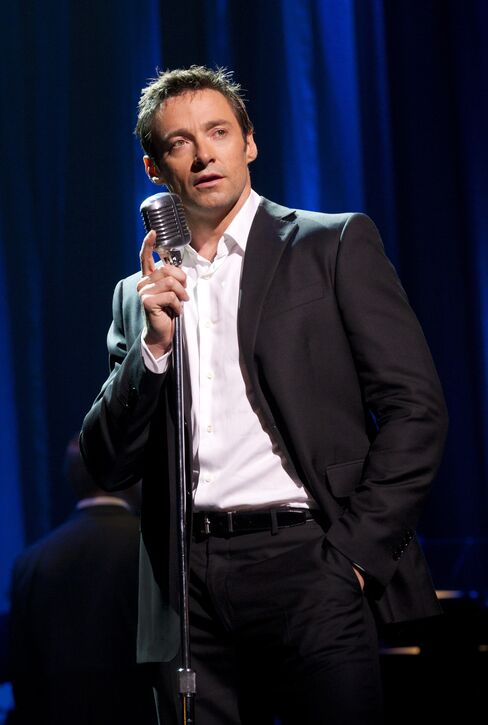 Last seen on Broadway shlumping around the stage with Daniel Craig in a boring cop drama, Hugh Jackman seemed intent on proving he could do Serious.
In "Hugh Jackman Back on Broadway" at the Broadhurst Theatre, the hirsute hero of the "X-Men" films, belts out "I Go to Rio" and "Between the Moon and New York City" to a crowd caught between ecstasy and delirium.
Jackman -- singer, hoofer, mood enhancer -- plus a half-dozen shimmying back-up singers poured into William Ivey Long's body-hugging black dresses prance through his career. They're backed by clips from his movies and endearing shots of Hugh as knock-kneed boy, as Curly in "Oklahoma" and as lady killer in various Westerns and other films.
Essentially a Las Vegas revue with a superb 18-piece orchestra, the show ranges from "On Broadway" mashed up with "Lullabye of Broadway" to "Over the Rainbow," each greeted with roars of approval.
Jackman became a star playing the songwriter and performer Peter Allen in "The Boy From Oz." In addition to Allen's "Rio" and "Caught," Jackman sings his moving ballad, "Tenterfield Saddler." It's one of two high points, along with "Soliloquy" from "Carousel."
The show is paced with funny personal tales, plenty of banter and, at the end, the introduction of four indigenous musicians from Jackman's Australian homeland. It's a rich two hours.
Through Jan. 1, 2012 at 235 W. 44th St. Information: +1-212-239-6200; http://www.telecharge.com. Rating: ***
'Blue Flower'
I doubt I've ever heard a bassoon and a slide guitar in the same ensemble, but the pairing hints at the eclecticism, if not the lush beauty, of Jim Bauer's score for "Blue Flower," the musical having its New York premiere at Second Stage.
Beginning in pre-World War I Europe and ending in New York in the mid-1950s, the music suggests Kurt Weill with a country-western twang. It's often ravishing. So is this enthralling show, co-written with Ruth Bauer. It's the best new musical since "Spring Awakening."
The unlikely subjects are two artists, Franz (Sebastian Arcelus) and Max (Marc Kudisch, in the performance of his career) and the women they love, Hannah (Meghan McGeary), a proto-Dadaist, and Maria (Teal Wicks), a brilliant scientist.
Real People
All four are based on real people (the artists Max Beckman and Franz Marc, collagist Hannah Hoch and scientist Marie Curie). Their journey takes them from Berlin to Paris and, in the case of Max, to Central Park West, in a series of vignettes punctuated with film clips and those silken musical numbers.
The kaleidoscopic effect is not unlike an absurdist novel - - "Slaughterhouse Five." say -- on many of the same themes. The wooden platforms of Beowulff Boritt's impressionistic set, heightened by the animated shifting of Donald Holder's lighting, heightens the impact in Will Pomerantz's sure-footed staging (with choreography by Chase Brock).
Max speaks in a personal language -- "Maxperanto" -- that will strike you either as twee gibberish or as a powerful metaphor for survival. And the unconventional plotting betrays the show's origins as a song cycle. But what beautiful, haunting songs they are.
Through Nov. 27 at 305 W. 43rd St. Information: +1-212-246-2422; http://www.2st.com. Rating: ***
What the Stars Mean:
****        Do Not Miss
***         Excellent
**          Good
*           So-So
(No stars)  Avoid
(Jeremy Gerard is chief drama critic for Muse, the arts and leisure section of Bloomberg News. The opinions expressed are his own.)
Before it's here, it's on the Bloomberg Terminal.
LEARN MORE