Italy Senate Passes Budget Measures Before Berlusconi's Exit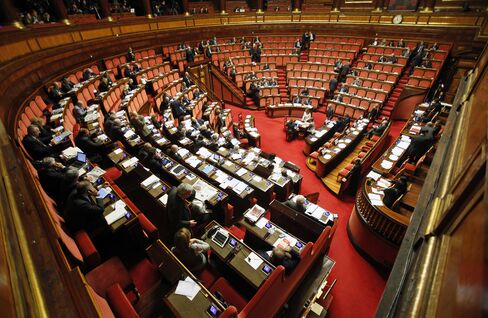 Italy's Senate approved debt-reduction measures in an attempt to shore up investor confidence and pave the way for a new government that may be led by former European Union Competition Commissioner Mario Monti.
The Senate in Rome voted today 156 to 12 to pass the package of measures promised to the European Union in a bid to boost growth and cut Italy's debt of 1.9 trillion euros ($2.6 trillion), the world's fourth biggest. Opposition lawmakers did not take part in the vote, allowing the bill to pass.
The timing of the ballot was moved forward after Prime Minister Silvio Berlusconi's parliamentary majority unraveled this week, leading bond yields to surge to euro-era records. The premier has pledged to step down after the legislation receives final approval from the Chamber of Deputies, which is scheduled to vote tomorrow with debate beginning at 12:30 p.m. in Rome.
The yield on Italy's 10-year bond declined for a second day, shedding 43 basis points to 6.45 percent and narrowing the difference with German bunds to 456 basis points. The 10-year yield surged on Nov. 8 across the 7 percent threshold that prompted Greece, Portugal and Ireland to seek bailouts, as Berlusconi's government unraveled. The FTSE MIB index gained 3.7 percent today, the biggest advance of any European benchmark.
'Berlusconi's Head'
The Senate's approval of the legislation is "a good decision for Italy, but the problem is that markets are in control," said Sylvain Broyer, chief euro-region economist at Natixis in Frankfurt. The European Central Bank "is the only one able to break the current vicious cycle" because "markets are acting crazy" and "wanted Berlusconi's head."
Berlusconi, 75, offered to resign on Nov. 8 once the budget measures were approved. He came under pressure to step down after defections in his party left him without a majority in the Chamber of Deputies. President Giorgio Napolitano will steer talks with political parties to try to muster support for a new government or call elections.
Opposition parties have indicated they would back a Monti government and Napolitano may complete the consultations on Nov. 13 and immediately offer the position to Monti. Any new government formed through negotiations could not serve beyond the end of the current legislative term in April 2013.
'High Merits'
Napolitano named Monti a senator-for-life this week for his "extremely high merits in the scientific and social fields," a post that gives him voting rights in the upper house. Monti, 68, met today in Rome with Bank of Italy Governor Ignazio Visco, said a person familiar with the matter who asked not to be identified because the talks were private.
Italy has a tradition at times of political crisis to reach outside of parliament for leadership to form a so-called technical government. Monti spent almost a decade in Brussels as EU commissioner and previously had broad backing in Italy. He was first appointed to the commission by Berlusconi in 1994 and was then confirmed by the opposition when it came to power after Berlusconi's first government collapsed.
"Monti is by far the best candidate to lead a technocrat government, which is the only way out of Italy's predicament," James Walston, a professor of politics at the American University in Rome, wrote in an e-mailed message. The measures voted on today "will be a start, but then there will be difficult times, more cuts and greater hardships."
Party Decision
Monti's appointment still depends on getting backing from Berlusconi's People of Liberty party. The party remains divided over whether to support a new government or seek early elections, and will meet tomorrow or Nov. 13 to make a decision, Transport Minister Altero Matteoli told reporters in Rome today.
"Even Berlusconi is not against elections, but he's worried about the markets," Matteoli said.
The austerity measures passed by the Senate today include a pledge to raise 15 billion euros from real-estate sales over the next three years, a two-year increase in the retirement age to 67 by 2026, opening up closed professions within 12 months and a gradual reduction in government ownership of local services.
The budget measures were first pledged to EU allies at a summit on Oct. 26 and are aimed at convincing investors Italy can overhaul its economy to reduce borrowing. Months of squabbling within Berlusconi's Cabinet over the plans helped unravel his majority and fueled the selloff of Italian debt.
Weathering Turmoil
"If they manage to get their problems under control the situation could stabilize," said Heinrich Bayer, an economist at Deutsche Postbank in Bonn, Germany. "Italy has the potential to weather the turmoil but they've already wasted a lot of time. They need to act now."
The EU has been stepping up the pressure on Italy to adopt the budget measures and has said the government's economic forecasts are too optimistic. The European Commission said yesterday that Italy won't make good on its pledge to balance the budget in 2013 and will finish that year with a deficit of 1.2 percent of gross domestic product. It also said that Italy's recovery came to a standstill in the third quarter and the economy will probably contract in the final three months.
Parliament's final approval of the debt-reduction and economic-growth package would be "a major step in the right direction, containing the measures to put Italy back on track and, when implemented, to start regaining the necessary credibility," European Union President Herman Van Rompuy said in a speech today outside Florence, Italy.
Deficit, Debt
The country's deficit of 4.6 percent of GDP last year was similar to Germany's at 4.3 percent and less than that of the U.K. and France. Italy also has a surplus in its primary budget, which excludes debt interest payments.
Still, debt at almost 120 percent of GDP and economic growth that has trailed the EU average for over a decade has unnerved investors shunning Europe's riskiest assets.
"It's clear that only a comprehensive and wide-ranging package of reforms can kick-start Italian growth again," EU Economic and Monetary Affairs Commissioner Olli Rehn said yesterday. "The first and foremost thing for Italy is to restore political stability and capacity of decision making" as well as "firm and determined action" on fiscal targets.
Before it's here, it's on the Bloomberg Terminal.
LEARN MORE