Green Mountain Making Coffee 90% Costlier Than S&P 500: Real M&A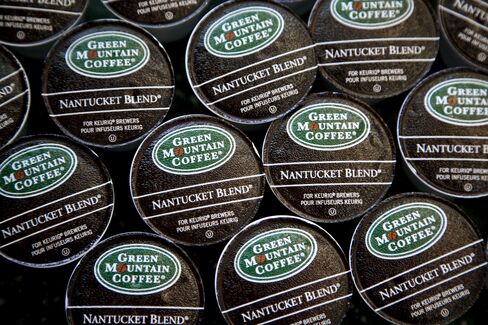 Even after losing more than half its value, Green Mountain Coffee Roasters Inc. is still almost twice as expensive for potential acquirers as the median company in the Standard & Poor's 500 Index.
The largest U.S. seller of single-serve brewers, which plunged the most ever yesterday after its sales trailed analysts' estimates, has fallen as much as 63 percent from its all-time high in September, according to data compiled by Bloomberg. The drop, which wiped out $11 billion of market value, left Green Mountain trading at 28 times earnings, still more than 90 percent higher than the median S&P 500 company.
Green Mountain has used the Keurig business to boost its revenue fivefold in the past three years and control a dominant share of the U.S. single-cup coffee market. Still, Training The Street's Scott Rostan says any potential buyers from Nestle SA to Coca-Cola Co. and Starbucks Corp. would risk overpaying for a company that faces competition as patents on its brewing system expire in less than a year and scrutiny of its accounting practices from short sellers such as David Einhorn.
"While a Nestle or Coca-Cola or Starbucks would love to have that growth potential, that's a pretty big price for them to pay right now," Rostan, a former investment banker who trains new hires at firms from Blackstone Group LP to Credit Suisse Group AG on mergers, said in a telephone interview. "If there are accounting concerns, most acquirers are probably going to run for the hills. A suitor would have to buy the entire company and that means they would assume all the liabilities."
Today's Trading
Suzanne DuLong, a spokeswoman for Waterbury, Vermont-based Green Mountain, didn't respond to a telephone message or an e-mail seeking comment. Robin Tickle, head of corporate media relations for Vevey, Switzerland-based Nestle, declined to comment. Kent Landers, a spokesman for Atlanta-based Coca-Cola, said it doesn't comment on rumors or speculation, as did Alan Hilowitz of Seattle-based Starbucks.
Green Mountain's shares climbed 6.9 percent to $43.71 in New York today. The stock had plunged 39 percent to $40.89 yesterday, the biggest drop since its initial public offering in 1993. The company slumped after saying that fourth-quarter sales increased 91 percent to $711.9 million, trailing analysts' average projection of $757.7 million.
Wholesale customers boosted orders in the third quarter, only to cut back in the next period, Chief Executive Officer Lawrence Blanford said on an analyst call. One reason was that retailers purchased more K-Cup capsules prior to a price increase, according to Janney Montgomery Scott LLC.
K-Cup Sales
The company also overestimated K-cup sales for the fourth quarter, Chief Financial Officer Frances Rathke said.
Yesterday's slump left Green Mountain with a market value of $6.26 billion. Before reporting earnings, the coffeemaker was worth more than $10 billion, bigger than almost half the companies in the S&P 500, the benchmark gauge for U.S. equity.
While Green Mountain's price-earnings ratio has declined from a high of 89 times, it was still almost twice as expensive as the median S&P 500 company, which traded at 14.5 times yesterday, according to data compiled by Bloomberg.
Most of Green Mountain's drop came after Einhorn, president of Greenlight Capital Inc., said in an Oct. 17 presentation at the Value Investing Congress in New York that it faces a "looming patent issue" on its Keurig system that may undermine its ability to impose a "monopoly price" on the packets.
'A Good Chunk'
"I believe the available market is smaller than the bulls believe it to be and that Green Mountain has already penetrated a good chunk of it," Einhorn, 42, said. Green Mountain also has a "litany of accounting questions," he said.
Best known for betting against Lehman Brothers Holdings Inc. before it collapsed in September 2008, Einhorn has had mixed results in 2011. Greenlight Capital sold a stake in Yahoo! Inc. for a "modest loss," he told investors in a July letter.
His attempt to buy a share of the New York Mets baseball team fell apart in September.
Einhorn declined to comment yesterday about Green Mountain.
Green Mountain disclosed in September 2010 that it was the subject of an inquiry by the Securities and Exchange Commission. Two months later, the company restated earnings for years dating back to 2007 because of issues with K-Cup coffee-pod revenue and royalties, according to a statement. The coffeemaker said in August it continues to cooperate with the SEC inquiry.
"It's a high-risk investment," Timothy Ghriskey, who oversees $2 billion as chief investment officer of Solaris Group LLC in Bedford Hills, New York, said in a telephone interview. In addition, "the accounting stuff is a bit scary," he said.
Short Interest
Investors increased short sales on Green Mountain to 13.8 percent of shares outstanding as of Nov. 8, from 7.7 percent a month ago and the highest level since March, according to data compiled by New York-based Data Explorers. In a short sale, a trader borrows a stock and sells it, hoping to profit from a decline by replacing it at a lower price.
Whitney Tilson, who oversees $150 million as managing director of hedge fund T2 Partners LLC in New York, boosted his short position after Green Mountain released earnings on Nov. 9.
"The stock remains significantly overvalued," he said in a telephone interview yesterday. "Our view is that the short thesis has just started to play out and that there are probably more shoes to drop. We don't think there's any chance they make next year's guidance" because of its expiring patents, he said.
'Ridiculous' Reaction
Anton Brenner, an analyst at Roth Capital Partners LLC, said in a report to clients yesterday that the market's reaction was "ridiculous" and anticipates that Green Mountain will maintain its "rapid" rate of sales and earnings growth.
That could help reignite speculation about a possible acquisition of the company, he said.
If Green Mountain hits its growth goals, the company may be cheap enough to lure companies such as Nestle, according to Harry Rady, chief executive officer of La Jolla, California-based Rady Asset Management LLC.
Green Mountain forecast revenue of as much as $4.37 billion this fiscal year, which would value it at 1.4 times sales, matching the multiple for the median S&P 500 company, data compiled by Bloomberg show. Nestle, which sells the Nespresso single-cup brewer, may want Green Mountain to remove a competitor and expand the Keurig K-Cup system, Rady said.
"That is a valuable franchise and the Nestles of the world would love to have that," Rady, who manages $260 million, said in a telephone interview.
Bullish Analysts
Sales at Green Mountain ballooned 430 percent in the past three years. Last year, the company almost doubled revenue.
Most analysts covering Green Mountain remain bullish on the company's stock, with at least a half dozen reaffirming their "buy" ratings after its earnings announcement.
On average, analysts estimate that Green Mountain will climb to $96.56 a share within the next 12 months, more than double its price yesterday.
Based on earnings, Green Mountain was also almost as cheap as Starbucks, which traded at 27.4 times yesterday. Two months ago, Green Mountain was more than three times as expensive, data compiled by Bloomberg show.
Green Mountain is worth no more than $32 a share, 22 percent less than its price yesterday, according to a report dated Nov. 10 from Stifel Nicolaus & Co.'s Mark Astrachan, the only analyst who recommends selling Green Mountain. He said its reported sales fell short not because of what the company attributed to wholesale customer ordering patterns, but because demand for its brewers and K-Cups is weakening.
"Top-line is tough to get these days, but there's a limit to what you can pay for," Peter Sorrentino, a senior fund manager at Huntington Asset Advisors in Cincinnati, which oversees $14.5 billion of assets, said in a telephone interview. "There's more risk in there than there's reward."
Before it's here, it's on the Bloomberg Terminal.
LEARN MORE