GE Sees 'Low Double-Digit' Sales Growth in Emerging Markets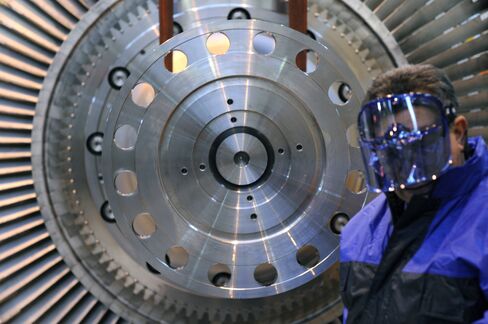 General Electric Co., the largest maker of power-generation equipment, expects sales in emerging markets such as those in Latin America and Asia to grow in the "low double-digits" even as growth in Europe stalls.
"We'd expect to see low single-digit rates in developed markets and low maybe low double-digit rates in growth markets" in the next 12 to 18 months, Vice Chairman John Rice said in an interview yesterday at the Asia-Pacific Economic Cooperation forum in Honolulu. "We see that Europe will be low growth, maybe no growth, for some quarters, but certainly low growth for a while."
Fairfield, Connecticut-based GE is focusing on growth in emerging markets to help offset slower sales in developed markets such as western Europe, the U.S. and Japan. Last year GE got $31.8 billion of its $150 billion in sales from Europe.
Rice, who heads the company's international operations and is based in Hong Kong, said China is making progress improving the climate for foreign businesses such as GE. He cited a decision by the government to put off new rules encouraging indigenous innovation that international companies said could shut them out of an annual state procurement market worth as much as $1.1 trillion.
"I think the playing field is improving all the time," Rice said. "The government listens when people recommend opportunities for improvement."
China Sales
GE Energy Infrastructure expects its sales in China to grow at least 25 percent annually as the country shifts to more energy-efficient means of power generation, Chief Executive Officer Jeffrey Immelt said in Beijing in September.
The company, the biggest maker of gas-fired power turbines, also expects more growth in this sector because of a shift away from nuclear power in countries like Japan and Germany, Rice said.
"Clearly the questions about nuclear both in Japan and in Germany will lead to more of an emphasis on other fuel sources, and gas from an environmental perspective and from an efficiency perspective is probably going to be where most countries go," Rice said. "We think over the mid-term there will be more demand for gas power generation."
Rice said he's looking at making acquisitions around the world in areas including mining equipment, aviation, health care, power generation and distributed power.
Job Losses?
At APEC, Rice is emphasizing to other leaders that innovation doesn't take place in one country, and that free trade creates jobs everywhere and shouldn't be viewed as a zero-sum game. GE has come under criticism from some political groups in the U.S. who say the company is responsible for job losses to countries such as China even as Immelt serves as head of the President's Council on Jobs and Competitiveness. Rice said demand from China for GE products helps create manufacturing jobs in U.S. states such as Ohio and Michigan.
"We can't curl up under the desk in the fetal position and hope somebody else delivers the message," Rice said. "We need to be strong proponents of free and fair and global trade, because if we are allowed to compete, we can win our share and we can create jobs in the U.S. and other places."
Before it's here, it's on the Bloomberg Terminal.
LEARN MORE