Asia Stocks, Copper Rise on Japan GDP, Europe Leadership Changes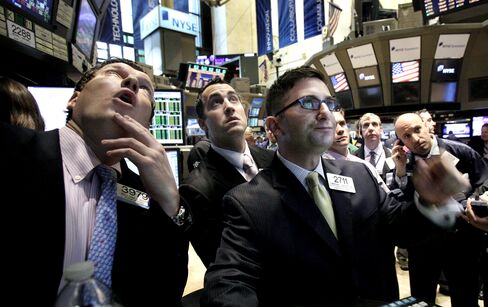 Asian stocks rose the most in a week and copper climbed after Japan's economy grew for the first time in a year and the appointment of new governments in Greece and Italy damped concern Europe's debt crisis will worsen.
The MSCI Asia Pacific Index climbed 1.3 percent as of 2:57 p.m. in Tokyo, after losing 2.4 percent last week. Standard & Poor's 500 Index futures increased 0.4 percent. The Nikkei 225 Stock Average gained 1.2 percent, poised for the biggest advance in a week. Copper rose as much as 3.9 percent. The euro was little changed at $1.3751. Treasuries retreated after the U.S. bond market was closed on Nov. 11 for a holiday.
"The situation in Greece has dramatically improved with the appointment of a unity government out there, and Italy looks like it's getting close to a resolution," said Angus Gluskie, who manages more than $350 million at White Funds Management in Sydney. "Two of the largest concerns of the market are being partially taken off the table."
Japan's gross domestic product grew an annualized 6 percent in the last quarter, the government said today. Italian President Giorgio Napolitano offered Mario Monti, former European Union competition commissioner, the prime minister post yesterday after Silvio Berlusconi resigned.
Economic data today is expected to show Europe's industrial output fell in September by the most since February 2009, while India's inflation eased, based on the median estimates in Bloomberg surveys. Finmeccanica SpA, Italy's biggest military contractor, and Lowe's Cos., the second-largest U.S. home-improvement retailer, are among companies reporting quarterly results.
U.S. Stocks
S&P 500 futures expiring in December rose to 1,267, signaling the U.S. equity benchmark may extend last week's advance. The U.S. index has risen 0.5 percent this year, the best performance among benchmark stock gauges in 24 developed markets.
About four stocks rose for every one that fell on the MSCI Asia Pacific Index. Japan's Nikkei 225 was poised for its first back-to-back advance in two weeks. Australia's S&P/ASX 200 Index gained 0.2 percent, Hong Kong's Hang Seng Index climbed 2.1 percent and South Korea's Kospi Index jumped 2.2 percent.
Tosoh Corp. sank 4.4 percent after the chemical maker's plant in Yamaguchi prefecture, western Japan, caught fire. Hanwha Chemical Corp., a South Korean producer of caustic soda and chlorine, climbed 9.3 percent on speculation the company will win more orders as a result of the fire, according to Oh Jung Il, an analyst at Shinyoung Securities Co.
Hynix, Sensex
Hynix Semiconductor Inc., the world's second-largest computer-memory chipmaker, rallied 2.8 percent in Seoul. Major shareholders accepted SK Telecom Co.'s bid to buy 20 percent of the company, bringing them a step closer to unloading the stake after three failures in the past two years.
The BSE India Sensitive Index, or Sensex, gained 0.7 percent. Government data on wholesale prices may show inflation slowed to 9.65 percent in October, according to the median estimate of 18 analysts in a Bloomberg survey. That compares with 9.72 percent in September.
The euro rose for a third day against the dollar. Greece's finance minister said his priority is to ensure the country receives a sixth loan under an EU-led bailout after Prime Minister Lucas Papademos took charge as head of an interim government. Euro-region industrial production probably fell 2.3 percent in September from the previous month, according to the median estimate of economists surveyed by Bloomberg.
"We've seen a more positive start to the week with the new technocrat governments in Italy and Greece, but there's still a lot of uncertainty," said Emma Lawson, a currency strategist at National Australia Bank Ltd. in Sydney.
Copper, Rubber
The Dollar Index, which tracks the U.S. currency against those of six trading partners, was little changed at 76.9, adding to a 1 percent slump on Nov. 11.
Copper prices in London rose for a second day, reaching as high as $7,933 a metric ton. The metal jumped by the daily maximum set by the Shanghai Futures Exchange with the January delivery contract rising as much as 6 percent. Stockpiles of copper monitored by the London Metal Exchange fell for a 17th session to the lowest level since Feb. 16.
Rubber advanced the most in seven weeks, rising as much as 6.4 percent to 275.4 yen a kilogram. Exporters in Thailand, Indonesia and Malaysia, which represent 70 percent of global supply, last week agreed to set a minimum price for natural rubber of $3 per kilogram after a sharp drop.
Crude oil for December delivery was little changed at $99.05 a barrel. Prices have risen for six weeks, the longest run of gains since April 2009.
Treasuries, Bond Risk
Treasuries declined, pushing 10-year note yields up seven basis points to 2.13 percent. The 2 percent security maturing in November 2021 fell 5/8, or $6.25 per $1,000 face amount, to 98 7/8.
The cost of protecting Asia-Pacific corporate and sovereign bonds from default fell, according to traders of credit-default swaps. The Markit iTraxx Australia index tumbled 11 basis points to 176 basis points as of 11:13 a.m. in Sydney, according to Deutsche Bank AG. That's on course for the biggest daily drop since Oct. 27 and the lowest close since Nov. 4, according to data provider CMA.