Nationals' Ramos Alive After Kidnapping, Venezuelan Unit Says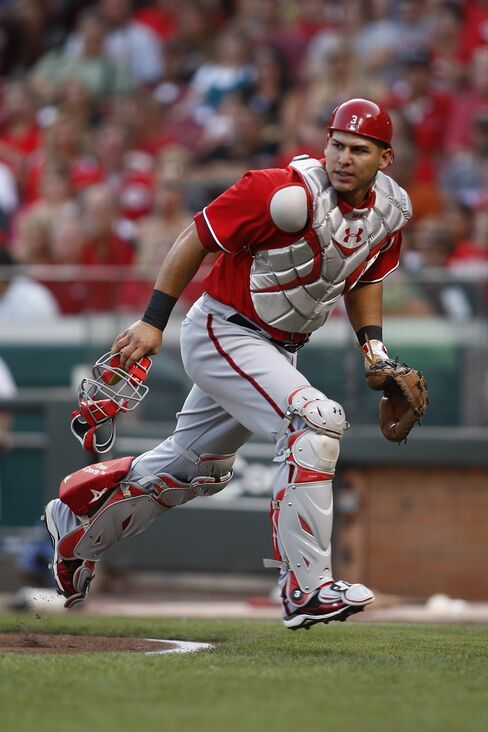 Washington Nationals catcher Wilson Ramos was kidnapped in his home country of Venezuela, where he had been preparing to play baseball in a winter league.
The Venezuelan state crime prevention unit known as Dibise said on its Twitter account that security officials had confirmed that Ramos is still alive, without disclosing any further information.
Ramos is the first Major League Baseball player to be kidnapped in the South American nation, where relatives of several major leaguers have been targeted, and security will be tightened, according to the Venezuelan Baseball League.
Major League Baseball said its Department of Investigations is working with the appropriate authorities on the matter.
"Our foremost concern is with Wilson Ramos and his family and our thoughts are with them at this time," the Nationals and MLB said in a joint statement about yesterday's kidnapping. "Both Major League Baseball and the Washington Nationals have been instructed to make no further comment."
The 24-year-old Ramos played his first full major-league season in 2011 and hit .267 with 15 home runs and 58 runs batted in while supplanting 14-time All-Star Ivan Rodriguez as the Nationals' regular catcher.
Ramos, who has been training with the Aragua Tigers, was visiting his mother's home in Santa Ines, Carabobo state, when two gunmen entered at around 7:15 p.m. local time and forced him into an orange SUV, according to a government statement.
"Extremely upsetting news about Ramo," Nationals relief pitcher Drew Storen said on his Twitter account. "Thoughts and prayers with him. Scary situation."
$414,500 Salary
Ramos made a major-league minimum $414,500 with the Nationals last season. The Washington Post said he was planning to play about 10 winter league games with the Tigers.
Tarek El-Aissami, Venezuela's interior and justice minister, said while the vehicle believed to be used has been recovered there's been no contact with the kidnappers.
"Prudence and moderation must be an important part in this very difficult time," the Venezuelan club's general manager, Rafael Rodriguez Rendon, said in a statement on the team's website.
The U.S. State Department has cautioned travelers that violent crime in Venezuela is pervasive, both in the capital, Caracas, and in the interior. The per capita murder rate is one of the top five in the world and the most recent surveys showed kidnappings in 2009 increased 40 percent to 60 percent from the previous year, according to the U.S. State Department's website.
In 2009, the 11-year-old son of catcher Yorvit Torrealba was kidnapped and returned after a ransom was paid, while the mother of ex-pitcher Victor Zambrano was rescued after being taken. The previous year, the brother of Henry Blanco, another major-league catcher from Venezuela, was shot and killed by kidnappers after being abducted in a Caracas suburb.
Players Targeted
Mario Marmol Garcia, a Venezuelan criminal lawyer who consults on kidnapping cases, estimates there are eight to 10 abductions a day in the country. He said major-league baseball players are targeted by kidnapping gangs because they're paid large salaries in U.S. dollars.
"What happens is that Venezuelan baseball players, because they come from humble, low-income backgrounds, even though they earn a lot of money, they don't have that mentality of protecting themselves, of contracting private security services, bodyguards and security rings," Garcia said by telephone.
The kidnapping unit of the Body of Scientific, Penal and Criminal Investigations, known as CICPC, and the Venezuelan National Guard are investigating the Ramos case, the government statement said. Jose Grasso, president of the Venezuelan Baseball League, said in a telephone interview that there will be increased security measures for major-league players.
"We need to transmit the message to MLB that we do watch out for the security of our foreign players in the country and that we'll tighten security," Grasso said.